And just like that, it's November again. The holidays are upon us, and so is the obligatory Q4 push towards satisfactory end-of-the-year figures, which means sales, sales, sales. This year, Black Friday and Cyber Monday fall on November 26 and 29, respectively. Though, of course, the entire last two months of the year are known worldwide to be a time for great deals on physical and digital products alike.
The National Retail Foundation (NRF) estimated that 186.4 million consumers, or 56% of all Americans, shopped sales during this period in 2020. According to Adobe's 2021 Holiday Shopping Trends and Insights Report, this year's holiday sales will continue to grow. Black Friday, Cyber Monday, and Cyber Weekend are expected to bring in a combined total of $46 billion this year.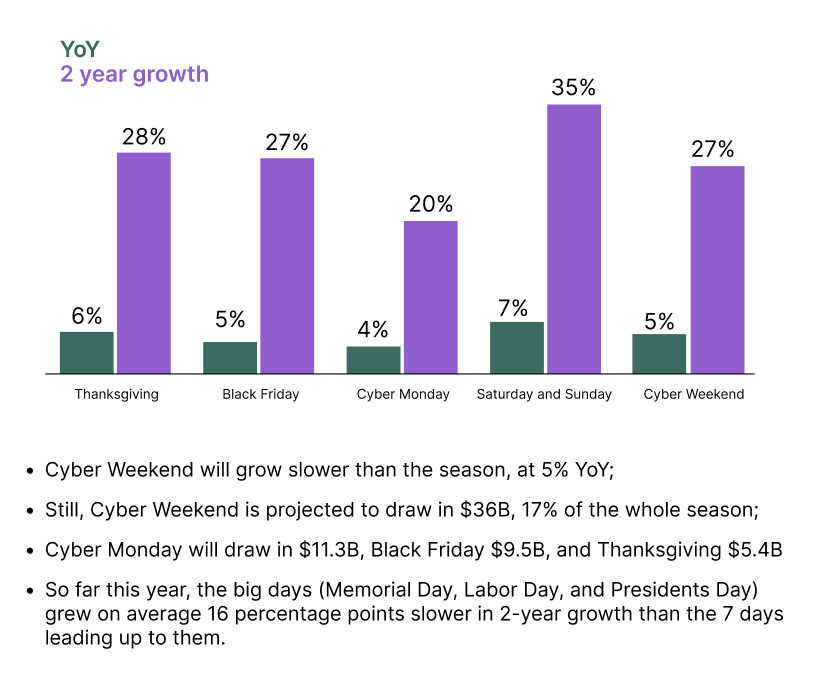 So what is your business doing for Black Friday and Cyber Monday? Are you planning a sales event and looking for Black Friday and Cyber Monday marketing ideas?
In this post, we're going to look at Black Friday and Cyber Monday campaigns you can do. We'll talk you through how to plan a discount and what to do to make the most out of the holiday season as a small business vying for the same attention as the giants.
Plan your Black Friday and Cyber Monday sale
Planning your sale is the crucial first step, and its outcome will dictate how you'll be promoting it. You have to define two key elements in this stage: the offer and the dates when it's available. Let's start with the "when."
Black Friday and Cyber Monday marketing traditionally starts a few weeks before the sales event itself, with some retailers like Amazon launching their sales branded as "Early Black Friday."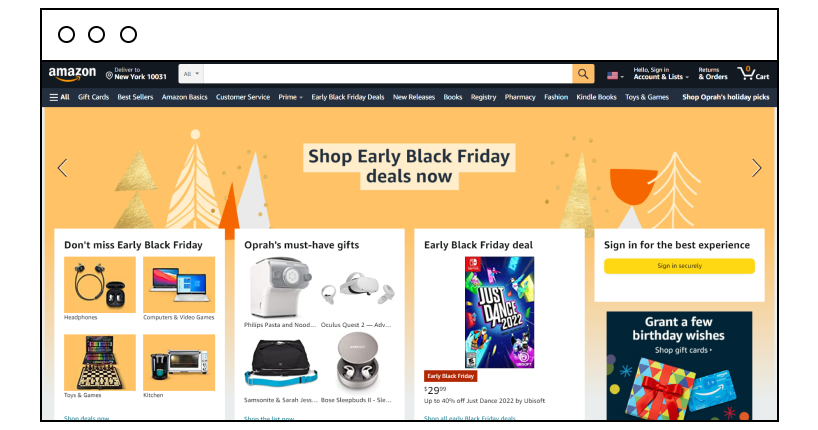 It's even possible to stretch out your sale from the beginning of November and into December by coming up with creative branding and exploiting additional seasonal occasions. Here's a list of seasonal sales you can do that go beyond Black Friday promotion ideas:
Post-Halloween sale. If you are in the business of selling candy, costumes, or decorations and need to get rid of your seasonal stock, start the month off with a major discount — your target audience will be expecting one eagerly.
Singles' Day. The Chinese holiday that takes place on November 11 is known for great deals. 2021 showed a record-breaking result of $139 billion in sales by giants Alibaba and JD.com. The day is a big deal in the Southeast Asian market, and in recent years, some parts of the European market, as well.
Veterans Day. Veterans Day (also known as Remembrance Day and Armistice Day, among others) also takes place on November 11. On this day, it's customary for physical and digital retailers to offer discounts to military personnel.
Thanksgiving. You already know it's a marketing opportunity because you're either feeling the hype yourself or consciously rejecting the buzz. As we mentioned above, early sales are most definitely a thing, and launching your digital discount on a day when folks are probably looking at a screen to escape the holiday rigamarole is a good idea.
Hanukkah. The Jewish festival starts on November 28 and ends on December 6 this year. If it's appropriate for your brand and product, this can be an opportunity to market your offer.
Travel Tuesday. Travel Tuesday is on November 30, a day after Cyber Monday. It's a new(ish) sales event specifically for the travel industry. If you're selling a product that can be used while traveling, consider offering something on this day.
In 2021, brands are likely to benefit from communicating sales even earlier than usual, with well-publicized port congestion and supply chain disruption underway. The call to "do your holiday shopping early" has been strongly pronounced through all media for what seems to be months now and this shopping season actually started in October.
Of course, "when" is only part of the equation. Let's talk about the "what."
If you're feeling pressure to add a significant discount onto a product that may not be earning you that much money in the first place, fear not. In a recent survey by the NRF, 77% of consumers reported they are eager to support small businesses during the holidays. And in a survey from 2019, free shipping was cited as the number one reason to make a purchase during this time for 49% of respondents.
Beyond that, of course, it's worth noting that having excessive discounts and prolonged sales may lead to a negative impact on your brand. If the sticker price is not perceived to be the status quo but rather an intermediate stage between sales, your product may lose some of its perceived value. See Michael Kors' fall from the luxury category.
As the business owner, you should know the math behind your business and what makes sense financially. So don't be encouraged to lose money just because you think your consumer wants a major deal.
Make a landing page
A landing page is one of the choice tools for marketers looking to promote a limited-time event or deal. By creating a standalone site dedicated to the promotion, you can use it to aggregate targeted traffic and drive it from ads, email marketing, and search engines.
When creating a Black Friday or Cyber Monday website to promote a discount or deal, you need to keep it focused on a single goal. Think about the journey your customer goes through when visiting your site and structure the information in a way that leads them from point A, your ad or email, to point B, the CTA on your landing page. It's what marketers refer to as "the funnel."
To make a successful landing page, you need to define its reader first. Is it the consumer you're normally targeting, or are you going after a more niche subset of that group of people? Where are you expecting traffic to come in from? Is it PPC ads, where it's likely the clicker has never heard of you, or is it your Facebook page where everyone already knows what your deal is? Keep these things in mind when building the landing page.
Looking for some Black Friday website ideas to inspire you? Look at what UK-based fashion retail giant ASOS is doing: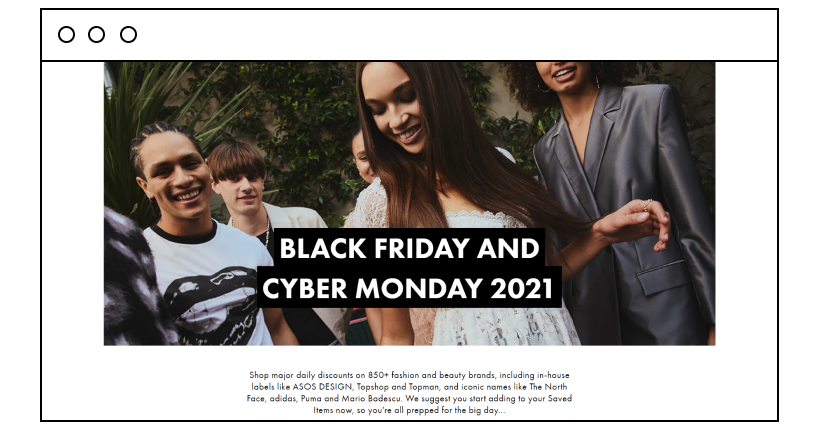 ASOS is well-known for great deals on the latest designs and top brands. Their Black Friday landing page does three things successfully:
It lays out the details behind the deal in the very first screen, making the reader excited.
The page calls on shoppers to add things to their wish lists now, so they don't have to scour the site when the sale launches.
Crucially, the page offers customers products that are always on sale.
As far as the graphic design of your landing page goes, look to use bright, colorful graphics that contrast with your typical design. The event you're promoting and its basic conditions (50% off for the weekend) should be featured front and center in any banner. For some Black Friday website design inspiration, head over to Dribbble and look at what the pros are doing. If you're more of a DIY type, check out graphic design bundles available on sites Etsy — they'll make your job easier.
Itching for more Black Friday website tips? Learn more about how to create an event landing page with the Boxmode website builder in our webinar. You can also find more info on how to create a high-converting landing page in our blog post.
Perform smart email marketing
Email is the Black Friday and Cyber Monday marketing tool of choice. Why? Because your email subscribers are most likely your most loyal base.
First, it takes the user more effort to enter their email into a collection tool, go to their inbox, and confirm the subscription than to follow your social media, like a YouTube video, etc. Second, you're reaching them in the email inbox, which, in some ways, is something like showing up at their front door. And the best part is they want to see you there!
When communicating your Black Friday and Cyber Monday deals, expect to send at least three messages. One before the event begins to give a sneak preview and drum up some excitement, one to notify your subscriber that the sale has started, and one to notify them before the end of the sale. As we mentioned above, it's quite customary to begin hyping your sale early. When exactly is that? Well, the answer is up to you. But here's what the pros are doing: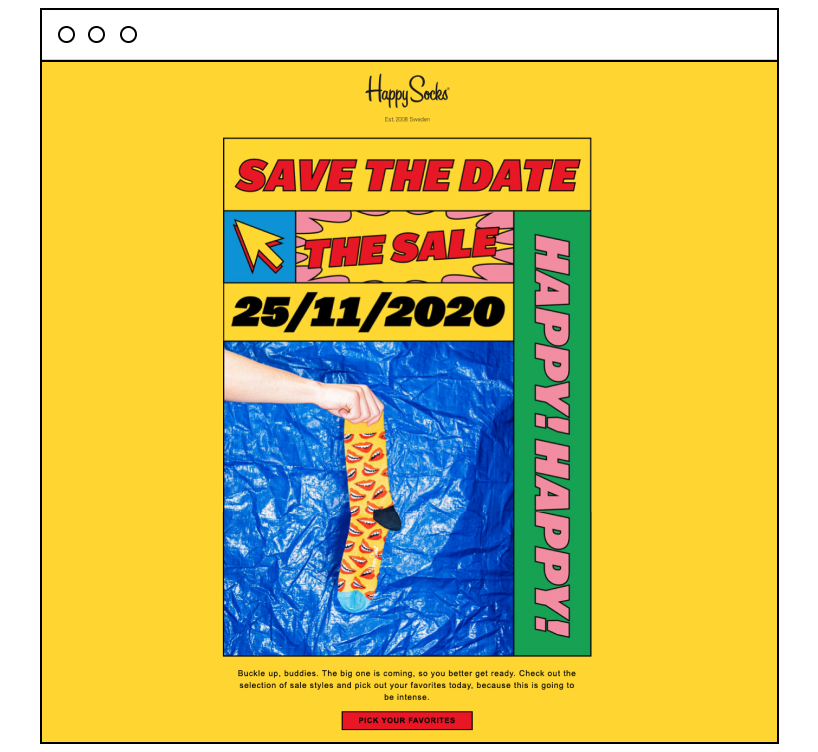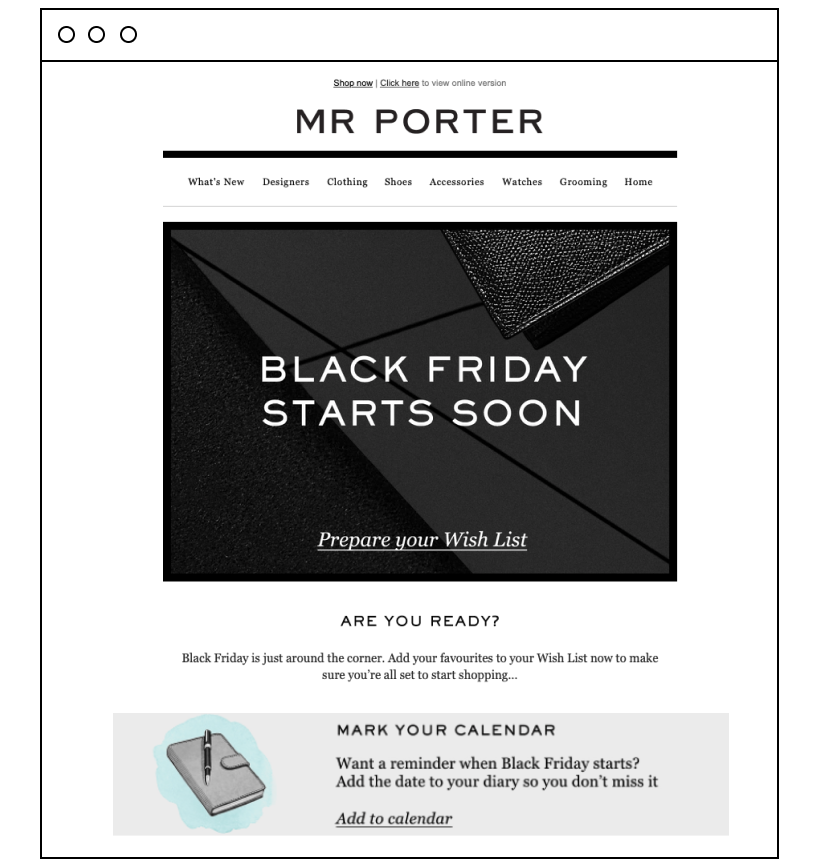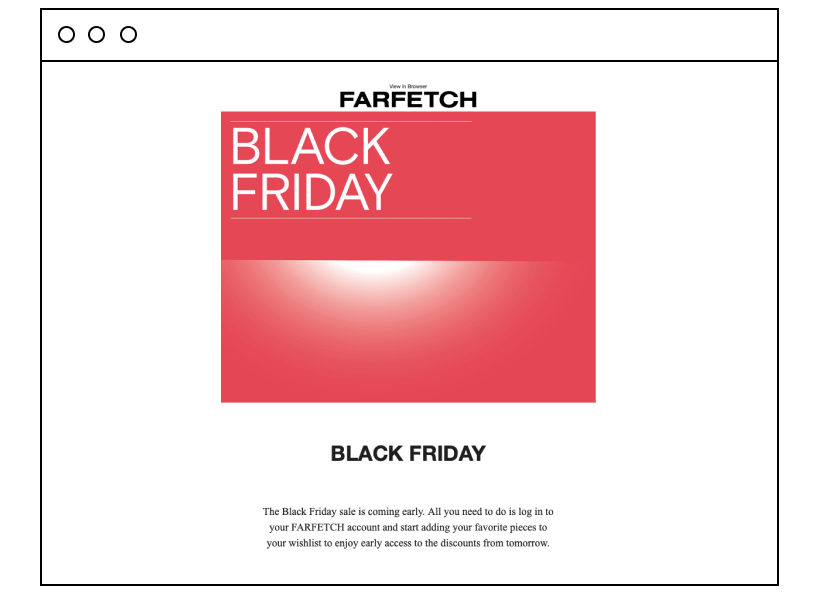 These emails arrived in inboxes just days before November 27, 2020, and they contained a simple message: get excited; a sale is coming soon! And even though the three emails are pretty different in terms of style, specialists wrote them following the same email marketing principles: put essential information at the top, communicate as much as possible through the image and minimal text, and add one call to action.
And at the start of the sale, send another email. This time, go into more detail about what exactly you're offering and how to benefit from it.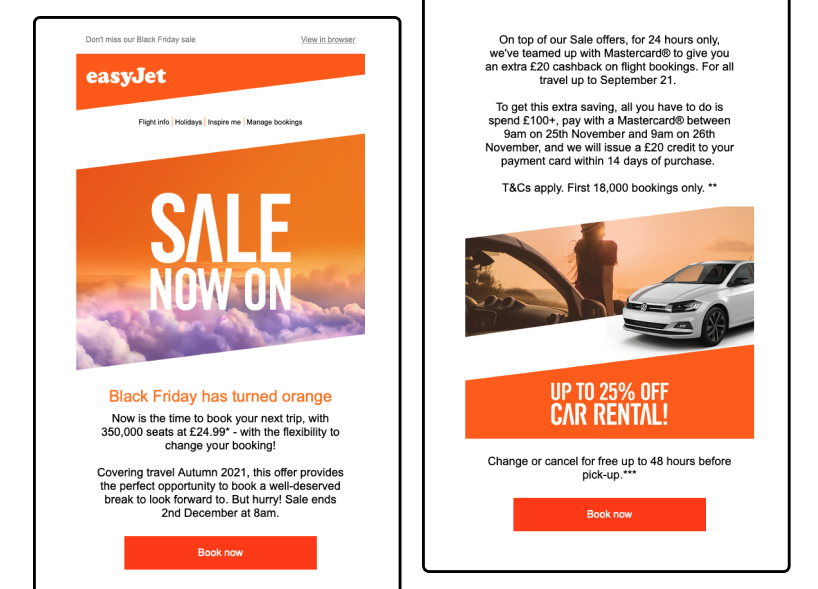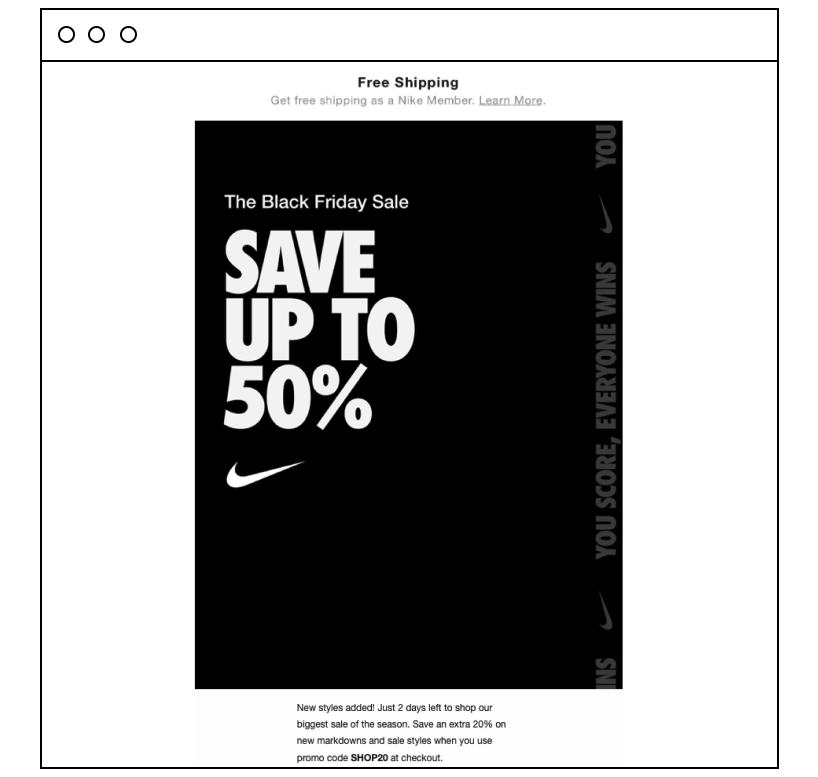 Again, using the same principles from before, the very first screen of the email should contain all the pertinent information. If you need to share secondary info like additional discounts or deals, put it below the first screen. You can use the rest of the email to feature specific items that can be bought with your discount, your headliner products, and other images that will get your reader excited to shop.
The last email should go out about 24 hours before your sale ends.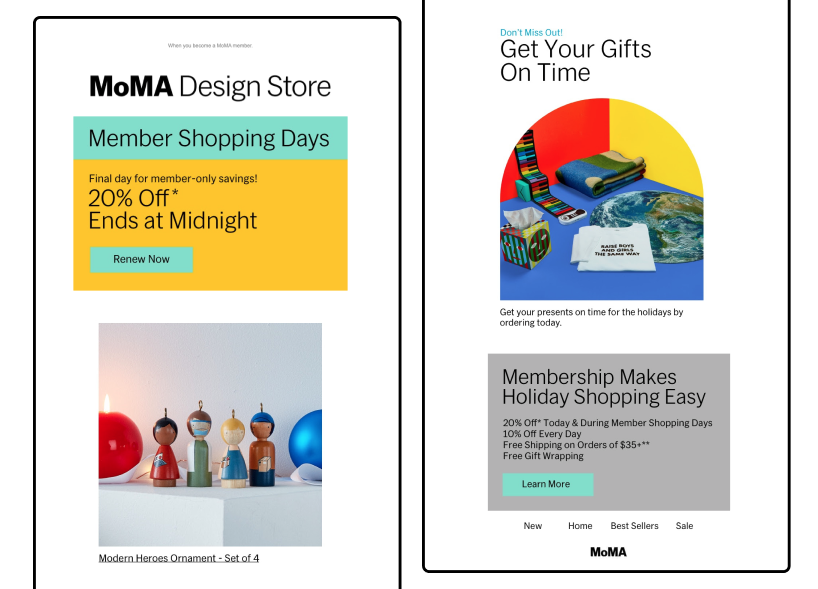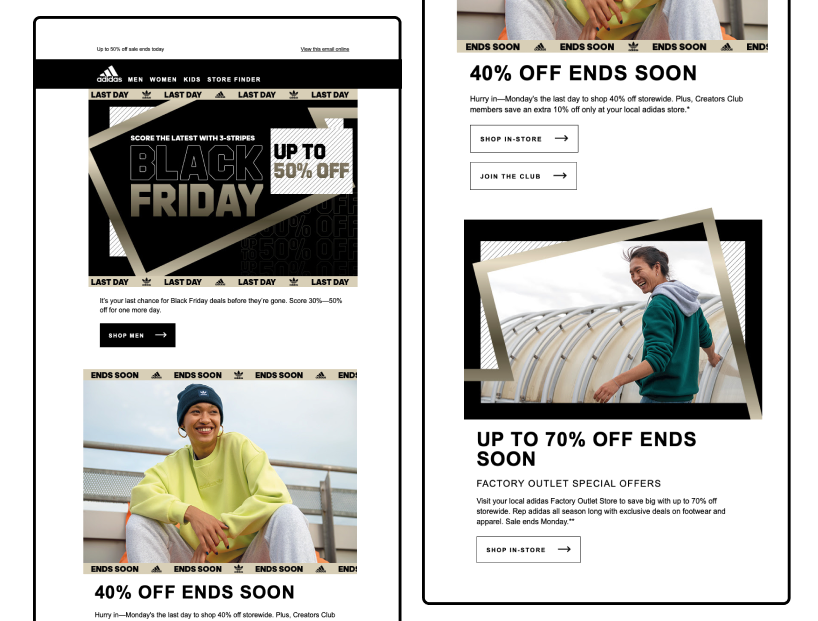 In it, hit hard on the facts that these deals are the best of the year and that they'll be going away soon. This email has several functions. For those in the know, this is a valuable reminder they are about to miss the sale. For those who missed your first two emails, this will be their first notification about the sale, so do be sure to work that urgency factor.
If your sale is going well, or your analytics show a large number of clicks, but few conversions, consider extending it at the last minute: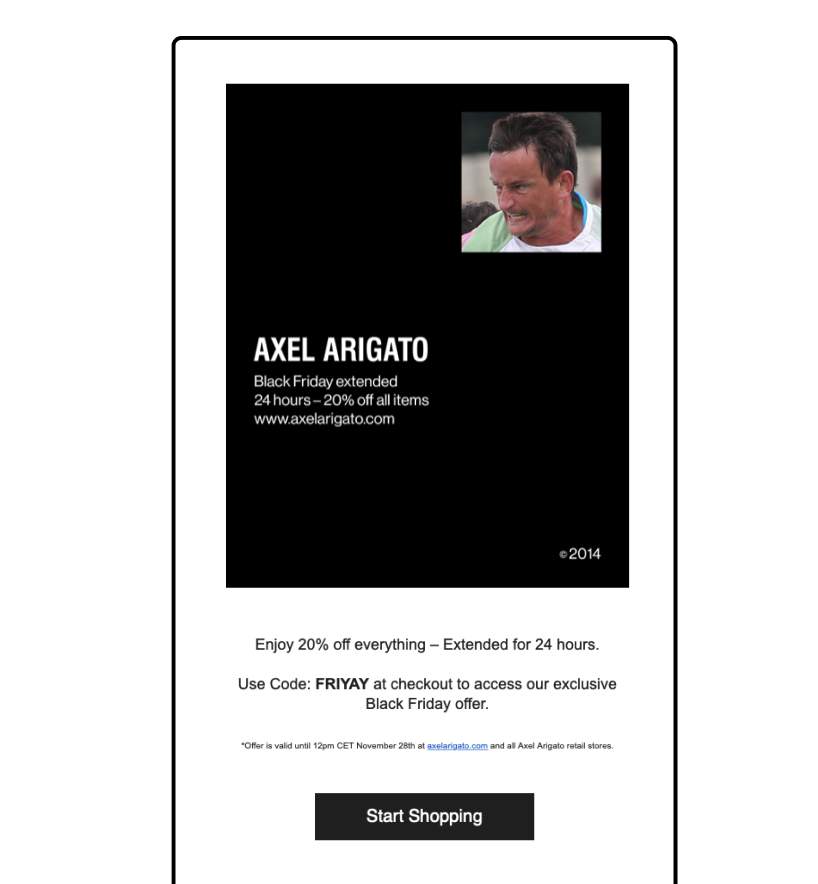 For a more in-depth guide on how to do email marketing like a pro, check out our guide. All in all, email marketing may end up being your top-earning channel this season. Unless you…
Do your own PR
Doing Black Friday and Cyber Monday advertising doesn't necessarily mean buying ads and running paid promotions. A sale is a great chance to get on the media's radar and a wonderful excuse to get in touch with journalists to whom you can introduce your business.
So how do you do it?
Start by researching a list of publications that you think are a good fit. Before you go and try to get into NYT's Wirecutter, pay attention to smaller media in your niche. Do you know any reputable news outlets or bloggers working in your industry? That would be a better place to look.
First, they are more likely to bite when you send out your pitch or press release — more niche media outlets will likely be less busy than a behemoth like NYT during this time and simply more likely to notice your email. Second, by prioritizing larger media, you may end up shooting yourself in the foot. The opportunity to introduce your brand to millions of readers may seem enticing, but it's far more likely you'll get noticed in a more well-targeted roundup of brands rather than among a smorgasbord of options.
Using Google Sheets, make a list of outlets and research whom you need to contact to send a pitch. Sometimes, this information will be available on the outlet's site, but other times you may need to do additional legwork. Do keep in mind that medium-sized and larger media outlets have section editors you need to contact to get a placement.
Don't be afraid to reach out via social media like Twitter or LinkedIn. If all else fails, try and guess their email! Most work emails follow the same pattern across organizations, which means that if you know that another email in that domain is firstname.lastname@example.com, you can fit another name into that pattern and verify whether the email exists with a special tool.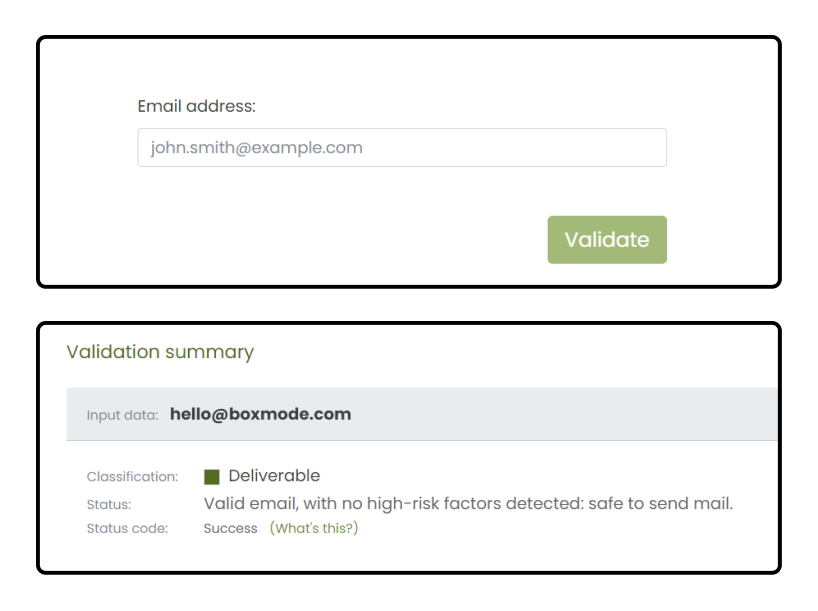 After you've got a list, write your pitch. Keep it short and focused: use a maximum of one sentence to introduce yourself, one sentence describing your product, and another sentence explaining why the product may interest the outlet you're pitching. Pro tip: "I'm sure your readers will love this!" is not as strong as "Here's what your audience of women aged 24–⁠39 say about my product."
Remember that whoever is reading your message reads hundreds of them per week. Therefore, it's essential to make your product enticing for them by finding the angle that's right for that specific outlet or editor. Have they posted similar stories or featured similar products in the past? Use it!
For bonus points, offer an affiliate link so that the news outlet you're targeting has additional incentive to publish your story and link to your product. Yes, even the big ones do it.
If what's going through your mind sounds something like, "Why should I be messaging them out of the blue? It's not like they gave me their email address. Isn't it a bit rude?" We get it. Not everyone is comfortable performing the digital equivalent of walking up to a stranger at a party and introducing themselves.
However, cold emailing editors, journalists, and bloggers is what PR professionals, journalists, and bloggers do all day anyway. Editors working for online publications start their workday with the same thought, "I need to push at least ten articles to the site today. Now, where do I get them?" You're not imposing. You're helping.
It still seems kind of daunting, though, doesn't it? Of course it does! For a small business owner operating everything on their own, running and promoting a Black Friday or Cyber Monday sale is a huge undertaking. And if you're already stressed and constantly wondering if you're doing the right thing (or enough of the right thing), the anxiety can be downright paralyzing.
But as a great poet once said, "Shake it off." There's nothing you can accomplish by wondering if you should or shouldn't. Things only get accomplished by doing. You're planning to enter into a communications bonanza side-by-side with some of the biggest companies in the world in the fight for the same consumer's attention, but starting a business seemed crazy before you did it, too, didn't it?