In today's world, bad design means bad business. Customers pampered by tailor-made user experiences no longer tolerate poorly designed websites that load slowly or are difficult to navigate. 88% of customers aren't willing to return to a website after having a bad user experience there. So, if after launching your website, you don't get the expected conversions or if you have an unexpectedly high bounce rate, the first thing to reconsider is your website design. Here are nine common web design mistakes that drive potential customers away.
The differences between good and bad web design
An ideal website design must not only visually appeal to your target audience but also go hand-in-hand with your brand style. The design must help to keep the focus on your message. An average business website owner can easily get lost in the waves of web design trends and frills, but at bottom, the basic principles of website design never change. They are as follows:
Easy & intuitive navigation
Appealing color scheme
Clear layout and content organization
Industry-appropriate design
Consistency, and
Compatibility
An experienced web designer knows how to make a website functional and beautiful at the same time, creating a perfect UX based on a target audience's preferences. Quality website design is, of course, pricey, but bad website design isn't actually cheaper. In reality, it costs twice as much of everything: the money, time, and frayed nerves in trying to retain visitors on a site where they don't like staying. In the worst scenario, it can cost you business.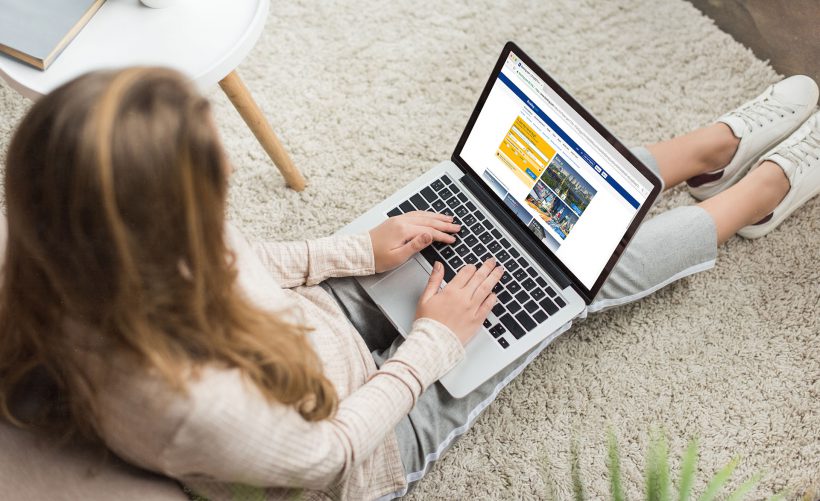 If you cannot afford an expensive pro designer right now, there is still a solution. Rather than take the risk with one of the many cheap "digital agencies" pretending to do web design, you are better off using a website builder. Boxmode is a great example, and it's FREE. It already contains a huge collection of professionally-designed, themed templates you can choose from based on your website purpose. Think about it as we analyze the worst web design mistakes ever made.
1. No clear message
Although content and design seem to be totally different domains, it's the designer who decides where and how each piece of content is represented. One of the worst mistakes designers make is to fail to tell a user the "three main W's": the who, what, and why. If a visitor can't grasp who the company is, what it does, and why in less than 10 seconds while above the fold (without scrolling through the whole page and clicking on other links), they will leave disappointed.
2. Cluttered page
Source: Arngren
One of the most bizarre websites ever, Arngren.net is a classic example of what web designers should avoid – a cluttered, mosaic-like page with no structure that makes a visitor panic and quickly escape. Overdoing the animation, floating ads, pop-ups, and links complicates navigation and makes an "Are-you-kidding-guys?" impression that can harm your brand image. If your website features a large number of products, its design must be built on a grid that keeps everything neat and organized. Like here:
Source: AliExpress
3. Tangled navigation
You have worked hard to land your potential customers on your web page, so don't let them get lost without reaching their (and your) goal. Browsing the menu, gathering information about your business, or searching for the desired product/service shouldn't be a troublesome quest. Make sure that:
All buttons are working the right way;
Headings are relevant to the section they represent; and
The search box is easy to find to help users quickly find what they are looking for.
4. Bad color scheme choice
The most common mistake website owners make is that they choose the color palette at random or based on their own taste and ignore the color psychology and their audience's preferences. It often results in a wild color scheme full of conflicting colors or a color palette that causes aversion in their target audience. The result should build trust. If you want to learn how color affects emotions and how to mix colors like a pro, read our color scheme guide.
5. It takes eternity to load
A low website load speed is harmful for your search engine optimization, and it can also negatively impact your conversion rates. 40% of users give up and leave a site that takes more than three seconds to load.
Source: Think with Google
Cool photos and flash animation can surely amuse a customer and set a tone, but overdoing with them can bog down the loading process and spoil the user experience. In this case, less is more. If you want to engage them with nice brand photos, guide them to your Instagram.
6. No mobile optimization
Can you imagine the frustration you might feel when you land on some website on your 5.5-inch smartphone but can't navigate it because you see only half of the page, some elements overlap, and the text is too small to read? Non-responsive design is still a common problem for many websites all over the world, despite the fact that most web traffic today comes from mobile phones (52.03%). Mobile optimization of a website enables it to adjust some of its settings (hide elements, alt font, remove background photos, etc.) to the width of a screen used to always ensure perfect user experience.
7. Hard-to-read text
Designers love to go with unique fonts that help immerse users in certain experiences and create an atmosphere. However, when such intricate typography harms readability and kills content, it is a sign of bad website design. To make reading a pleasure, avoid these common typography mistakes:
Too small or too big font sizes
Mixing typefaces that are starkly different
Long paragraphs
Silly fonts for a serious business
Fancy serif fonts all over the site (they are good for logos and headlines, but for bigger texts, use a less distracting sans serif font style).
8. No clear call-to-action
Great content, beautiful color scheme, and elegant layout all serve the only goal – conversion. Whether it is downloading an eBook, signing up for a newsletter, or purchase, your customer will never get to this end goal if your website design doesn't provide a clear call-to-action. Users don't have to invent ways to get what they want on your website, nor should they choose between many confusing CTAs placed at the same level. There must be a single prominent CTA per key point you want to emphasize.

9. Little annoyances
Music or video that starts playing automatically, pop-up ads that clutter up the screen, expired information, intrusive gifs and animation, overly complicated forms, or an isolated page that doesn't allow to return to the home page… All of this annoys and makes customers want to flee. A good website design must offer an experience, not impose it. Leave room for a free choice and let visitors engage on their own. Don't push.
Conclusion
Bad website design harms your business image and drops your conversion rates. Quality web design costs your business less than recovering from a bad one. Putting user experience and functionality first, you will be able to avoid the most common web design mistakes, build a trustworthy image, and get closer to converting your visitors to happy customers.
Free UX Checklist
How to Create a Powerful Website
By clicking on the "Send me the checklist" button, you accept our
Privacy Policy
and agree to receive our newsletter twice a month.