If you're an entrepreneur, you may be wondering, "How much does it cost to build a website for a small business?" You are definitely not alone. The price to build, design, and launch a website can range significantly depending on how many pages it needs, what features it should have, what technology stack you will use to build it, and so on. Beyond the initial site itself, you'll also likely have fees for routine maintenance, domains, hosting, ecommerce plug-ins, and more. Depending on how intricate your site is, these elements can add up quickly.
There's no denying that having a strong visual identity on the internet is key to establishing your authority and credibility as a business online. But how much do you have to invest in this?
If there is no standard website cost for a small business, how do you go about budgeting for it? And what is more cost-effective, to hire a team of developers, engage a freelancer, or create a website by yourself with a drag and drop website builder?
When you're ready to crunch numbers and figure out how much it costs to make a website for a small business, let this post be your guide.
How to Calculate the Costs for an Average Small Business Website
Estimating your individual website cost is not as straightforward as you may initially think. It requires you first to understand a few key factors and their importance to you. The general rule is, the more custom you get, the more your website price climbs. Building a site from scratch is a much more significant investment than using a free website template on a free domain.
Here are some of the most important factors to consider when calculating a small business website cost:
Domain
The domain name is the unique part of your URL or website address in between the http:// and the .com/.net/.org/etc. This is the link your potential customers or clients need to type in their browser to reach your website. Unless you're looking to buy a very competitive or popular domain name, the cost of this is pretty minimal, and many website builders include one for free. Choose a domain that makes it easy for your target audience to find you.
SSL Certificate
Have you ever visited a website where a message pops up that says "Not Secure"? That means the site you're visiting does not have an SSL сertificate. The digital SSL certificate verifies your website's identity and secures the traffic between the server and the visitor's browser. The certificate is another expense, but is a feasible one, especially if you ask visitors to put in any personal information.
Hosting
Hosting refers to the environment in which your website lives. To have a website, you must also have a domain and hosting platform. Though the domain and hosting are required, you don't have to get them from the same company. (Though we recommend you do it to make your life easier.)
Platform
The platform is the tool you use for bundling your website. The site can be created with a more technical and old tool like WordPress or with a modern and simple website builder like Boxmode.
Design
Small business web design pricing varies greatly depending on what platform you are using and whether you're going with a premade template or a completely original design from a web designer. One isn't necessarily better than the other, though there can be a massive price difference. When cooperating with a specialist, you will have to pay for the website design and their expertise and time.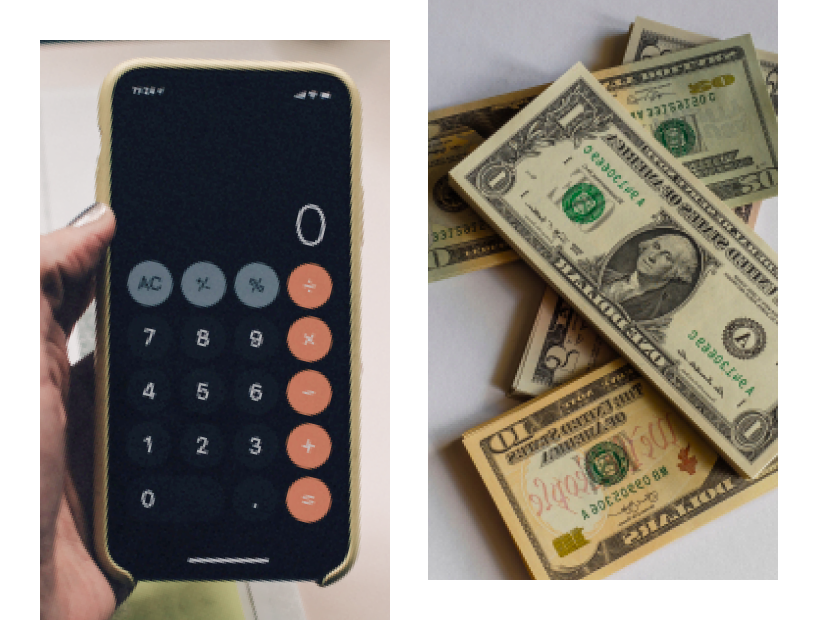 Content
Content refers to the text, audio files, and visual elements like photos, videos, and animations present throughout your website. Regarding the texts, you can either write them yourself for free (in terms of money, not your time) or hire a qualified copywriter to create your website copy. You should also consider whether you'll be buying high-resolution stock photos, using a free photo database, or setting up your own brand photoshoot for your website visuals. The same applies with podcasts or voice acting for videos. Decide whether you will record or create them yourself or team up with an actor, a co-host, and a sound producer.
SEO
SEO, otherwise known as search engine optimization, is a strategy used to show your site's relevancy to searchers. If you have enough time and desire, you can learn how to optimize your website by yourself. Or you can hire a search engine optimization manager to help you build the proper structure and make recommendations about on-page keywords.
In addition to all of the elements above, you must also think about the structure of your website. Do you know how many pages will be on your website? Like with the other factors, the more pages you have, the more complicated your structure is, and the more it will cost to build it out.
For example, a service-based business may have a website with 1–30 pages. Service companies include design studios, real estate agencies, food delivery companies, beauty salons, and education services.
A product-based or ecommerce business website can have anywhere from 30–300 pages depending on the number of products they sell. These can include handmade goods vendors, local clothing brands, pet supplies shops, online food stores, and more.
What Costs Less: Build Website by Yourself or Hire a Freelancer?
This is a very valid question for small business owners. You want to find a way to get the best outcome at the lowest cost. There are two main approaches to website building for small businesses:
Making a website using a drag and drop website builder.
Hiring a freelance website designer, developer, or agency to create a site on one of those platforms for you.
Here are some pros and cons of each method.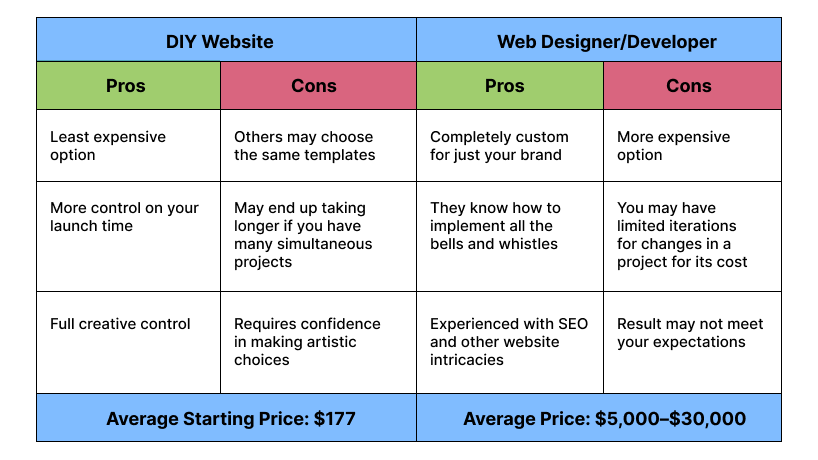 For a DIY website, the least expensive option would be to go with a basic website builder (average around $12 per month or $144 per year), a simple domain name (average around $2–20 per year, so let's use $9 for the average), website hosting (starting at $24 per year), and SSL certificate (many website platforms include this in the price of the domain you purchase).
If you build a website for a service-based company, your upfront investment will be much lower than the initial investment for an ecommerce brand. Besides having many pages, a product-based business website requires additional functionality for visitors to enter their information, browse products, and complete transactions.
Custom websites from a professional designer come with a heftier price tag. There are many factors that determine the pricing, including whether you move forward with a single freelancer to build your website or an agency. The former can start at around $2,000, while a full agency building a more complex website may start at $40,000. This is why we've left the average price as $5,000–$30,000 as most small business owners who hire a professional web designer should expect to pay in that range.
Leaning toward the DIY route? Here's how to create a website fast.
How Much Does it Cost to Build a Small Business Website With a Website Builder?
Whether you choose to hire a designer or dive into the DIY route, it's essential to understand the different website builders for small businesses. While there are many options to help you achieve a similar goal, each site builder has its own unique benefits (and pitfalls) for the business owner.
The good thing is that most website builders give you a free trial period, so you can check how everything works before investing your budget in creating a website with this particular platform. Also, some website-building platforms, such as Boxmode, provide you with an option to build a simple small business site or landing page for free.
So, the first thing you should check is whether the site builder has a free plan or only a free trial period. We suggest you start with a free plan, especially if you are new to website building or this is your first business, and you are not ready to invest largely in the website from the start. Then, whenever you are ready or need more functionality for your website, you can switch to a paid plan.
Suppose the time has come and you want to choose a paid plan. Let's talk about this in detail using Boxmode as an example.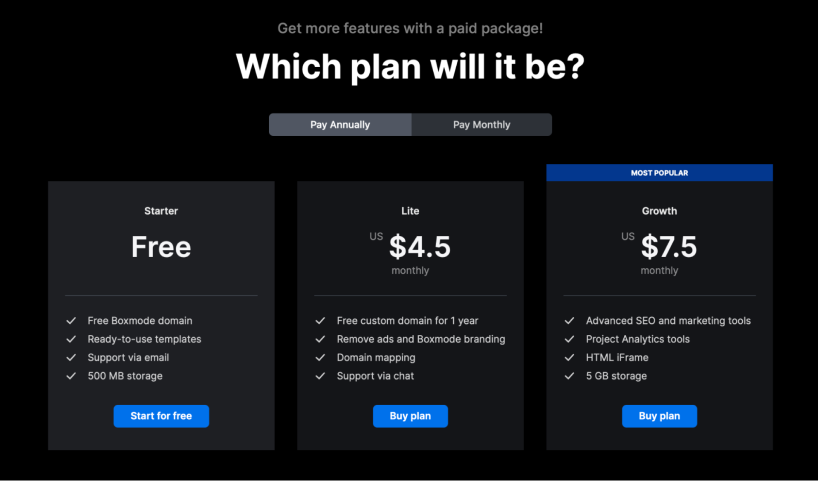 As you can see from the illustration above, Boxmode offers two paid plans: Lite and Growth.
Before you decide which one is the best, it's important to understand all the features included in each tier of the small business website pricing.
Suppose you want to create a simple business website or portfolio. In this case, you will need to:
Get the website builder's branding removed from your site to make it look professional;
Connect your existing custom domain or buy a new one to make your site look trustworthy;
Add more storage to your project for beautiful and quality content like photos and videos; and
Have the option to contact live customer support via chat 24/7 to get help immediately if you need it.
Now, Boxmode's Lite plan can cover all these needs for $6 per month, including hosting, an SSL certificate, and a range of professionally-made website templates.
If you need a more sophisticated website with third-party plugins and widgets or a landing page, you will need more features, such as:
Much bigger storage (for instance, up to 5 GB);
Access to advanced SEO and marketing tools (especially if you need to track your landing page performance);
HTML iFrame functionality that will allow you to integrate third-party plugins and widgets; and
A live tutorial session about using the website builder.
In this case, you should choose Boxmode's Growth plan, which costs $10 per month.
If you want to build an online store on top of your Boxmode project (even those with free plans), you can add a special store widget. Its price starts from $15 per month and increases depending on the number of products you want to sell.
"While creating a site with a website builder saves you a lot of money, it still needs considerable investments. I recommend choosing a plan with a toolset that meets your current needs. Don't overpay for the features you might use in the far-off future. After all, you can upgrade (or downgrade if you don't need the features anymore) anytime you want to save your budget," notes Boxmode's product marketing specialist Vlad Nikulin.
Another easy option to cut costs is to choose an annual subscription, according to Vlad. Boxmode annual plan users, for example, pay up to 25% less than those who go with a monthly subscription. Anyway, it's crucial to evaluate options carefully, "Completing a side-by-side comparison to truly understand the value of each subscription is always a good practice."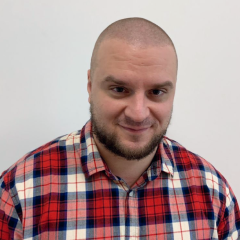 However, Boxmode is not the only website building platform on the market, so we created a chart that may help you make an informed decision.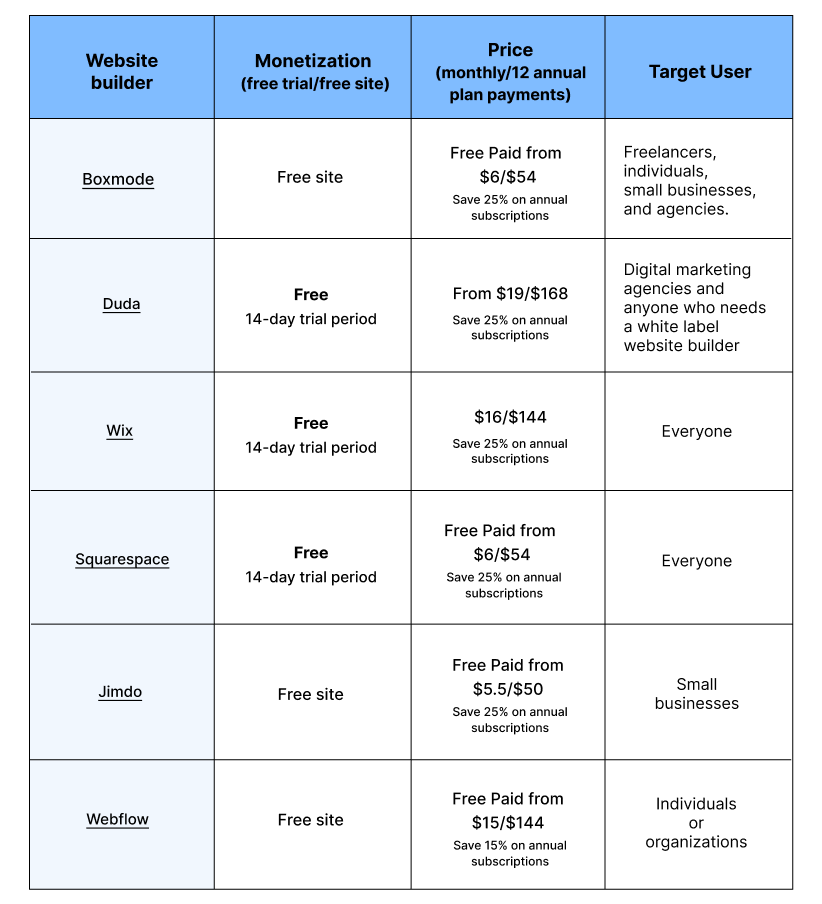 Ensure you check pricing for hidden fees before making a final decision. It's advisable to carefully read the policies and the Q&A sections before paying to avoid unpleasant surprises.
By the way, with Boxmode, you won't have to worry about additional fees or frustrating limitations. Each pricing plan clearly indicates all the inclusions and benefits to the end-user.

How Much Does It Cost to Hire a Freelance Web Designer?
Are you feeling overwhelmed by all of this information? We don't blame you. Though it can be simple, building a small business website can also have many moving parts. Some small business owners may feel it's just best for them to pay someone to build a website.
The average cost of website design for small businesses depends on the freelancer's skill level and service you used to hire them. There are a few popular ways to find freelancers that specialize in small business website design.
Some suggestions include:
Job platforms like Indeed or Monster.com;
Google searches, e.g. "hire designers online," "freelance designer for my website."
Just keep in mind, whatever freelancer you hire will not be designing every element of your website from scratch. The majority of web design freelancers you'll interview will be using one of the website builders to create your website design, layout, and content. It's much more convenient for them and you once they complete the project.
This can significantly increase the investment in your small business website. Consider these three factors:
1) Most website building platforms charge additional fees (usually one-time) for elevated design templates.
2) You will still be responsible for the costs of hosting, the SSL certificate, storage, plugins, etc., in addition to the fee for the designer's time, work, and expertise.
3) Oftentimes freelance platform contractors also pass along the transaction fees to you.
All the potential expenses must be taken into consideration when calculating the cost to build a website.
What Is the Cost of Website Maintenance Per Month?
Just because your website is finished doesn't mean your expenses are too. It is important to understand that monthly website maintenance costs are associated with many of the key components required to run your site properly.
Website maintenance consists of:
Website checkup: (finding 404 pages, broken links and images, non-indexable pages, etc.);
Technical website maintenance (fixing server errors and 404 pages, updating links and images, etc.);
SEO and content maintenance (update meta descriptions, sitemap, and a robots.txt files, audit backlinks, etc.); and
Server-side and page speed maintenance (delete unused resources, identify and fix page speed issues, etc.).
For the most basic websites, you could spend the bare minimum for maintenance and pay around $10-$20 per month, or on the higher, well-maintained end, pay around $600-$800 per month for ecommerce websites. No matter where you fall in this range, you'll need to plan accordingly.
How Much Digital Marketing for a Website Costs Per Month
Though not a direct website cost, your digital marketing strategy will be critical to driving traffic and generating awareness about your website. Without clearly defined digital strategies like search engine optimization, social media marketing, blog content creation, and even pay-per-click advertising, your ideal audience may never find your website.
The monthly costs for marketing your small business website will depend on whether you try to DIY these digital marketing methods or hire a professional to create strategies and execute them for you.
You can absolutely DIY these strategies to save on additional website costs, which is why all (except paid ads) have a starting amount of $0. However, if you're looking to really drive a high volume of traffic to a new website, you may want to include a budget for some, if not all, of these elements.
For example, SEO can cost you between $750–$2,000 per month on an ongoing basis. Social Media is another important marketing element that can drastically range depending on how in-depth you want a social media manager to go with your account. According to Upwork, you can expect to pay from around $14 to $35 per hour for a professional. So you can calculate the monthly payment depending on your planned social media activities. 
Lastly, blogging is another key factor for growing your website traffic. You can write blog articles yourself, though most companies will outsource this piece since it can be time consuming from a research, keyword, and writing perspective. If you're paying by the word, expect blogs to cost you anywhere from $0.06–$3 per word. 
The Truth About Website Development Costs
As you can see, the costs to build a website can vary drastically. Before you begin investing in your site, it's important to think through your budget and website priorities. What kind of digital presence do you need? A service-based business likely does not need as intricate a website as a multi-product ecommerce business. Don't forget to factor in those ongoing monthly maintenance costs required to keep your website running smoothly.
Next, think about whether you want to pay someone to build a website or build a website from scratch. The average cost of website design for small businesses will change based on how you choose to move forward. Do a cost-benefit analysis to determine whether it's worth adding a designer or elevated website template to your overall budget. If you are building an ecommerce website, keep in mind the added transaction, shipping, shopping cart, and product functionality also come with extra costs.
Lastly, once you have your dream company website built, don't forget to devise a plan to market it to the masses. You don't want to invest in a site that no one ever visits. Consider the various digital marketing strategies that work best for your business. Then factor in those costs within your monthly website expenses.
No matter which route you choose to take, the possibilities are truly endless for your small business website. With a robust and intuitive drag and drop website builder like Boxmode, you can affordably build a beautiful small business website at a budget any brand can feel comfortable with.