Building an effective website is key for any organization. Established businesses and new businesses alike should place their websites at the forefront of their marketing and sales strategies. When it comes to educational organizations, having a comprehensive website allows you to be more competitive and visible to your target audience. It's also a great way to present critical information and provide important updates about your organization.
Launching your online brand may feel overwhelming at first, particularly if you are unsure where to begin. While there are many website builders out there, Boxmode provides a simple solution for education brands and entrepreneurs of all skill levels. Using its intuitive website builder and education-specific themes, you can create a stunning web presence in just a few steps. No coding skills are necessary! Another great benefit is that any organization can give it a try without obligation or upfront investment.
Whether you are an established educational institution, a student tutoring center, an educational consulting firm, or a local grade school, Boxmode is the best choice for crafting your website. Check out this comprehensive guide to setting up a high-quality educational website with Boxmode.
Guide to Set Up an Educational Website
1. Choose Your Domain
Before you begin to consider the visual elements of your website, you must choose its domain. The domain is the web address a visitor will type to reach your actual site. It's the foundation of your website, so choose wisely. Most likely, you will want your organization name within the URL. This makes your site easy to find, and it also helps with search engine placement. If you have the same name as another organization, you may need to select a variation of it instead. The simpler it is, the better it is. You will most likely print your website address on marketing and advertising materials.
With Boxmode, you have three options when it comes to domains:
· Secure a free domain name
The most cost-effective option will be to select a free domain name from Boxmode directly. When you choose this method, your educational website domain address will end in ".boxmode.io." To get started, use Boxmode's search feature to ensure the domain you want is available. Your desired domain may already be taken by another organization. If an exact match is unavailable, you will be able to view similar variations of the domain you initially wanted. Pick the most logical fit from this list.
· Buy a custom domain directly from Boxmode
There are many benefits of subscribing to Boxmode's Basic Annual Package. One of the best perks is that you'll be able to select a custom domain for free. With this purchase, the ".boxmode.io" will drop off, and your URL will only include the name chosen. Picking this option also makes the whole hosting process a breeze.
· Purchase a custom domain from a third-party domain registrar
If you decide to use a third-party website registrar like GoDaddy, Siteground, or Hostinger, you can still do so. Boxmode provides users with the ability to connect third-party domains at no additional charge. (This also will apply if you plan on connecting an existing website domain.)
2. Select Your Favorite Educational Website Theme
Boxmode features four incredible educational website templates that are both attractive and practical. These ready-to-use templates are already tailored for educational institutions. Choose from the Education, Business Learning, Edu-Kids, or Schooling theme options. Open the editor from your Boxmode Dashboard, and explore these unique roadmaps. If you prefer to start from scratch, you can always choose a completely blank slate. Keep in mind that every last element can be edited as you see fit.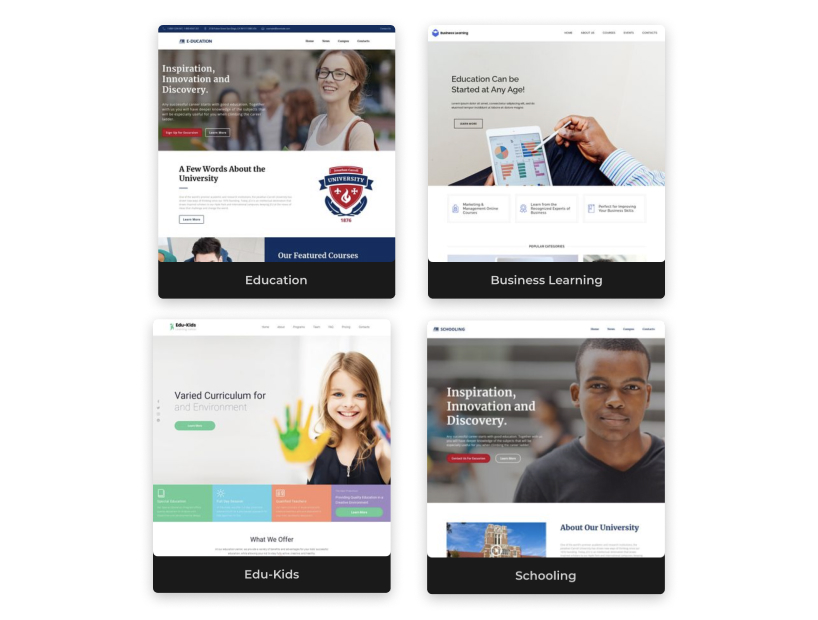 Education:
This classic template is perfect for any educational institution. It provides many valuable functionalities, including course lists and event calendars. Its crisp, clean design is an excellent fit for higher-education establishments.
Business Learning:
This educational website template is ideal for educational consulting agencies or business programs. Highlight your key employees and infuse testimonials in support of your organization in a well-organized, easily navigable way.
Edu-Kids:
This bold, colorful theme has a much more youthful feel. If you're in an educational organization that caters to a younger audience, this should be your go-to template.
Schooling Theme:
As the simplest educational website theme, Schooling is a great way to establish your presence as a prestigious educational organization. This template is modern and straightforward.
In addition, all of these themes are automatically built to be mobile-responsive. This means that no matter where your audience views your website, it will always appear the way you intend. From mobile phones to tablets and large desktops, rest assured that all viewers will have the same fabulous experience.
Once you have narrowed down the four options to your one favorite template, hit "Select Template." You will be officially on your way to having a fantastic website. (By the time you're finished, you will feel like a true expert website designer!)
3. Edit and Customize to Your Preferences
Whether you consider yourself an internet novice or expert coder, all themes can be easily edited based on your organizational preferences and branding. Every element of a Boxmode educational website template is completely customizable. The intuitive drag-and-drop feature allows you to add new sections and rearrange existing ones seamlessly. Add additional inner pages and navigation options as needed. Update the templates to reflect your brand colors. Infuse your school mascot or logo. Add visually compelling images that showcase your organization. You may also find you love the template just the way it is – and that's great too!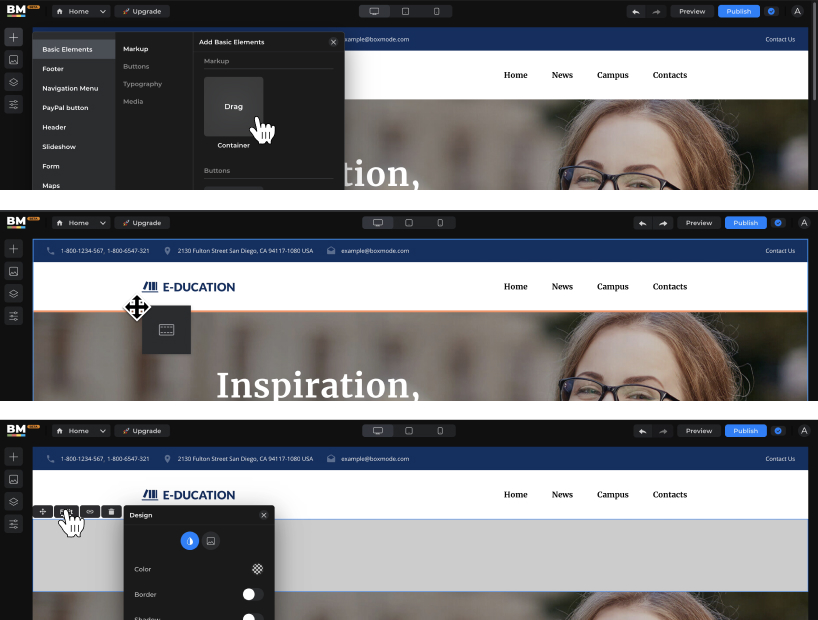 When planning out your website, consider what information is most important to highlight. What makes your organization unique? Perhaps you are best known for your extensive variety of offered courses or programs. Maybe others seek you out for the tutorials you showcase or the school membership program you provide. Regardless of what makes you stand out, each template can be morphed into your perfect vision.
Prior to finalizing your design, there are a few important questions to ask yourself:
Who is my target audience?
What am I looking to accomplish with my website?
What type of branding am I trying to project?
Are there any individuals I would like to feature?
What third-party feedback/social proof can I provide to support my brand?
What type of content do I want to share?
Are there awards or accolades I should promote?
In addition to being attractive, another key piece of your website will be its practicality. At the end of the day, it is crucial to design your site with the end-user in mind. Information should be presented in a way that is clear, concise, and logical. All visuals should also be stimulating but purposeful. Those visiting your website should be able to navigate it easily and take action as necessary.
All educational website templates have built-in features tailored to this vertical. For example, some templates have functionality that will allow your students to register for classes using a contact form. A number of relevant widgets can also be installed to make your website shine. If your school sells branded merchandise, for example, you can add e-Commerce features to your project. Students will be able to easily order books, supplies, or memorabilia using the PayPal Button that integrates directly into the site.
Note: Entrepreneurs of all skill levels choose Boxmode as their website builder. If you need help along the way, Boxmode has an extensive help center for reference. Use the search box and find answers to virtually every question there is. If you still can't find the answers, don't worry. Our incredible support team is always there to help.
4. Publish and Monitor for Success
Though it may sound like a huge feat, setting your educational website live will be a true breeze. Once you feel that all elements are ready, simply click "Publish" in the top right corner of your screen. Now the whole world will have access to your beautiful new website. It's a beginner's dream!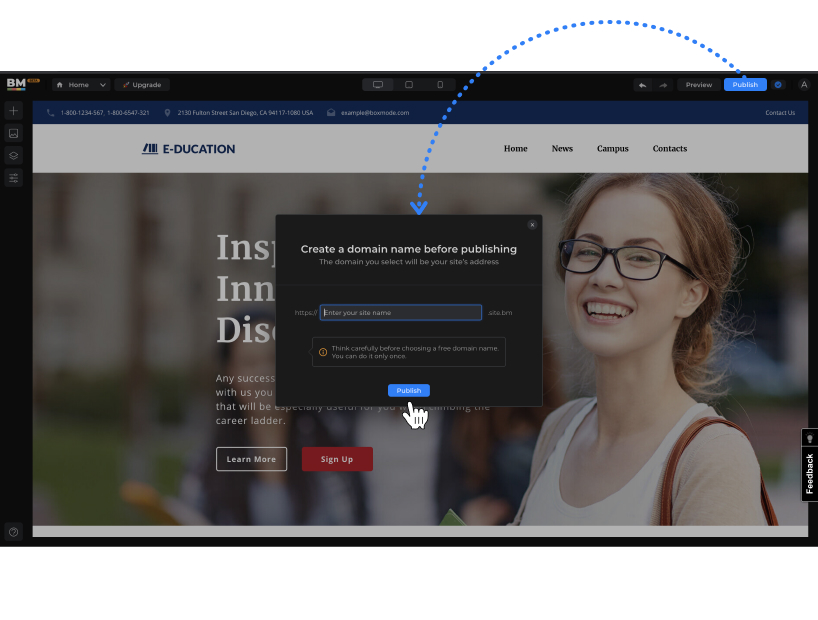 One of the most important, yet often forgotten factors about launching a successful website is tracking it. Once you set your website live, it is vital to monitor for incoming traffic. Evaluate which pages and sections are most popular and where you receive the most engagement. This will allow you to put additional focus on important areas that may be overlooked.
Boxmode provides users with a handy advanced feature that will also help you measure success. Be sure to leverage Boxmode's project and page SEO settings. This will allow even the most basic beginners to design an optimized website. SEO tactics should be implemented from the moment of initial development. By focusing on SEO tactics from the beginning, you will already be a step ahead. With a comprehensive SEO plan, you will be able to boost search engine rankings and website visibility. Boxmode's SEO tool will help you focus on relevant keywords and infuse them into your page title, description, and content. It will also create a file for search engines to crawl and index. For your website to be truly successful, people have to be able to find it. Boxmode helps make that happen.
5. Review and Revise Periodically
Of course, whenever you set your site live, you hope it will be absolutely perfect. But, what if it doesn't perform the way you hoped? It is important to give your new website some time to resonate with your audience. After monitoring for a fair amount of time, you may find some elements that need improvement. Perhaps some areas are confusing or aren't used as frequently as you would have hoped. Don't let this stress you out. We've put our effort into making real-time revisions simple. Every element of your site can be edited or even deleted at any time. As soon as changes are made, you can instantly publish them. The portal allows you to see a to-scale preview of what your site will look like. Once you are pleased with the new look, make the revised version live with one click.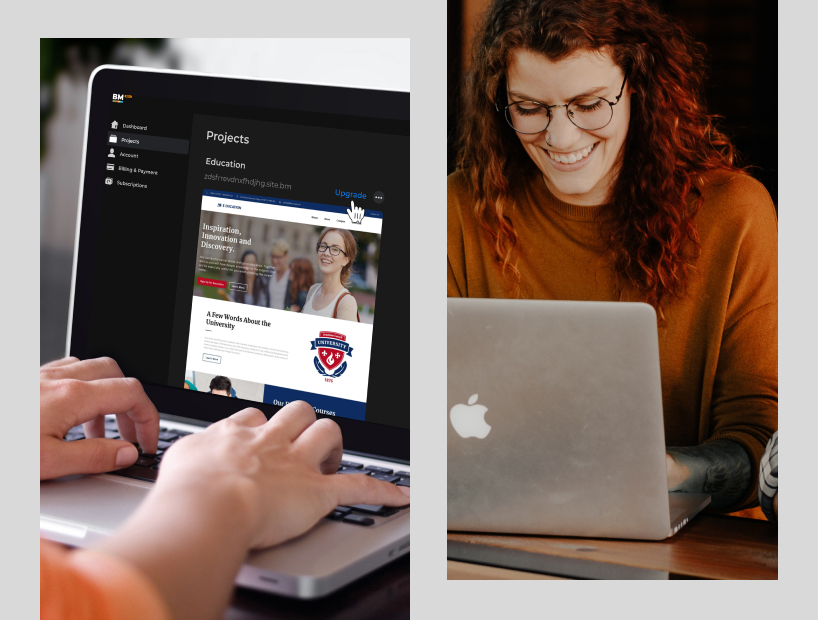 Designing the perfect website for your educational organization takes time and dedication. With the Boxmode website builder, there's no need to be overwhelmed with the process. The dashboard and intuitive, ready-to-use educational website templates make building an effective website simple and straightforward. You may be surprised to see how excited and empowered you feel when using Boxmode. Even beginners will feel like experts!
Are you ready to embark on this website-building adventure? Just follow this comprehensive step-by-step guide, and you'll be on your way. First, start by choosing your domain. Once you have selected the best domain possible, review the available educational website templates. Spend time going through the various layouts, themes, and features. Narrow down your final choice and get started. Customize the template to fit your organization's branding and preferences. This process is what will make your website stand out from your competitors.
After you've finished crafting your custom-tailored website, it's time to put it out there for the world to see. Publish your website, unveil it in cyberspace, and watch it grow! Once it is live, continue to monitor your inbound traffic and evaluate overall success. Over time, if you notice areas of improvement, head back into the Boxmode Dashboard and revise it accordingly. You can make unlimited changes whenever you see fit! If you ever get stuck, Boxmode's help center and team are always there with support.
Creating a beautiful website for your educational institution is within reach. Whether you have a new education blog, or whether you are an educational business consultant or work at one of the most prestigious academic institutions, Boxmode's customizable educational website templates are a great fit for everyone. Explore the site and get started on bringing your vision to life today!