User experience is a significant part of customer engagement. The better the user experience is, the more engaged your customer will be. However, preparing mockups and wireframes is time-consuming, and getting a sign-off at each stage can also create unnecessary work for clients, which is never a good thing! That's where using prototyping tools comes in handy. Prototyping tools can breathe life into ideas and show concepts in action without having to build. Using prototypes will give your client insight into what the finished product might look like and how their ideas might take shape.
Prototyping tools can speed up the product creation process, which means that your team can become more efficient and effective. In addition, prototypes convey your ideas to clients naturally and visually, and they can powerfully influence the way you design.
Interactive prototypes provide an overview of your design, interactions, and ideas. Sharing prototypes for feedback and then creating new versions with relative ease has significantly impacted designers' working methods.
How to Choose the Right Prototyping Tool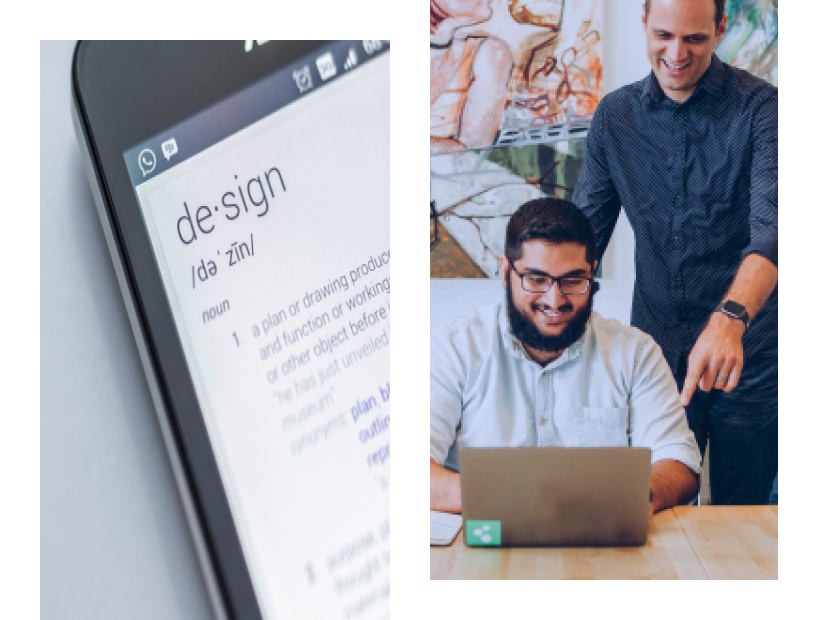 Choosing the right prototyping tool is critical. Get it right, and you'll be able to seamlessly translate your thoughts and ideas with your client and work together collaboratively and harmoniously. Get it wrong and you might get bogged down in complicated details and add to your workload instead of lightening it.
Choosing the best one for the job isn't always easy as there are plenty to choose from, and each tool has different features that set it apart from the rest. Before you decide on your prototyping tool, it is a good idea to consider the following factors.
Ease of use
A designer needs to grasp how to use the features of the prototyping tool quickly and easily. All tools provide different features, so understanding which ones you need will minimize the time it takes for someone to master how to use the tool. So look for intuitive tools to ensure that the one you pick removes steps in the design process rather than adds to them.
Sharing abilities
Collaboration is an integral part of the design. So any prototyping tool worth its salt will make collaboration easy. This means multiple users should sync with each other and input their ideas into the project. Everyone has the ability to share these ideas, so they can remain on the same page.
Usage and integration
Prototyping tools that can seamlessly integrate with the other tools you use regularly will be a no-brainer for your business. If you use other popular design software such as Photoshop or Sketch, a prototyping software that doesn't require you to export assets separately will be a wise choice.
Price and budget
Naturally, whenever you invest in your business, the price will play a role. Some prototyping tools offer more niche features but are likely to be the ones that come with a heftier price tag. There are also lots of free prototyping tools out there. So be clear about what you need – there is no point paying out for an expensive tool if you don't use the features it offers after all.
A List of the Best Prototyping Tools
Choosing a prototyping tool that's right for your business isn't a decision you should take lightly. Let's examine some of the best prototyping tools and their features, so you can understand how to choose the best one.
#1 Figma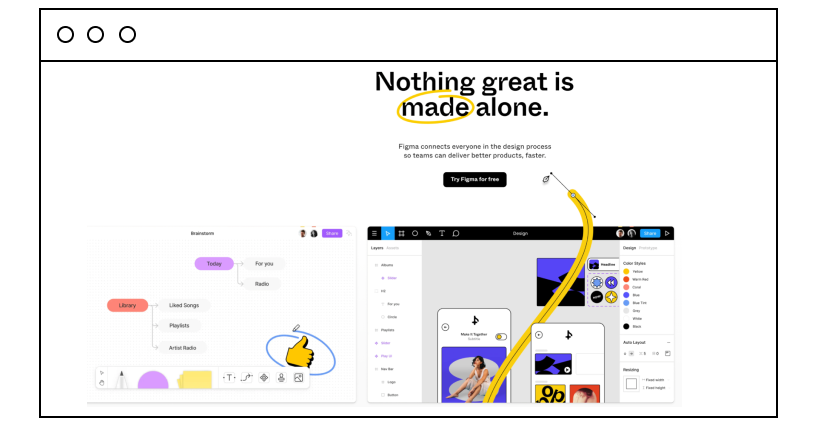 Figma is an all-singing, all-dancing tool that has excellent collaborative features and is super accessible too. If your team works on a browser-based, cloud-hosted platform, Figma will impress with its range of flexible styles that keeps you in charge of your text and design elements. It also offers a whole host of additional plugins, such as Autoflow, which can break down user flows, Figmotion, for creating stunning animations, and many more.
Compatibility: Mac/Windows users
Price: Free with limited features; paid plans start from $12 per editor/month
#2 Boxmode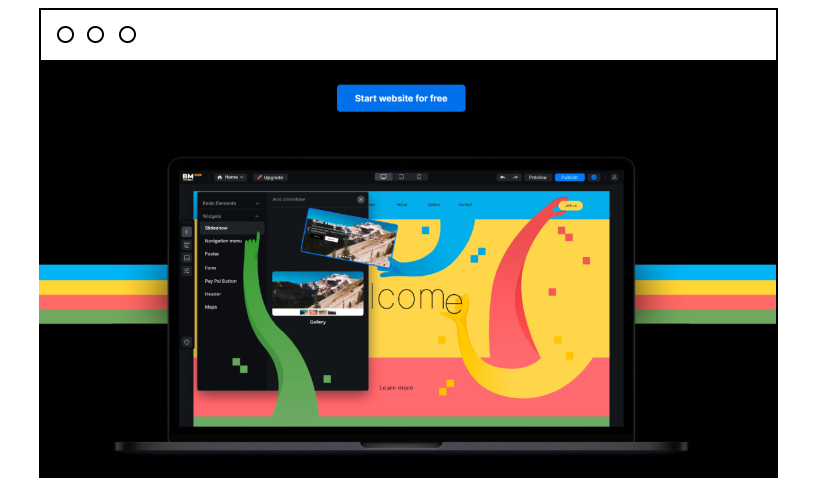 Boxmode is another handy prototyping tool that's ideal for creating responsive websites with zero coding. If you want to knock out a website in no time, Boxmode's drag and drop editor is ideal. The website builder also offers a host of handy widgets to make your website much more functional and engage visitors. You can start with a template or use a blank theme. Boxmode also offers a free integration with Unsplash, which gives you access to an unlimited number of royalty-free illustrations.
Above all, Boxmode's free version allows you to create and publish a full-scale site for you or your clients super-quickly and without spending a dime.
Compatibility: Mac/Windows users
Price: Free and paid plans, starting from $4.5 per month
#3 Balsamiq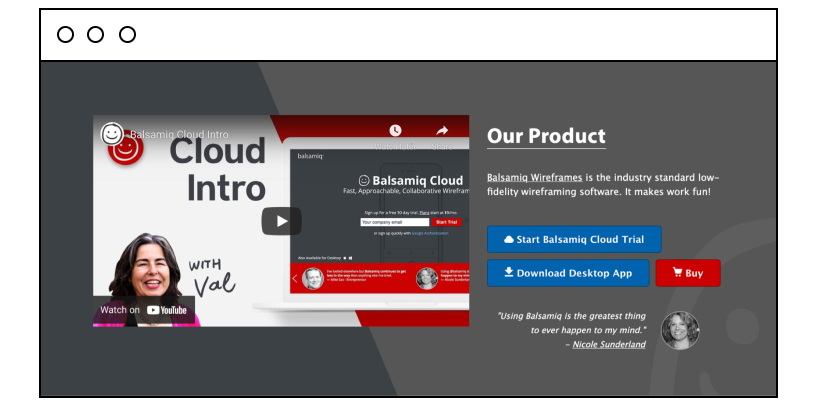 Balsamiq is an intuitive tool for creating user interfaces, sleek web design, and mobile applications. You can drag and drop to position and rearrange elements with ease. Another cool feature of Balsamiq is that it allows users to experience the feel of writing on a whiteboard, so you get that impression of brainstorming on pen and paper while using the software.
Compatibility: Mac/Windows users
Price: Starting from $9 per month
#4 InVision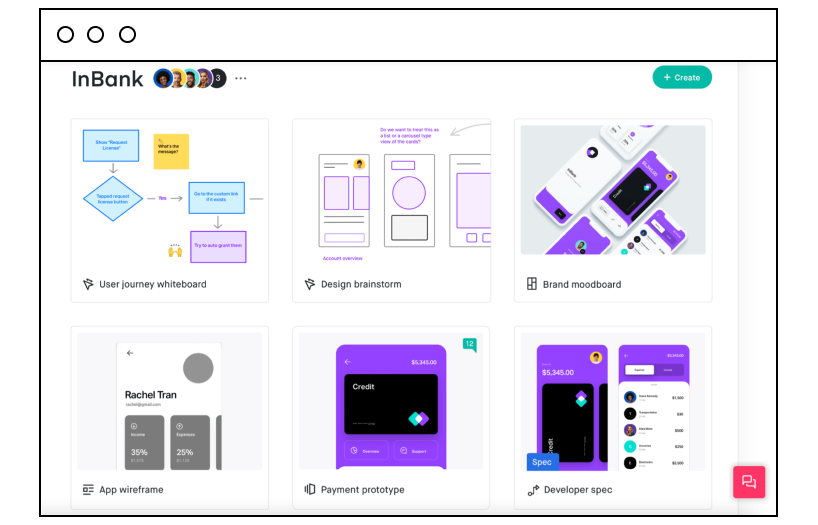 InVision was first released over a decade ago and has established itself as a leader in the prototyping game. However, the fact that the product is old doesn't mean InVision hasn't kept up with the times. On the contrary, it continues to impress by rolling out new functionality and adding to its already impressive design platform.
Creating functional prototypes is easy with InVision, and sharing with team members and clients is a smooth and seamless process. Users can add notes and feedback via Freehand, and LiveShare allows users to view an interactive demonstration of the prototype too. In addition, there's a vector drawing tool, animation creation tools, and a plethora of visual effects. Plus, InVision offers repeatable components that can be amended across the site.
Compatibility: Mac/Windows users
Price: Free for your first project ($15 per month for three projects | $25 per month for unlimited projects | $99 per month for teams)
#5 Adobe XD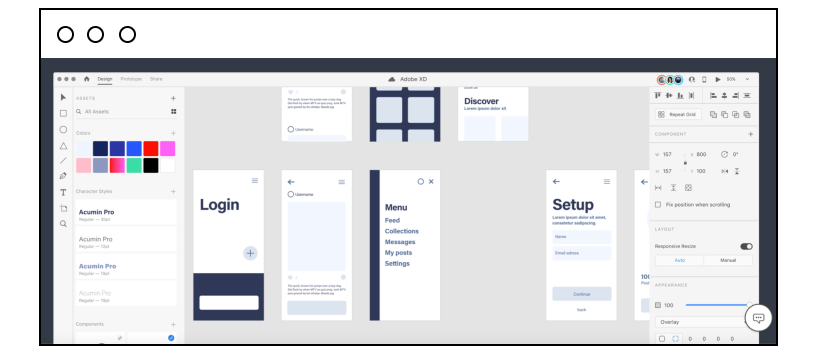 Another popular choice is Adobe XD, which offers tools that create interactions, transitions, and many other kinds of dynamic functionality. It's a vector-based program, which means that scaling and resizing elements is a breeze. Monthly updates mean that it's always one step ahead of the curve.
Naturally, Adobe XD is compatible with other Adobe programs, such as Illustrator and Photoshop, and it offers many great tools for designers to shape their ideas and produce hi-res prototypes.
Compatibility: Mac/Windows users
Price: Free trial; $9.99 per month
#6 Sketch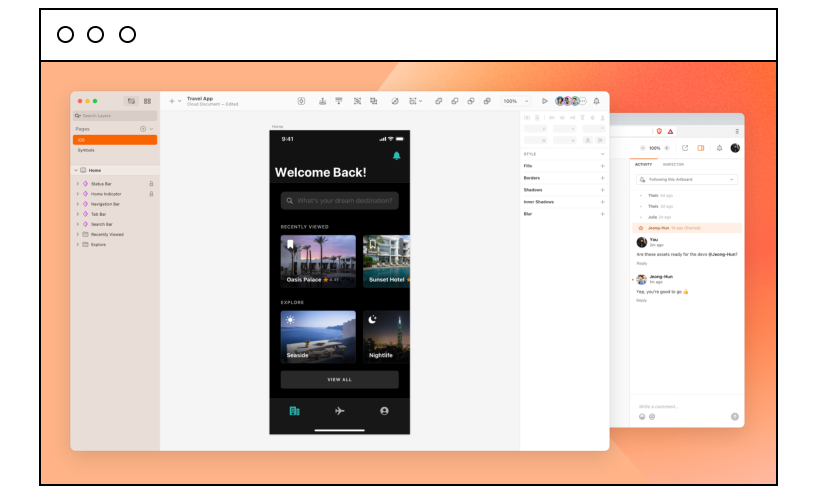 Sketch is another vector-based design tool that assists designers with the creation of beautiful interfaces efficiently and intuitively. Sketch offers unlimited dartboards, and its unique nested symbols feature means you can pre-design various elements such as buttons, widgets, and more complicated navigation mechanisms. Once you have done so, you can replicate the design on additional artboards and shapes.
Sketch's "export to code" plugin is another great tool that permits users to export their design into code in a matter of seconds. So, from creation to development, Sketch works hard to make your processes as streamlined and efficient and possible.
Compatibility: Only for Mac users
Price: Free 30-day trial; $9 per editor per month with unlimited free viewers
#7 Origami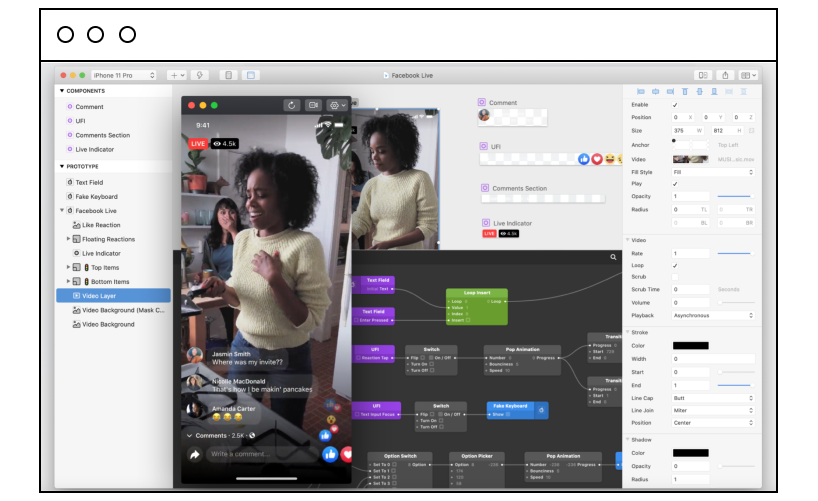 Origami is a prototyping tool that's been created by Facebook's design team. Using this tool, designers can explore and test ideas while simultaneously creating a digital product. If you are hoping to design a sleek, contemporary interface, Origami offers a whole range of features to make this easier.
Compatibility: Only for Mac users
Price: Free
#8 Framer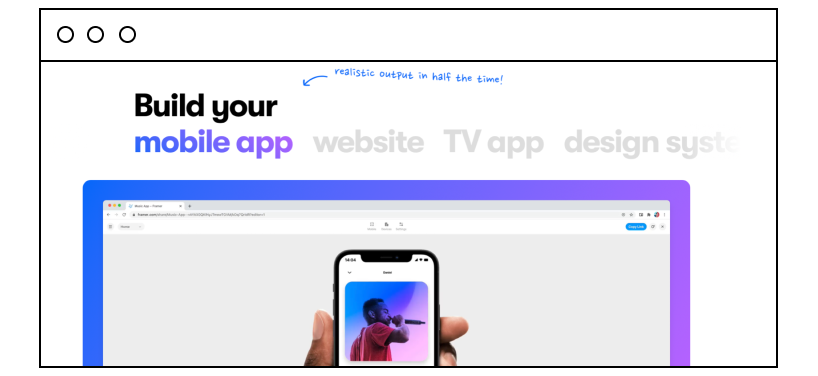 Framer is widely used among designers. Its central idea is simple; with the code, you can prototype anything. Unique and breathtaking designs are the result. In addition, the workflow is intuitive and seamless, and it enables the user to preview the device. It provides version control and hassle-free sharing.
Documentation, how-to videos, and courses are readily available, so understanding how to use Framer is also easy, allowing the user to achieve complex and flexible code.
Framer supports Sketch and Photoshop projects, and it preserves each layer of your design. You can also preview the prototype live alongside code creation, so those who aren't familiar with doing so can see the effects in real-time.
Compatibly: OS X, iOS, Android, Windows 10 Mobile
Price: Free 14-day trial; paid plan starts from $20 per editor per month
Which Prototyping Tool Will You Choose?
Creating great designs can be easy with these UI prototyping tools. It's even easier if you know the basics of UX design techniques.
As you can see, each prototyping tool comes with unique benefits and, therefore, will suit different requirements. We also recommend you check the newest web design trends to create up-to-date prototypes.