This is a guest post by Kate Parish, chief marketing officer at Onilab.
Online stores don't allow buyers to touch, taste, or try on goods. While technologies advance, some brands implement virtual reality where customers can walk through a virtual store, purchase items on the go, or virtually try on clothes they like. It helps to give people more confidence in the product and reduce returns.
But not every business can afford pricey advanced technology. Yet they want to help prospects make a deliberate decision, too. If you're a small business owner or you hope to build one as a marketer, customer feedback comes to your rescue.
How else can people obtain sufficient and trustworthy information about the product? Talking to a sales representative takes time. So does site search. Yet a review from another customer is self-explanatory and effective. This is why placing customer feedback on your website is fundamental and affordable.
This article shares actionable tips and product review examples of well-thought-through feedback sections that you can follow.
Why is customer feedback powerful?
The customer feedback section is a must-have for any successful ecommerce store. It aids online business owners in gaining consumer trust, elevating their brand's status, and increasing sales.
What makes feedback influential? Suppose someone already purchased the item and can give their thoughts on its strong and weak points. Prospective buyers analyze this feedback and know what to expect.
Let's assume you want to buy mascara and open the corresponding product page. You scroll down and see consumer ratings and customer review examples, which say it causes reactions to allergies. After reading such feedback, you are unlikely to order this product. On the other hand, if you find encouraging testimonials for the product, you are ready to open your wallet.
As a business owner or a marketer, you may think, "Ok, so I'll remove all the negative statements and put myself in a favorable light." But that's a losing strategy. Here is why:
The absence of unfavorable reviews can make customers doubt your credibility. 
Negative feedback gives you a chance to show your customer experience commitment and turn unhappy customers into loyal ones. In fact, according to BrightLocal's annual research, 70% of consumers are more likely to use a business that responds to negative feedback. 
Negative reviews are great for getting new insights and understanding what consumers want from your product.
Removing negative reviews can damage your reputation.
The bottom line is, both brands' positive and negative reviews matter to customers. And regardless of their emotional coloring, reviews can encourage people to buy.
Possible Platforms to Share Reviews
Where can you locate brand reviews? The first option is a website, provided you have one. If you don't, you can easily build it using the Boxmode shopping website builder. It's effortless to create anything from promotional landing pages to comprehensive business websites and online stores using Boxmode's pre-designed templates. Check out one of them below. It illustrates the home page with customer testimonials.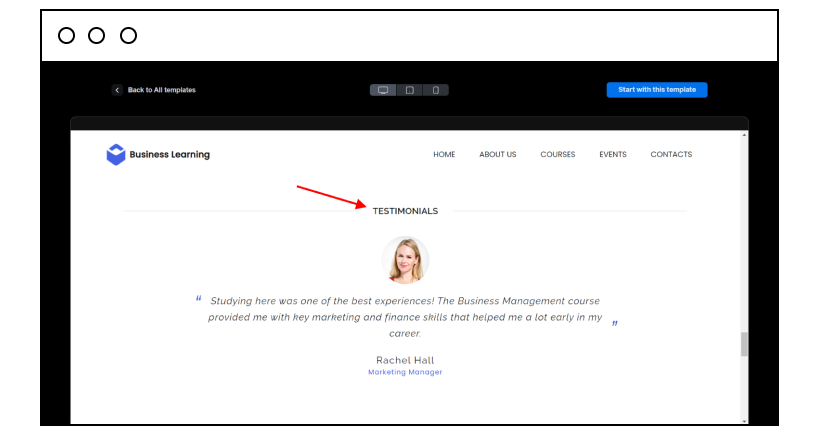 Once you've set up your website, make sure it loads fast (you don't want to face high bounce rates). No product review will have its effect if users need to wait for the page to load. Consider what platform you choose and implement Shopify, BigCommerce, or Magento performance optimization tips to make your website lightning fast.
What if you don't have a website or don't want to add review sections? Other options to showcase product review examples are:
Google reviews
Yelp! reviews
Facebook and other social media reviews
Niche online reviews, such as fandoms, forums, personal blogs, etc.
Seven effective product review examples in ecommerce
Let's explore how successful companies approach placing testimonials on their websites and other platforms.
Death Wish Coffee
Death Wish Coffee is a U.S.-based online store providing the world's strongest coffee, as it states. The brand sells a particular gourmet blend of beans with high caffeine content. This will definitely wake you up.
If you open the website, you'll notice how the Death Wish brand reflects its "death" angle with a simple but evocative design. Each product page contains a button taking you down to the review section.
The structure of the reviews area is as follows:
A search bar
Clickable keywords
Search filters by the number of stars and whether you want a comment to show photos or videos
The customer's name (and if they are verified or not)
The specified product rating (in stars)
"I take my coffee with" and "Preferred brew method" specifications
The review title
The date
The comment itself
The share button (it means you can share the word on Facebook, Twitter, or LinkedIn)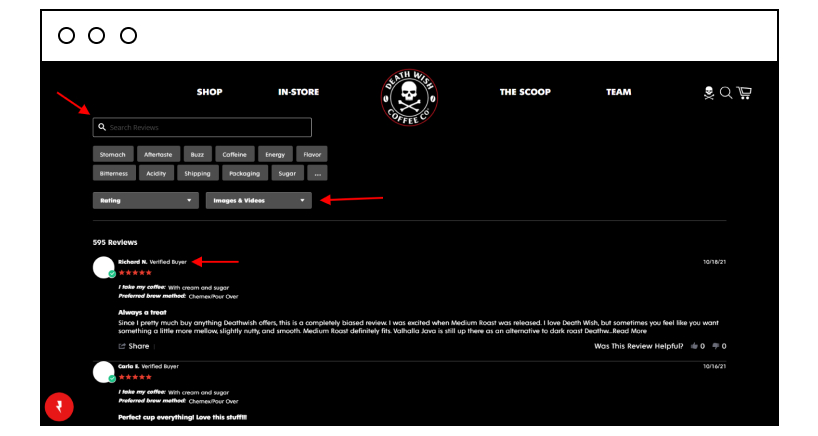 Such a structure helps you navigate through the comments quickly and get needed information. The white text is displayed on a black background, making it readable and falling within the website's overall style.
This design concept appears to be very attractive and minimalist, and most importantly, it displays the necessary information provided by other users for product evaluation.
Torrid
Torrid is a clothing retailer for women wearing plus sizes. The store features a wide range of on-trend extended sizing items, from accessories to sportswear and intimates.
What makes the company's approach to client feedback unusual? For example, apart from the overall score and brief product comments, you can also view the pros and cons comparison. This section outlines how many people marked their comments with "satisfaction," "comfort," and "fit" terms. You see the quote and can proceed to the full review.
Another advantageous detail is the block with the percentage of consumers who recommend the product.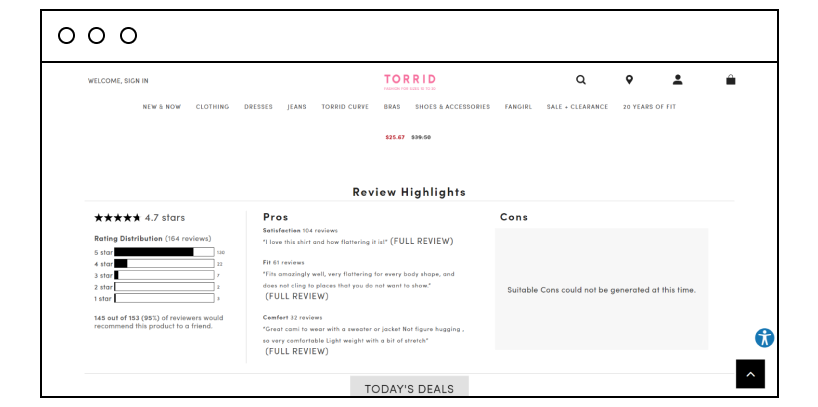 Other product review examples on the site follow a standard pattern with key information on the customer and their opinion. But Torrid has another fairly attractive feature. It offers a "fit" slider, which indicates whether the product runs big or small,or too short or too long.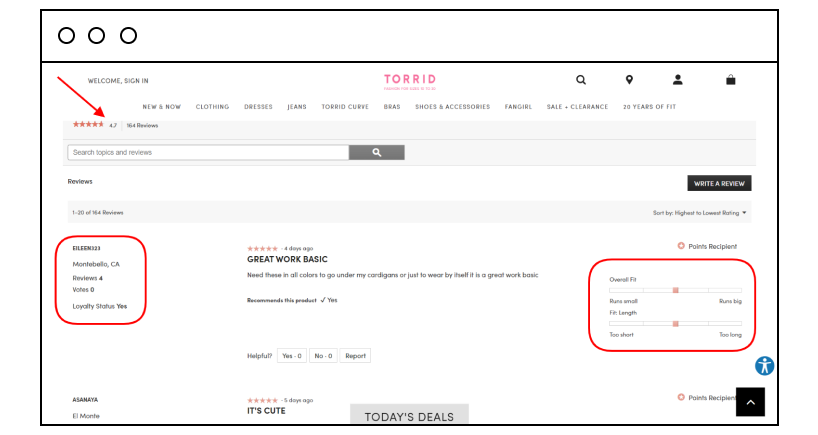 Laguna Herbals
Laguna Herbals is a natural cosmetics company working only with certified organic products. Its objective is to supply consumers with cosmetics that are safe, non-toxic, all-natural, as well as effective and environmentally responsible.
In a competitive market like skincare goods, you have to go out of your way to be noticeable. And the best way to do this is to provide testimonials and actively engage with them.
Buying the required product on Laguna Herbals' website takes a few clicks, but most people read the reviews before tapping on the "Add to Cart" button. Check out how the Laguna Herbals' reviews area looks like in the screenshot below.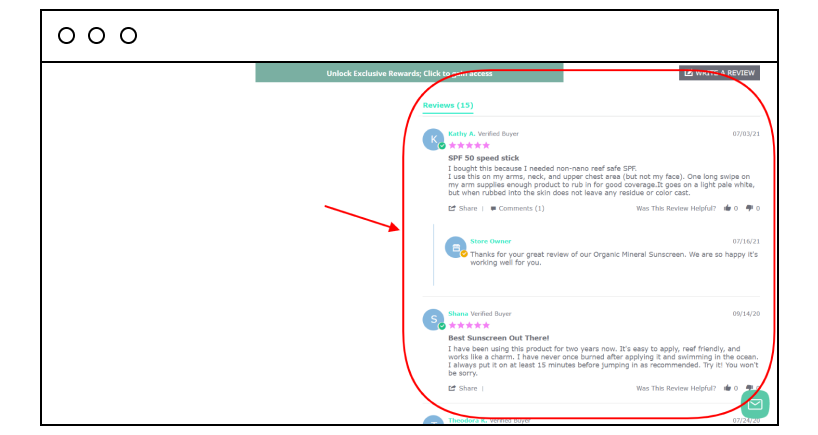 It's a common review list with typical features: the name, date, rating, and feedback. Yet the team responds to some comments, mentioning their goods one more time. All transactions are verified to ensure review reliability.
Ulster Weavers
Your online store resonates with the overall marketing campaign. So it should deliver your message effectively and comprehensively, and, of course, draw attention. Need proof? Look at the Ulster Weavers' official website.
This home textiles brand from Northern Ireland uses review snippets on the home page for additional influence.
It places convincing titles, such as "Shop with Confidence" or "Our Customers Love Us," average ratings, and the number of comments. All these are critical to potential buyers. But the company removes frictions associated with visiting the product page to read a testimonia. Such feedback availability ticks all the boxes and converts.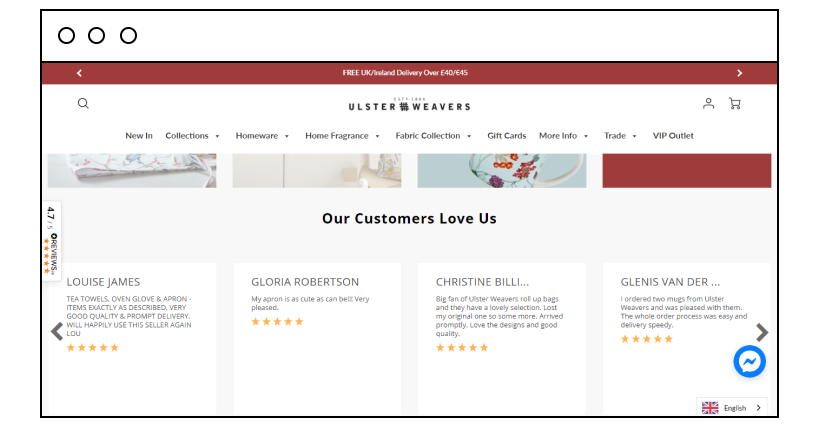 Sock Fancy
Do you need some ideas for the next email campaign? Elevate your reviews to become the main attraction.
For example, incorporating examples of reviews into the product launch is a terrific approach to achieve buy-in. Customers will be more enthusiastic about your new product if you tell them what others think about it. One of my favorite examples is the Sock Fancy newsletter.
It sent an email with the "Read the Reviews" subject line. The call to action in the title encourages recipients to open the email and check out the testimonials. The email also includes customer photos (user-generated content) as social proof.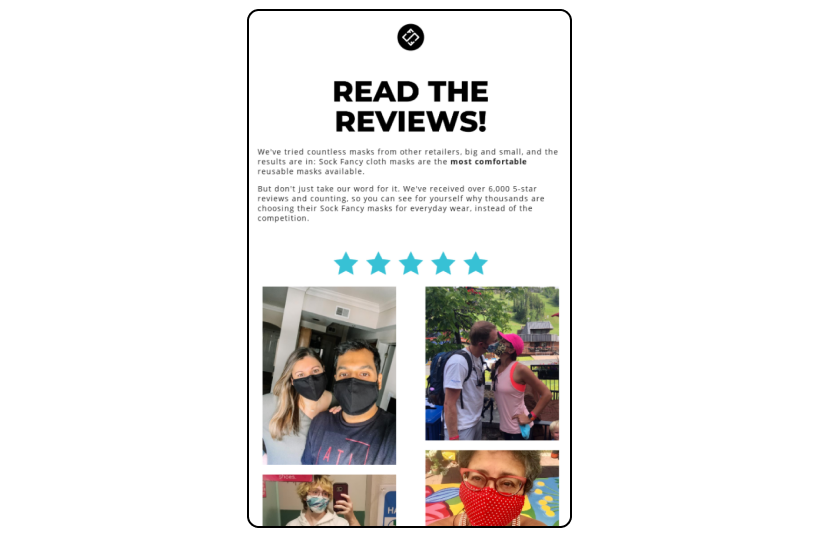 Orseund Iris
Another ecommerce brand is the New York-based luxury company, Orseund Iris. The brand caters to anyone looking for excellent fabrics with a surprising twist. Some notable fans of the brand include Emily Ratajkowski and Bella Hadid.
The company is noted for its active online presence and leveraging Instagram for business. And it's not some distant company you can't reach. Instead, an unceasing conversation is at the heart of its social media marketing. Below you can see one of the numerous posts where the company's representatives respond to almost every comment.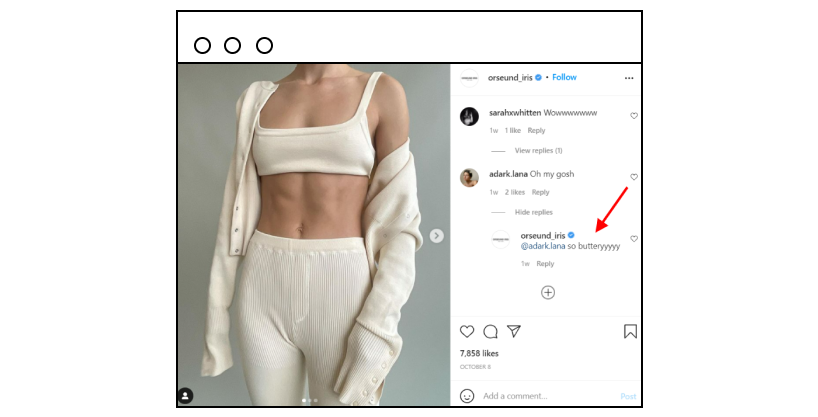 The main page of the Orseund Iris website displays an additional section featuring clients' photographs using the items. You can click on the image and go to the product page.
Such a link to social media is an additional indication of the brand's popularity. So why not leverage this marketing channel to highlight all your customers' excellent things to say about your company?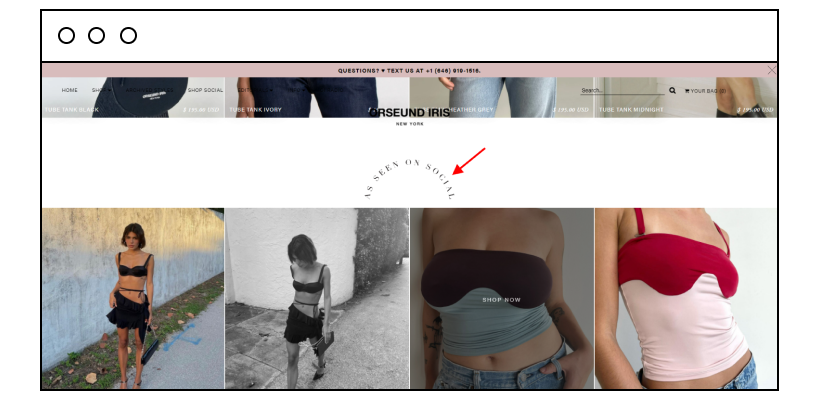 Platinum Skin Care
What speaks louder than customers' results? Nothing. You can find out how the product performs in real life only after using it, preferably multiple times. Informative customer reviews can reveal details that the seller hasn't mentioned or is not even aware of.
To help its clients choose wisely, Platinum Skin Care has opted for a separate review page on the website. It consists of photos and videos with ratings.
The testimonial gallery looks like a social media feed. You can open the image and see the concise overview, the verified buyer's name, ratings, and publication date.
For customers' convenience, the online store has a sorting feature. You can choose what you want to see first: the most recent testimonials, videos, or images.
Visuals allow clients with the brand experience to share their emotions and ways to apply the product. As a result, it's simple to read and see how other consumers' skin reacts to it. If you need more reasons to buy, Platinum Skin Care can send you samples.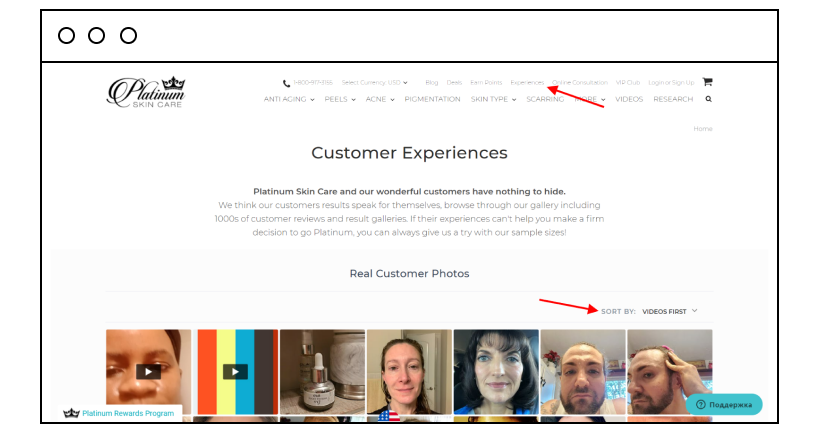 Wrapping up
Testimonials help prospects understand why they need the product, and they help to assuage doubts. The more convincingly and comprehensively you present customer review examples and ratings, the more the client will have deeper fondness for the product and an incentive to buy.
Following the tips and effective product review examples from this article will help you create a robust testimonial section on your website or any other platform you use to market your products.