Are you considering using Instagram Guides to engage better with your audience? It's high time! This relatively new engaging form of content has reshaped how businesses can use Instagram to communicate with their followers.
Modern brands need many things to connect and communicate with their audiences. The first one is, of course, a slick website, which you can easily create with the Boxmode website builder.

Entrepreneurs must also consider creating a long-term marketing strategy to keep their business visible, ahead of the competition, and at the forefront of their customer's minds. And quality social media marketing can significantly enhance your chances of success.
Using social media platforms has always been a no-brainer for businesses when it comes to boosting audience engagement. However, getting a good social media ROI is also important. With its one billion monthly users, Instagram is the one that every company needs to get on board with. At the same time, Instagram has always been predominantly a photo-sharing app, and this was limiting for some businesses that struggled to find the right context. If a company had more detailed messages to share, Instagram didn't seem like the ideal place to do so.
But, with the launch of Instagram Guides, this became a thing of the past. The feature allows users to gather different posts and repost them under one heading as a single resource. So if, for example, you have lots of posts centered around a particular product or service you offer, you can scoop these up and repackage them. By posting them as a guide or turning them into an individual album, you allow your audiences to peruse this content at their leisure and discover lots of detailed and relevant information.
Businesses can use Instagram Guides to create useful content for their specific audience. Some ideas include travel guides, gift guides, how-to guides, product highlight guides, offer resources guides, and roundup guides.
Where to Find Instagram Guides
You can easily find Instagram Guides on the creator's page. Simply select the Guides icon from the feed tab, and you'll access all the guides the page owner shared. If you want to discover more about a specific post, you can tap on the image or video to jump to the original Instagram post.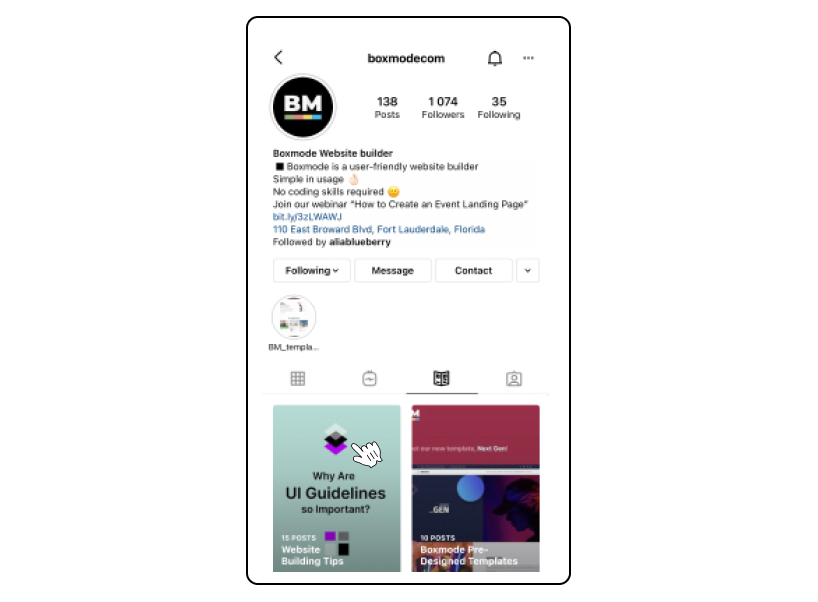 Viewers can easily share the guides they like to their Instagram stories or DM to their friends by tapping the paper plane icon at the screen's top right corner.
How to Use Instagram Guides
Instagram Guides have three distinct categories:
Places Guide
Do you have any local tips, insider knowledge, or recommendations about your area? Places is where you can create content that shows the best of a location and gives users lots of useful, relevant information about that particular place.
If you want to attract a local audience, you can select the Places option, instructing Instagram to gather any content tagged with the specific location you input. This allows you to show any user-generated content that contains your business location.
Products Guide
Do you have lots of specific information about a particular product you need to share? Are you looking to draw attention to a fantastic service you offer? Do your products provide multiple features and benefits? Or maybe they have specific use or care instructions you need to share with your customers? Products is where you can pull together posts related to a single product or service and feature them visibly. You can share much more detailed and helpful information in your guides. Moreover, you can link Instagram Shopping to the guides to allow your followers to purchase directly from them.
Posts Guide
Do you want to create a fresh new piece of content from your old posts? With the Posts option, you can curate previously published posts that share a theme or are centered around a particular topic and then repost these to provide thematic insight and guidance. Include up to 30 posts to create your guide and share this with your audience to demonstrate your creativity, storytelling skills, or in-depth knowledge on a particular subject.
Benefits of Using Instagram Guides for Your Business
Operating a small business during quarantine was not easy for many entrepreneurs. However, even when physical stores must close, a robust online presence can have a huge influence.
Any business that is active on Instagram should post at least a few times a week. Doing so quickly builds up to a lot of content that will slowly move lower down your feed, soon to be forgotten about altogether.
If you want your older content to continue working for you, repurposing it into an Instagram Guide is an excellent way of getting more value for minimal effort.
Maximizing your content through Instagram Guides is good for your business and helpful for your customers. Make it easy for your audience to find what they are looking for rather than search for the information they need. By presenting information condensed into a helpful and relevant guide, you are doing the hard work for them, and they'll thank you for this.
Instagram Guides help to keep your content evergreen, organized, and always available. You can also open up many possibilities to work with influencers and create brand partnerships by asking them to develop guides that include your products and services.
By using the Instagram Guide Tool, you'll craft longer-form content. And if this content is engaging and interesting, users will stay on your page longer, which means they'll become familiar with the product you offer. This will keep your business fresh in their minds and foster brand loyalty.
Innovative businesses will also note that curating Instagram Guides is another way to insert keywords into your content. When users search for content by keywords, your guides can come up on the results page if you include keywords. Doing so will extend your reach. If you plan your content specifically to target new audiences, you can create guides that provide the solutions, answers, and information that people are searching for.
Done right, Instagram Guides can increase your conversion rate, leading readers to buy your products directly from your shop.
Engaging guides will also encourage users to interact with them. If your guides do their job, readers will like and share them, helping to spread the word about your offers and boost your brand recognition. This will position you as an expert in your industry too.
Inspiring Examples for a Small Business on Instagram Guides
If you're looking for home inspiration, follow West Elm on Instagram. It's known for its stylish modern living and designs.
When in doubt, simplicity in the content will always work. Guides can be as simple as showing table decoration examples. West Elm creates beautiful post guides gathered by common topics. It feels as if the company's marketers follow the best practices, as the latest guides are named mentioning the quantity of featured content, which lets page visitors know what to expect.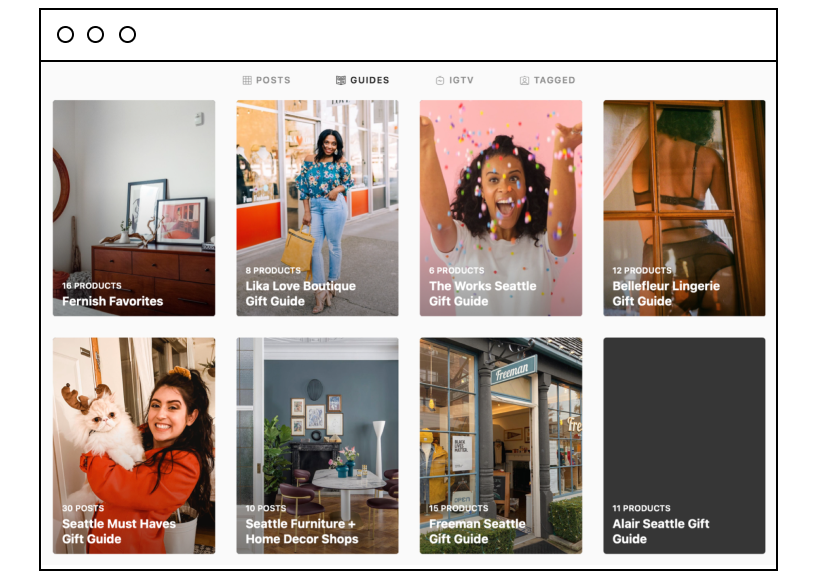 As a lifestyle content creator, Waldorf likes to position herself as an expert guide for gift giving in her region. Her Instagram Guides let her followers know where to buy the best gifts from local Seattle-based businesses. Both her Places and Product Guides share her expertise and local knowledge. This is a perfect example of creating quality content if you are a blogger or an opinion leader.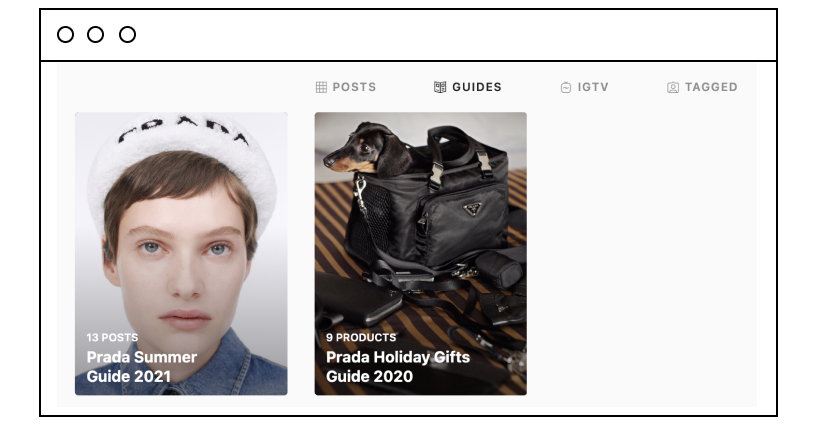 Prada is a good example of a business that makes the most of every content opportunity. Its brand-centered holiday gift guides are a collection of the company's previous posts and a good example of reusing old content. Underneath each post is the product price listing from its Instagram shop, too.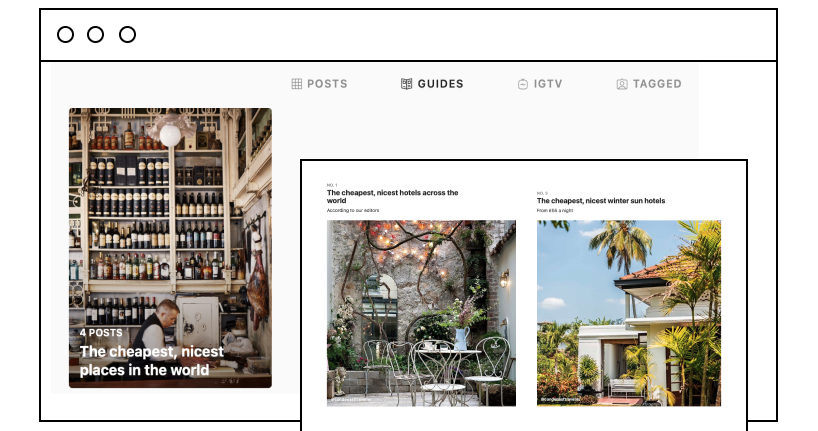 Condé Nast Traveller's Instagram page is a haven for adventurers looking for travel recommendations all over the globe. Looks as if it started to use Instagram Guides just recently, but the first travel guide gives great inside tips and is a useful resource for anyone planning a trip.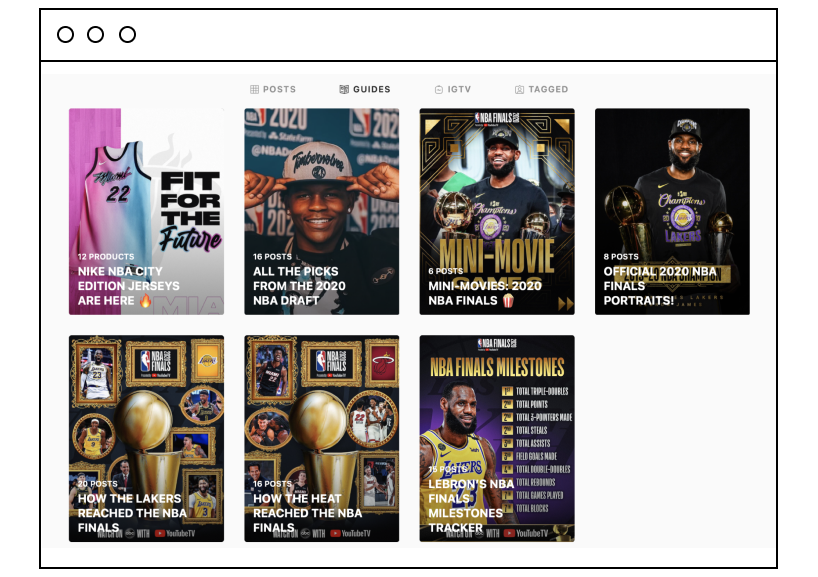 The NBA is actively and diversely using Instagram Guides not only to sell its merch online but also to entertain its followers with quality content. The guides about how the teams reach the NBA finals give the fans the whole story in one post.
By the way, look at the emojis in the guides titles. If your brand's voice and tone allow this — you should definitely adapt this example and entertain your audience when appropriate.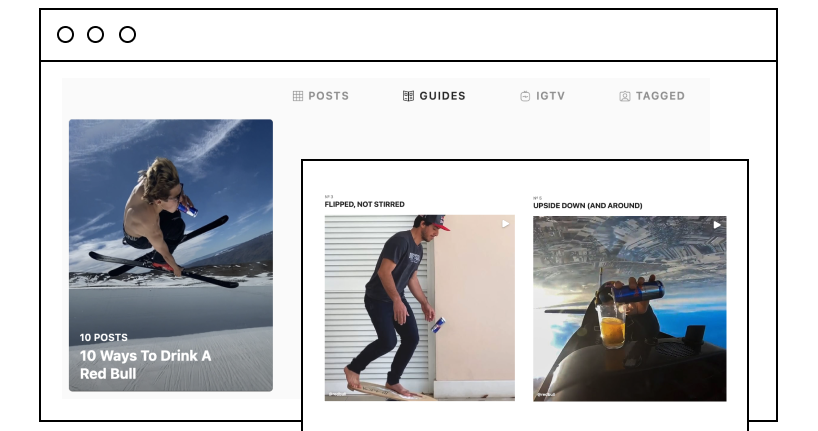 This company keeps its brand image in all types of communication with customers, and its Instagram Guides is no exception. A put-together guide with funny and dynamic videos is impressive for sure. If the followers missed one of the videos in the Instagram feed, they can enjoy watching it here.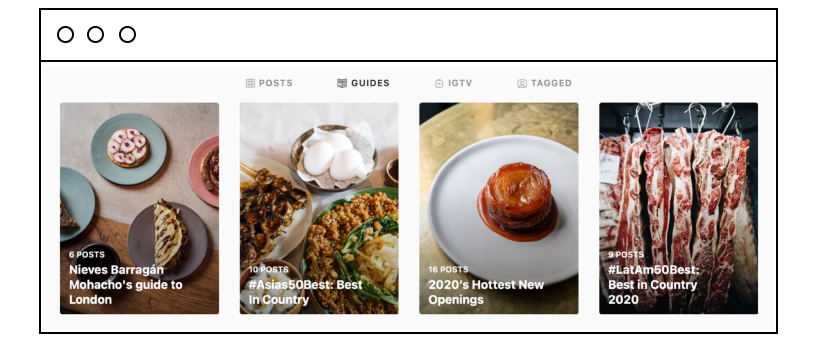 TheWorlds50Best Instagram account keeps followers up-to-date on the best restaurants worldwide. No wonder it's full of amazing Instagram Guides with appealing photos and mouth-watering captions of the recommended restaurants in different countries. This is an example of a well-thought-out SMM content strategy and a great example to follow.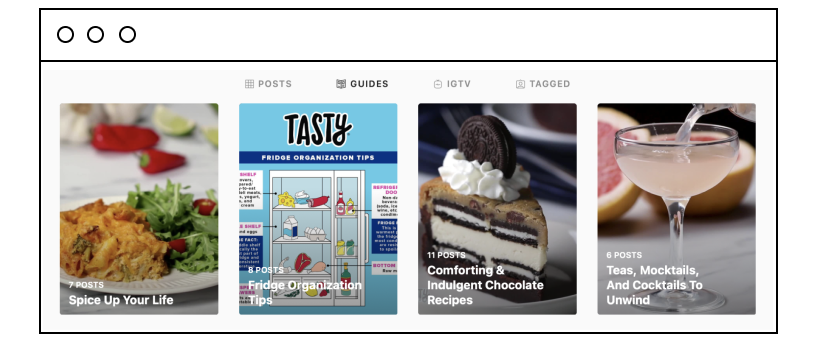 Continuing the culinary topic, Tasty by Buzzfeed is where followers can find divine videos of glorious dishes originating from all over the world. Its guides reveal the recipes for delicious meals, making it easy for budding chefs to try to recreate the masterpieces at home
IGN cleverly uses Instagram Guides to collect its product reviews in one place, creating an impactful guide that shows its rating for the newest games of the year.
Instagram Guides — A Smart Way to Boost Your Business
Instagram Guides can be a great way to make your content work for you. Getting the most value from your posts can reduce stress, boost productivity, and free up time spent on content creation doing other things. By curating Instagram Guides, you can boost audience engagement, brand loyalty, and your conversion rate. So if you haven't explored this feature already, now is the time to do so!