These October product updates are about new options for designing a site, enriching it with valuable content, and managing it on the go. Let's dive in.
#1 Blog Widget
We're breathing a sigh of relief as the long-awaited feature, the Blog widget, is live.
Now you can share your expertise and let people know more about yourself or your brand via valuable blog content.
Adding a blog to your project is simple. Go to your dashboard, press + in the left panel, press Widgets, choose Blog from the dropdown list, and click the blue Add to project button.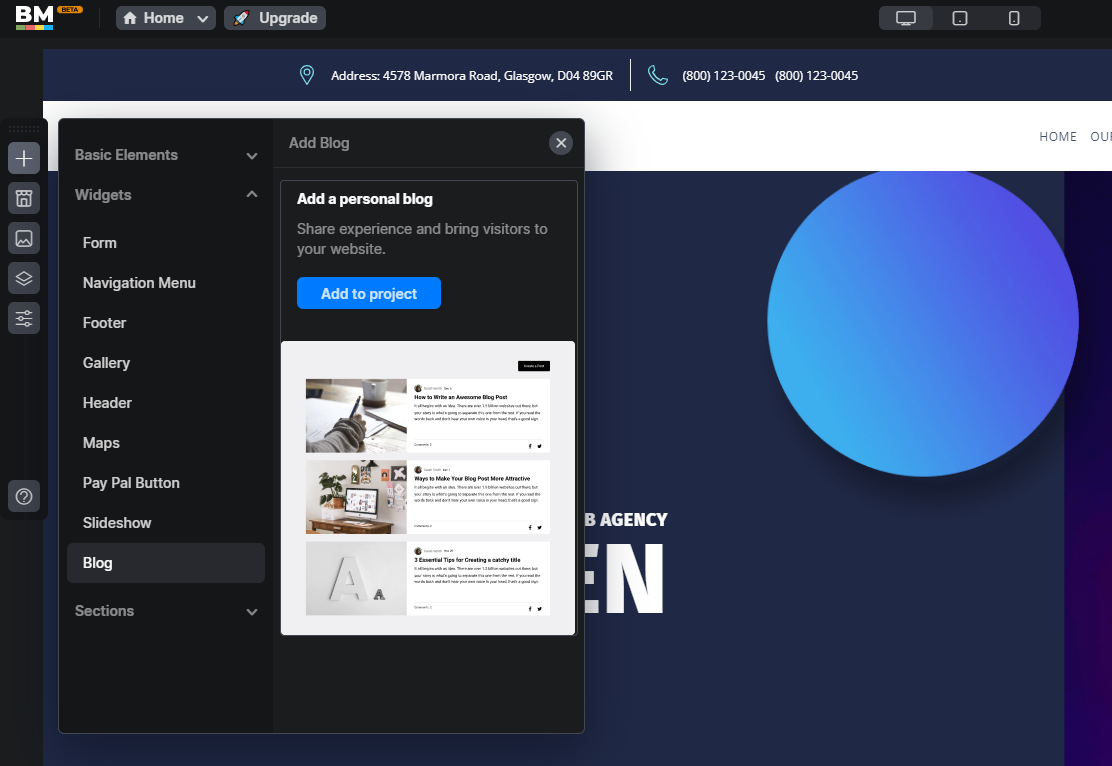 The blog is customizable. First, you can modify the look of the main page: change background color, the design of title, headings, and the body text.
You can also decide how large blog posts will be in preview on the main page. You can currently choose between two templates (half width or full width), but more of them will be available soon.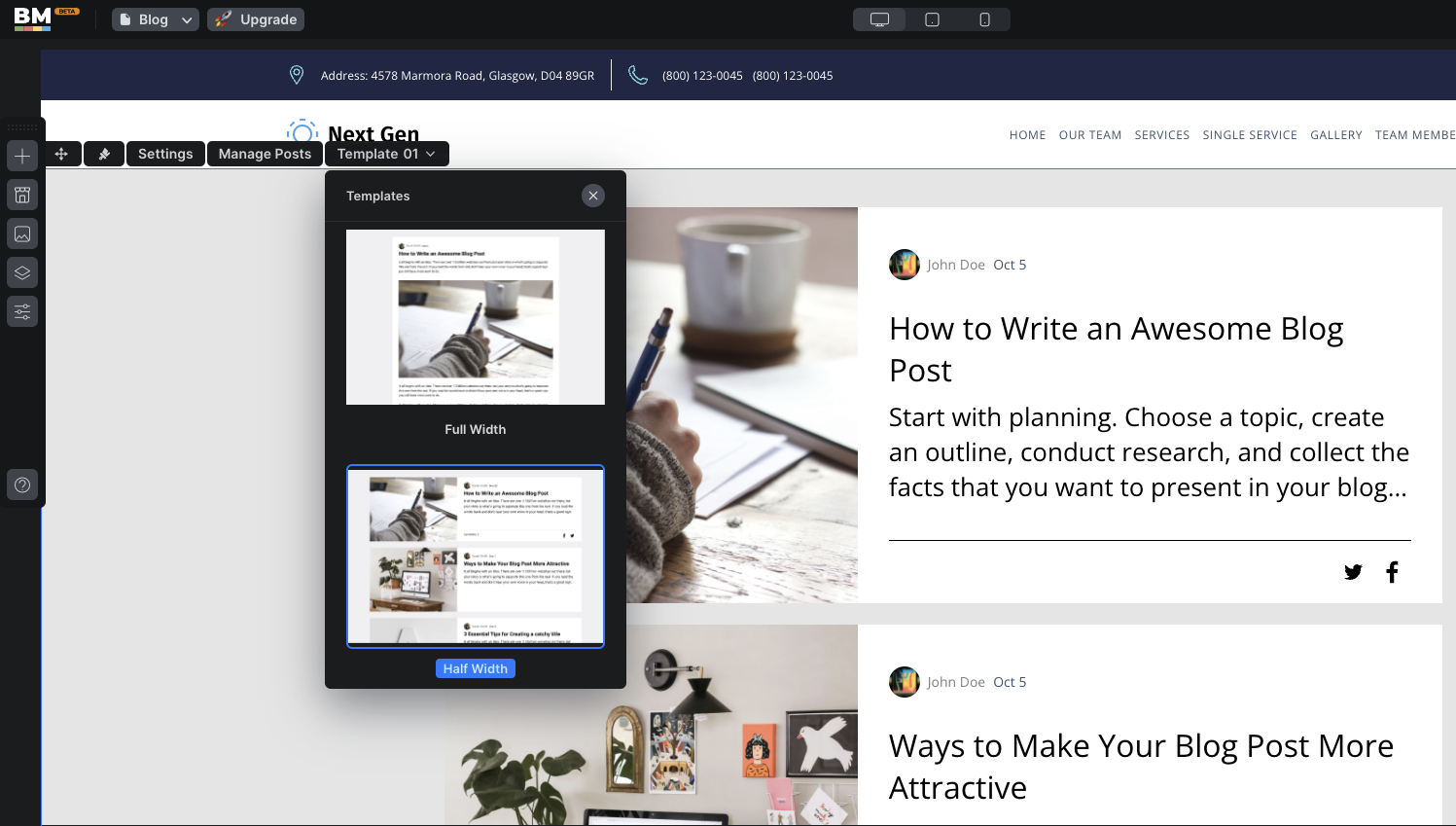 Besides visual appearance, you have blog settings. For example, you can select the number of posts on the page and decide whether to show a publication date, author, or article excerpt. It's up to you. Click on menus, toggle on or off as you wish 😉
Of course, the Blog widget provides essential tools for managing posts.
Once you press Manage Posts, you will get to the management page with published posts and buttons to create, edit, and delete posts.
On each post page, you will find:
A blog editor itself with controls to add and specify visual appearance, layout, and structure of text blocks and manage media and design (buttons, separator, spacer) blocks;
Post settings that include general (URL, excerpt, and cover) and SEO (meta title and description) ones.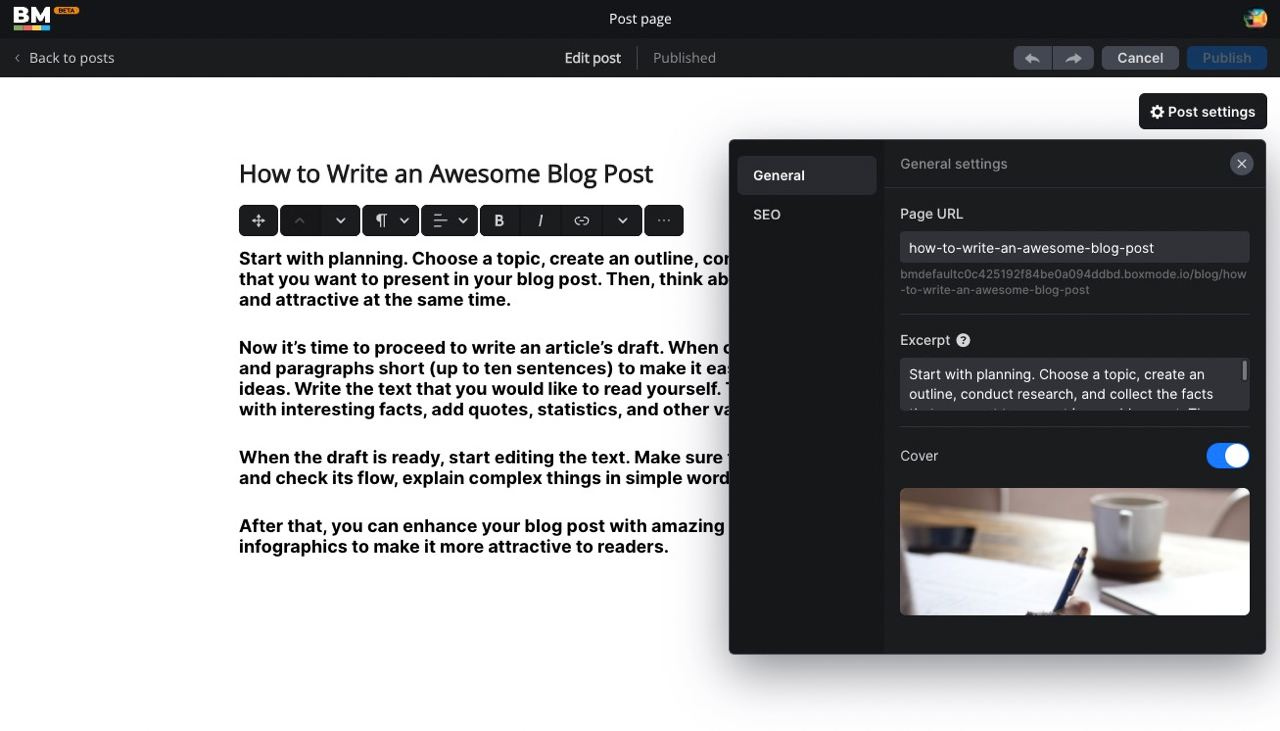 The Blog widget is an MVP, and we're QAing and coding to make it more user friendly. So, feel free to share your feedback 😉
#2 New sections
In May 2021, we introduced sections, pre-designed website blocks with specific information about your business. You can add Sections to any template or a blank theme.
Initially, you could choose from six types of sections: Welcome, About Us, Features, Contacts, Testimonials, and Banners.
Now, you have four more options to highlight information customers might be interested in. The new sections are:
Opening Hours to show when you're open for business;
Companies to display logos of your partners or clients;
Team to briefly introduce your colleagues;
Plan to show subscriptions to your products and/or services.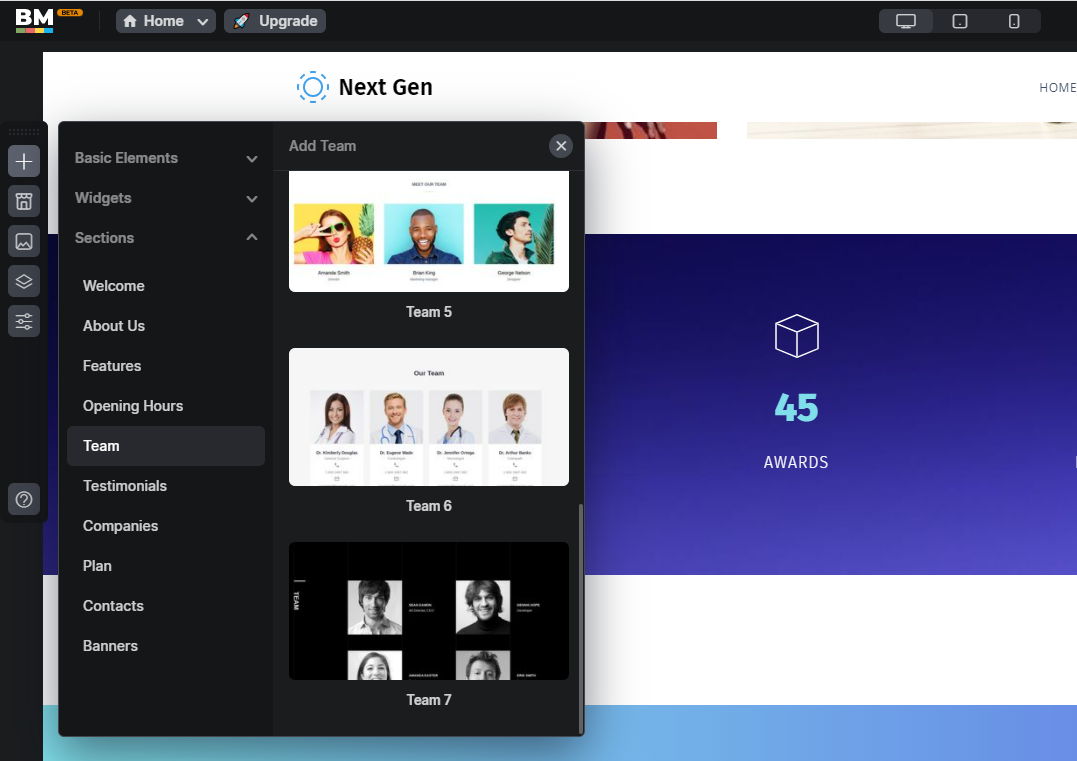 We've also diversified existing sections so you have more varieties of one block to choose from for your website.
#3 Mobile access
A desk, office chair, and laptop have not been the only types of workspace for some time. It's good to make things anywhere anytime, whether it's the backseat of a car during a traffic jam, a hip coffee shop, or your couch. And you can use any device you want.
To give you this freedom of choice, we've added mobile access to the dashboard and project settings.
Here's what you can do from a mobile device:
Manage project settings and publish, unpublish, or delete existing projects (Projects);
Add or modify your account information (Account);
View, upgrade, downgrade, or renew subscriptions for your project/projects (Subscriptions);
Manage your payment method and view invoices (Billing & Payment);
Integrate or remove analytics tools if you're on the Growth plan (Analytics).
#4 More stylish templates
Boxmode keeps growing its template collection, with 10 new templates from three categories appearing in the list. We'll give you the deets about them now.
Store
These are five new templates for those who sell goods offline and online:
Crispy — a vintage postcard-inspired template for bakeries.
CraftGem — a minimalistic bright theme designed for craft stores with handcrafted goods.
Koala — a white, blue, and gray template with much space for visuals for any pet-related online store websites.
Wearsy — an elegant and classy clothing store template; the page layout can show apparel, accessories, and shoes.
Sportica — a bright sports store template with yellow, black, and white as primary colors.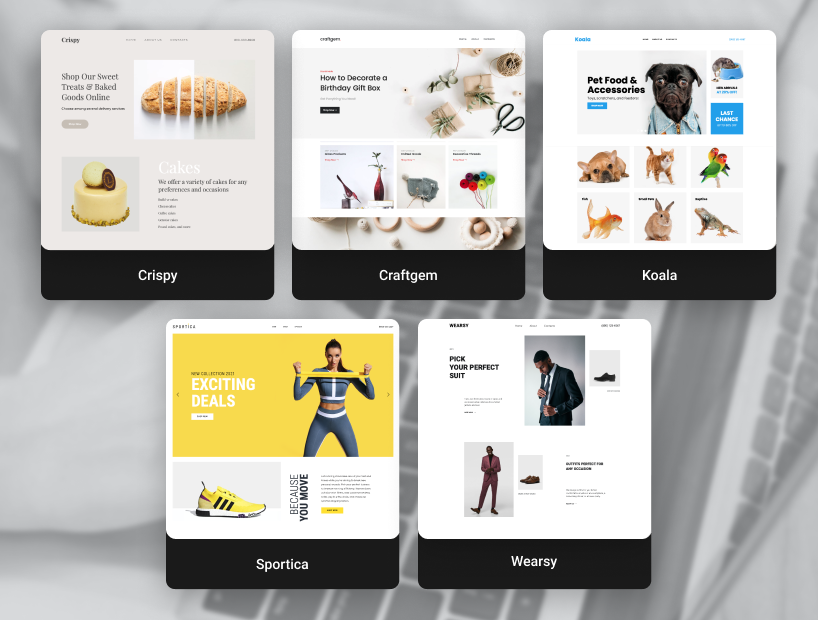 Coming soon
Are you building your Boxmode site and want to keep your social media subscribers or old website visitors in the know? Check out these one-page templates for projects in the making:
Website coming soon — a pastel colors template with a default phrase inviting visitors to enjoy a picture of the tropical plant while the site is under construction.
John Doe coming soon and Jane Dou coming soon — similar one-page templates to let visitors know that your personal site is on the way.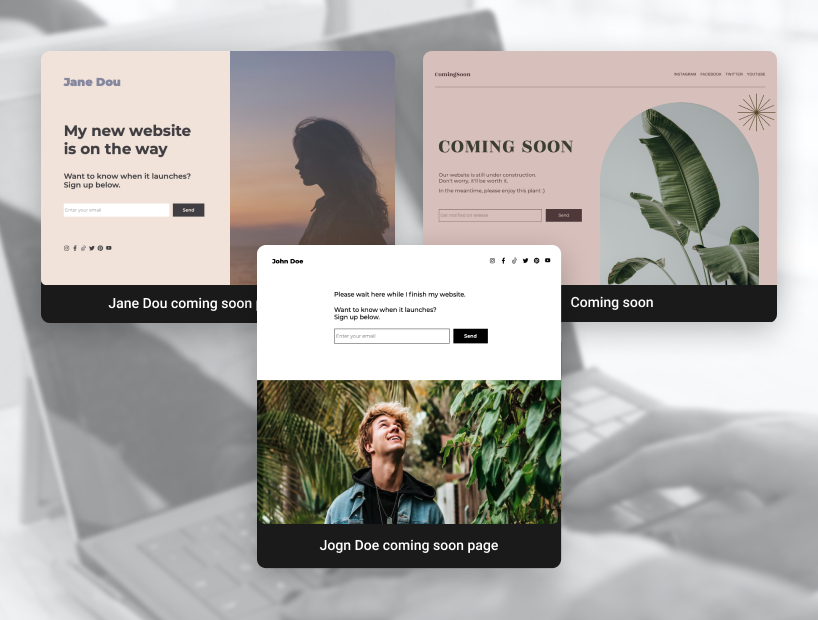 Every template has a signup form for users who want to be notified about the site launch. Grow your email subscriber list while making a site!
Portfolio
New portfolio themes are:
Clickart — a cold colors theme with all necessary pages and sections (portfolio, downloadable CV, services, etc.) for providing visitors with comprehensive information about you and your creative services.
Devibes — a modern website template to tell the internet about your expertise in web development.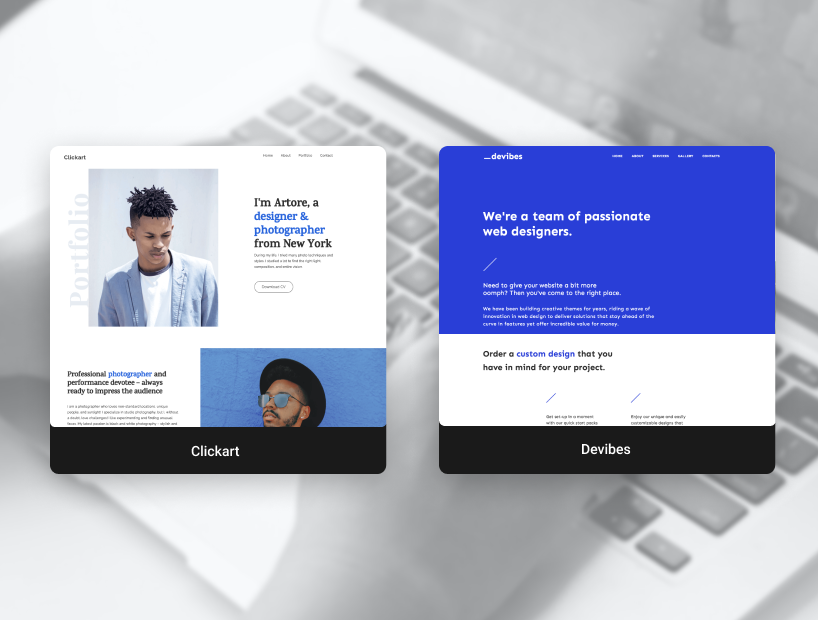 We hope you enjoy these updates and use them to your benefit. Wondering what the next release will bring? Subscribe to our newsletter and official Facebook community to be among the first to know!