The features in this release have been in the works for a few months, and today we are ready to present our brand new super-useful functionality. Yay!
Have you ever felt that something's missing in the template you like? Maybe a special section that is available in another theme? Wouldn't it be helpful if you could add various sections to your website from the special sections library?
We made it possible!
Boxmode's new feature, Sections, allows you to add a new ready-made section from another template to your chosen one.
And if you want to create a website or a landing page using a blank theme, the Sections feature is your loyal assistant in the process. Numerous pre-designed elements are waiting to be placed on the canvas. This is ideal for designers who need to quickly create a design prototype for their clients or marketers who want to test their hypotheses ASAP.
You can pick sections from six categories for now (Welcome, About Us, Features, Testimonials, Contacts, and Banners), but new releases are on the horizon.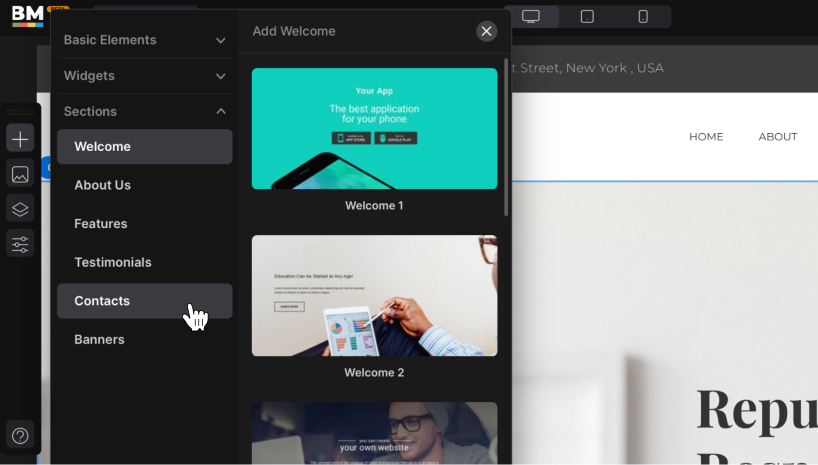 Using Sections is as easy as pie. Pick the section you want to enrich your template with, drag it to the canvas, and simply drop it in the highlighted area.
Pick – Drag – Drop!
This feature saves you tons of time, helps you make your website attractive in just a few clicks, and most importantly, it's totally mobile-friendly.
Then, all you have to do is add your content to the template's sections, and voila, you're ready to publish.
"But wait, I need to preview the changes first," an attentive user would say. And we thought of this, too.
Time was, when you hit the preview button, a system would redirect you to preview your home page first, and then you had to scroll or click through to the page you're updating.
We changed this!
Now, by clicking on "Preview," you automatically open the page you just worked on and check the changes right away. Convenient, isn't it?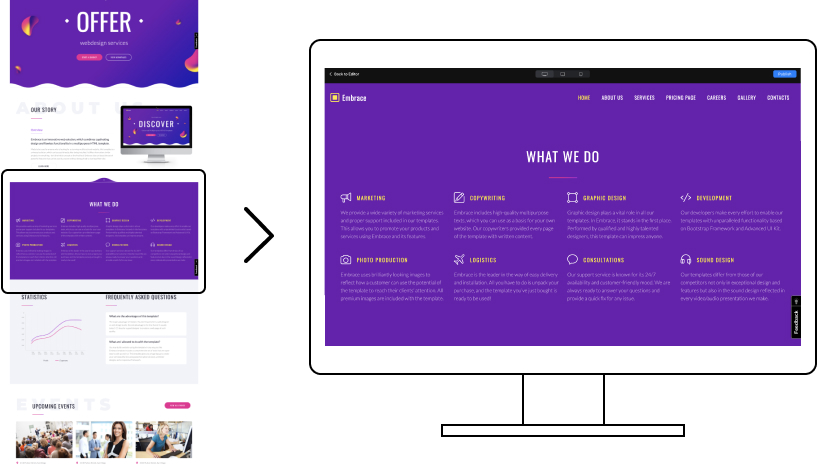 And the last but not least May update is (drum roll, please) font search functionality.
Our huge font library boasts numerous typefaces, making it challenging to find the right typeface quickly without scrolling through all the list.
To help our users deal with this, we made a font search. When you edit the element, you can see its typeface as default with a checkmark in the drop-down list. If you want to change the font, you can simply type in the name of a desired one in the searching field and choose it.
We hope you love these updates and use them to your benefit. If you want to be the first to know Boxmode news, subscribe to our newsletters and official Facebook community.