According to Google's ranking guide, a website title (also referred to as title tag, meta title, SEO title, and page title) can be the make-or-break factor in determining your search engine visibility. Why is it so important, and how do you create a website title that Google, Yahoo, and other search engines will love? Read on to find out.
What Is a Website Title?
A website title is an HTML element that describes webpage content. It allows search engines to determine the relevance of a web page regarding a specific search query and gives users an idea of what information it contains. SEO specialists consider the title tag a meta tag type.
You can see a meta title at the top of the browser window and on the search engine results page. Here is a title tag on a browser tab: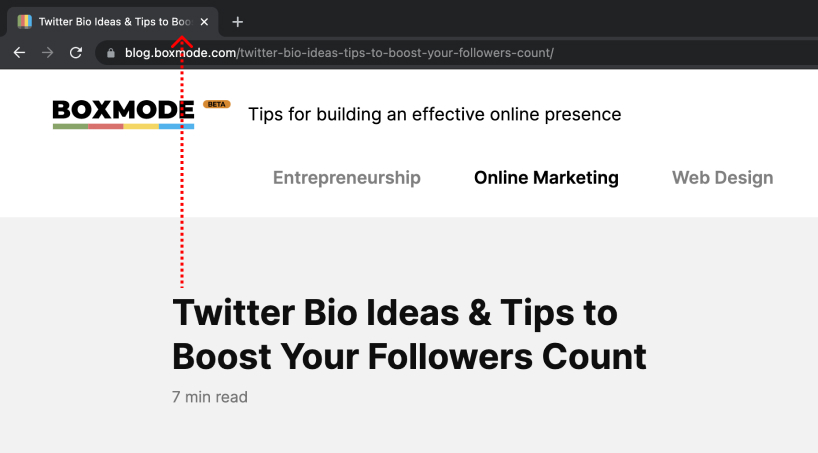 And as for search results, website titles are displayed as a hyperlinked text in bold: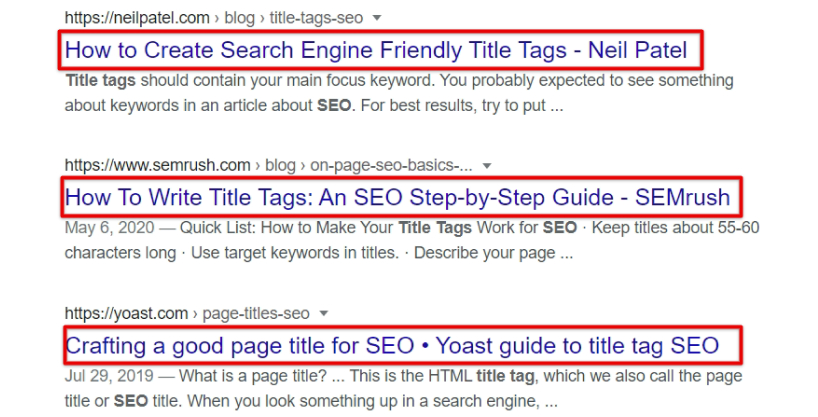 Why Is Website Title Important For SEO?
A meta title relates to one of the significant SEO ranking factors — content.
A well-thought-out title tag with the main focus keyword increases your site's chances of climbing higher in the search engine results for a given request. The more relevant the title to the user's query, the more likely a page rises to the top.
A good title of a web page explains what the page is about and why a user should click on the link. That's why you should create informative and concise website titles by:
addressing users' pains;
using a voice related to your target audience; and
helping customers solve a task or learn more about a subject.
Tweaking existing website titles also helps. Ahrefs, an SEO toolset provider, noticed an almost 38% increase in organic traffic after changing the title tag for one of their pages.
Where Can I Find a Website Title?
You can find the title tag within the <head> tag in code. Search engines identify it by scanning HTML code. Here's how the tag looks like in your website's HTML code:
<head>
  <title>Your Website Title</title>
</head>
Every internet browser allows you to view the HTML source code of any web page you visit. The multiple ways to view the source code in each major browser are described in this guide.
If you are not familiar with HTML coding and consider this too time-consuming, you will definitely enjoy building your site with the Boxmode website builder.
If you need to add or change a title tag for one of the Boxmode-based website's pages, do these steps:
1. Choose a page.
2. Press the meatballs menu (a button with three horizontal dots).
3. Click on the "Settings" icon.
4. Scroll down to the "SEO" tab or press "SEO" on the newly opened menu.
5. Add new text to the "Page Title" graph.
Editing a title tag, as well as finding and managing other SEO settings, is easy. See it for yourself!

How Do I Create a Perfect Website Title?
Internet users usually create a website title with several goals in mind:
To form a detailed snippet, which is a piece of textual information selected by a search engine to present your website page in search results, you can choose an excerpt from a text with a keyword or a text from a description tag (a short webpage description).
To increase the click-through rate of your site in search engines. The more accurately you describe what the user will find on your site, the more clicks you will get and the higher your conversion will be.
To provide a good description of the product link on social media. If you promote your products on social media, make sure to deliver intriguing link descriptions for users to drive them to your site.
To provide additional information about the business. Use micro-markup (a semantic site optimization standard that enables robots to determine and structure information on webpages) to add information to your website's snippet. You can give details on shipping, payment options, rating, prices, opening hours, and pick-up points, etc., if you provide products or services.
Make sure you follow these best practices creating the title tag:
The title tag must be up to 60 characters with spaces, or else the search engine will truncate it.
Start the title tag with the most relevant keywords and place them in order of importance. At the same time, ensure that it's semantically and grammatically correct.
If you use a brand name that's not part of an important keyword phrase, place it at the end of the website title.
Capitalize words except for prepositions, articles, and conjunctions.
Include call-to-actions based on the goal of page content (e.g., to learn about a product in informational articles or to purchase the product).
So, a well-written website page title is engaging text with a clear message. You can use the 4-U's formula for website titles. The rule implies creating content (including titles), that is:
Urgent in persuading users to click the link right away;
Unique in terms of writing style or provided information;
Useful in offering a solution to visitors' problems or answering a question; and
Ultra-specific by pointing out what exactly readers will find in the text. One can use numbers or mention steps to approach a specific goal.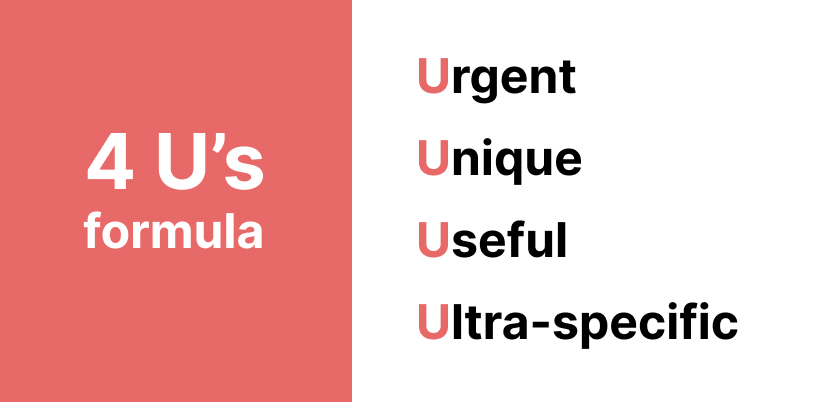 Mistakes to Avoid When Creating a Website Title
Make sure you don't make these typical mistakes when working on your mate titles:
Working on a website title without compiling a semantic core and site structure;
Using stop words (particles, prepositions, amplifiers, etc.) that are not visible by search engines;
Repeating special characters and unnecessary punctuation marks (commas, dashes, or pipes);
Overusing keywords in the title (keyword stuffing), which negatively affects ranking;
Copying competitors' titles; and
Duplicating title tags.
Best Webpage Title Examples
Now, when you know how to create compelling and readable title tags, check out these examples to get inspired:
Creamy No-Bake Kiwi Tart Recipe | Molly's Baking Obsession
Forex Family Law – Best Divorce Attorneys & Family Lawyers
A Useful Guide to Purchasing Links in 2021 | Free Checklist
Things to Do on Your Birthday That Are Wild and Fun
America's 38 Primary Restaurants
12 Guest Post Guideline to Follow | How to Create Them
10 Advantages of Coffee | Why It Is Worth Drinking Every Day
Capital Investing: A Guide to Increase Your Wealth in 2021
The 5 Pillars of Healthy, Powerful Client Communication
15 Expert Tips to Lower Blood Pressure
Takeaway Message
Accurate and concise title tags are vital for improving a website's search rankings and increasing organic traffic. The only thing left after a user has clicked the link is to convince them to browse the site for as long as possible with the help of convenient navigation, fast page loading speed, and valuable content.