From the moment you launch your website, it never stops collecting and processing tons of data. Your website analytics can tell you anything from who visits your website and when to what type of content your audience likes, what tricks your competition uses, and how authoritative your website is in the eyes of search engines.
Still, it is hard to keep afloat, let alone move in the right direction, in this data-driven world of today. Luckily, versatile website analytics tools come to the rescue. In this article, we give you our ten best web tracking tools (both free and paid) to improve your site performance.
What is website analytics?
Website analytics measures different web, mobile, and social metrics, giving business insights into user activity on their website and how the online presence should be optimized. Monitoring website analytics helps improve the website design and amend content strategy to attract more visitors, boost sales, and improve customer engagement and retention.
How do website analytics tools work?
Web analytics tools usually use tags embedded in the site's Javascript code to track website visitors. The use of cookies (the data provided by a visitor's browser) helps a web analytics tool to define whether this visitor is new or returning. This allows you to learn their behavior and react accordingly. Some of the tools can also track your user's data, such as:
IP address,
web browser,
screen size,
geography,
status (registered or not), and
how they got to your site (search keyword, ad, or a referring source).
They can track activities such as:
time spent on your website,
page views,
video views,
click path, and
bounce rate.
A web analytics tool shows all of these metrics on a dashboard. You can customize the dashboard based on your requirements. Most web analytics tools integrate with various platforms. For example, when creating a site with Boxmode, you can connect your favorite apps, such as Google Analytics, Hotjar, and others, in the Analytics section.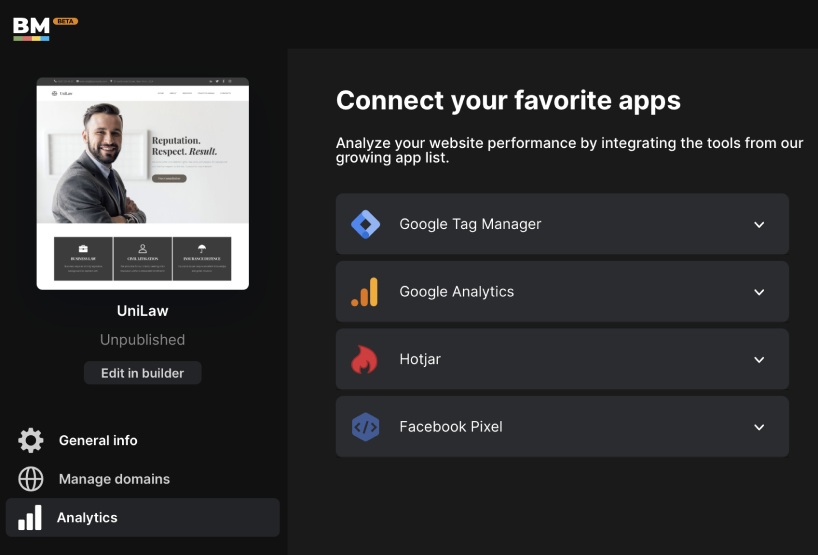 Unfortunately, no web analytic tool can provide 100% accurate data, and the results will slightly vary from one tool to another. However, if you use a couple of them, you'll get specific insights into what your customers are looking for and how you should deliver your products and services.
Top 10 Website Analytics Tools
1. Google Analytics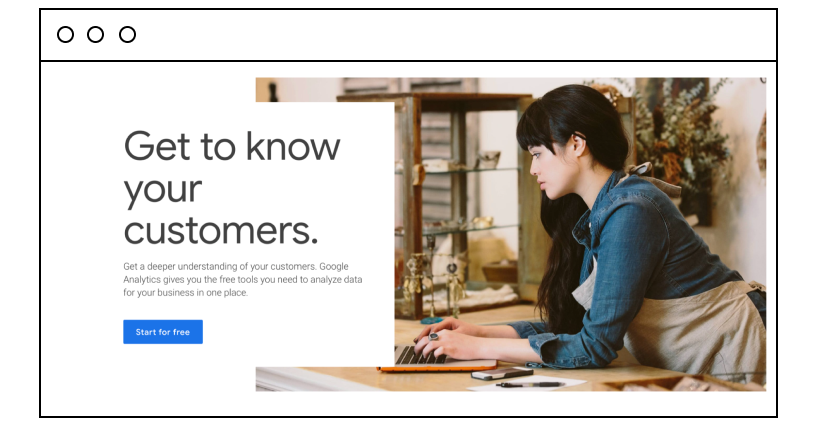 Price: FREE. Google Analytics 360 Suite has paid options.
Google Analytics is a solid, comprehensive website analytics tool that gives your business clear insight into your visitors' behavior and demographics, as well as how Google assesses your site's performance. The tool perfectly integrates with Google Webmaster Tools and all the components of the Google marketing platform, which includes Google Ads, Google Optimize, Google Data Studio, Google Search Console, etc. Even though most users never reach the bottom of Google Analytics' cool features, Google offers a paid, more extended analytics solution for advanced data mining – Google Analytics 360.
2. Hotjar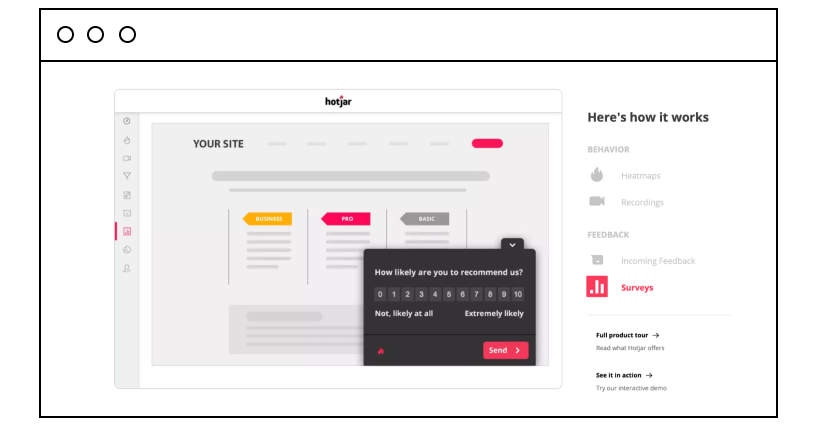 Price: Free to €39/month for personal use and €99 to €389 for business use.
Understanding visitors' behavior is key to developing an efficient marketing campaign. Hotjar provides versatile insights into how your visitors browse your website using its set of heatmaps (click, scroll, and move) and displaying data by device type (mobile, desktop, tablet). It helps you develop a more user-friendly design, and thus, improve customer retention. Hotjar also offers a pretty rare web analytics instrument – form analytics. Knowing how visitors interact with your forms, which fields they avoid filling, and why they abandon forms helps create input fields with higher response rates.
3. Matomo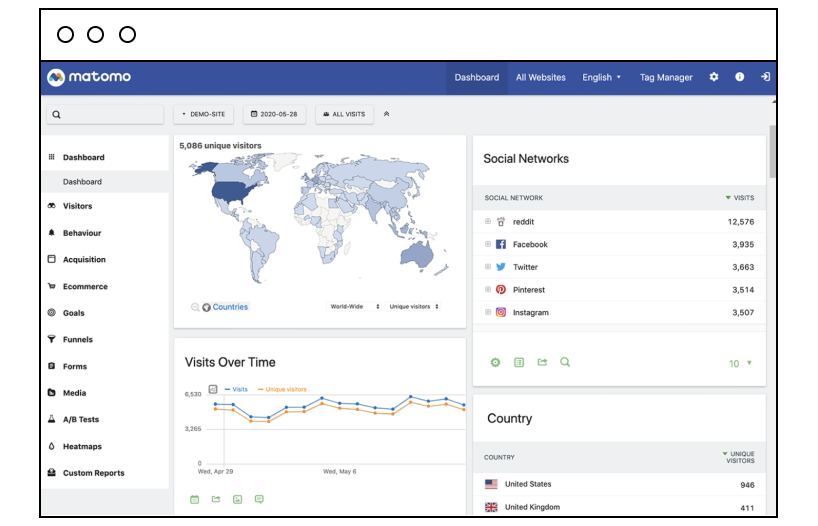 Price: Depending on your traffic from $0 to $14,790 per month. Custom pricing for enterprises available.
Previously known as Piwik, Matomo is a solid web analytics platform that is also open-source. Positioning itself as a "Google analytics alternative," the tool emphasizes protecting your company data and your customer's privacy. Matomo's key feature is its on-premise solution that enables businesses to manage and store their entire data in-house. Its basic set of features helps monitor visitors' profiles, as well as use a tag manager, A/B testing feature, heatmaps, and search engine reports to improve your website's performance.
4. Crazy Egg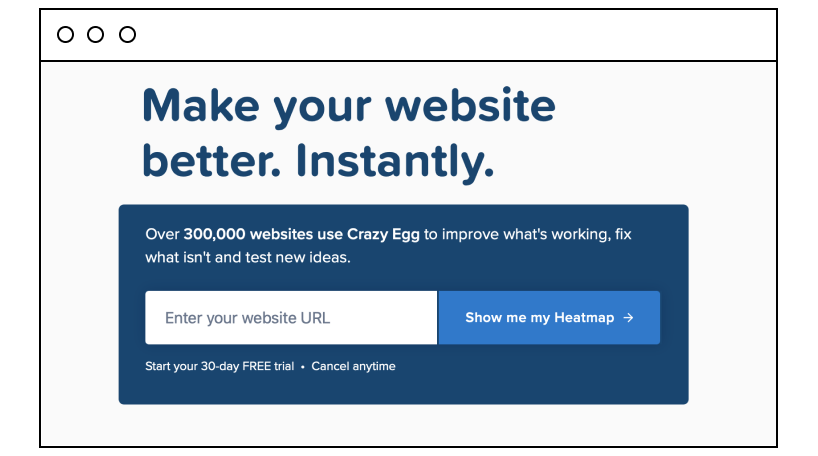 Price: $24 to $249 per month. Custom plans for enterprises available.
Neil Patel's product, CrazyEgg, has lots of valuable analytics features, such as heatmaps, scroll maps (show how far visitors scroll down the page), visitor snapshots and recordings, site editor tools, etc. However, the key benefits of this website analytics tool are its conversion rate optimization (CRO) and advanced A/B testing that enable you to test new ideas quickly, fix your website, and enjoy higher traffic, lead, and revenue rates sooner.
5. SEMrush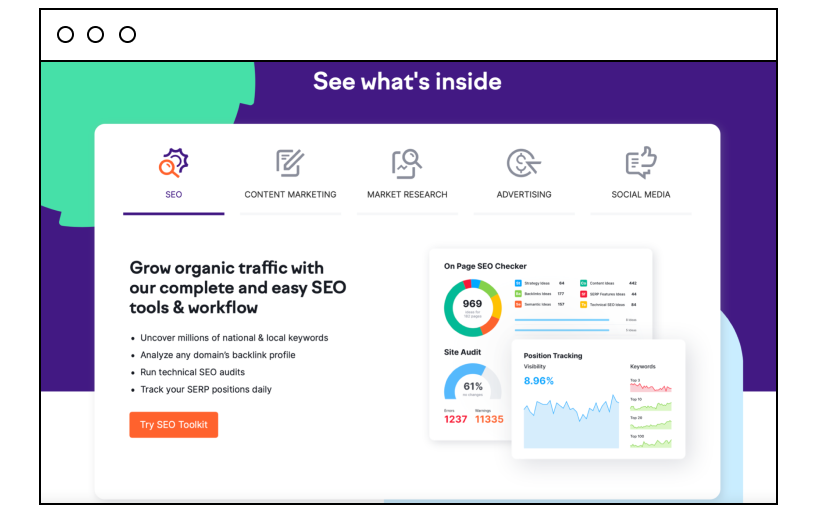 Price: $199.95 to $499.95 per month. Custom prices for enterprises available.
If you are looking for a robust website analytics product with the widest possible range of online marketing tools, look no further. With SEMrush, you can easily do the following:
track your PPC and SEO efforts,
monitor and polish your social media and content strategy,
analyze competitor's ad efforts and traffic,
create powerful ads,
check backlinks, and
keep an eye on your ranking for high-value keywords.
SEMrush also enables you to share analytical insights across your company.
6. Ahrefs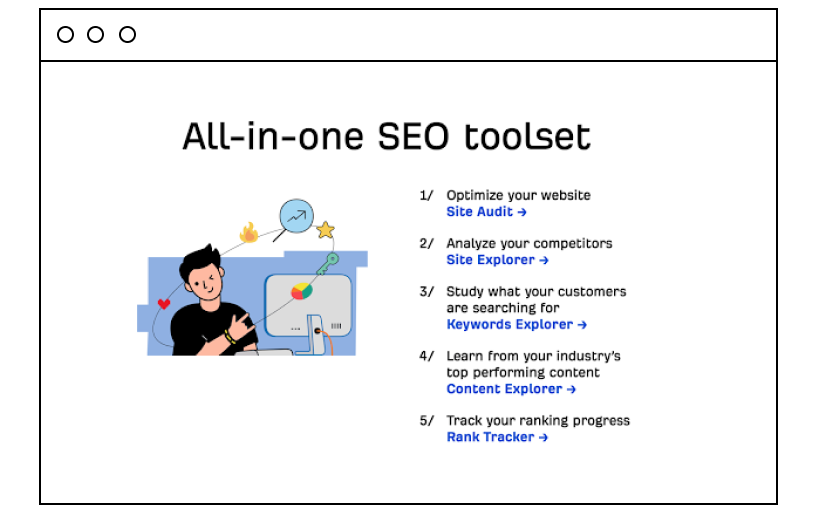 Price: $99 to $999 per month. 7-day trial and annual payment options are available.
Unlike the all-in-one SEMrush, Ahrefs focuses primarily on SEO analysis and does it pretty well. SEO experts praise its robust features that enable you to:
conduct in-depth keyword research,
find relevant keywords,
monitor competitor's SEO efforts,
analyze your website for SEO errors,
audit backlinks, and
detect content gaps between you and your competition.
You can try and see what Ahrefs is worth for $7 during the 7-day trial.
7. Woopra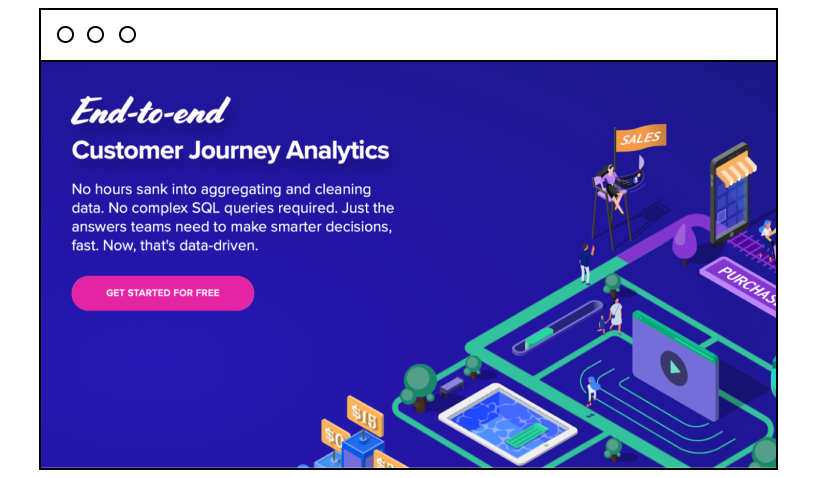 Price: Free to $999/month. Enterprise plans are available.
Woopra's strong suit is customer analytics. It enables you to track your customers' behavior, mobile and web activity, emails, forms, etc. – and all of this is carried out in real-time. The tool maps out the end-to-end customer journey, letting you:
analyze your buyer persona on a much deeper level,
make data-driven decisions in marketing,
monitor trends, segmentation, and retention,
craft perfectly personalized content, and
create a premium customer experience using full historical data.
8. Moz Pro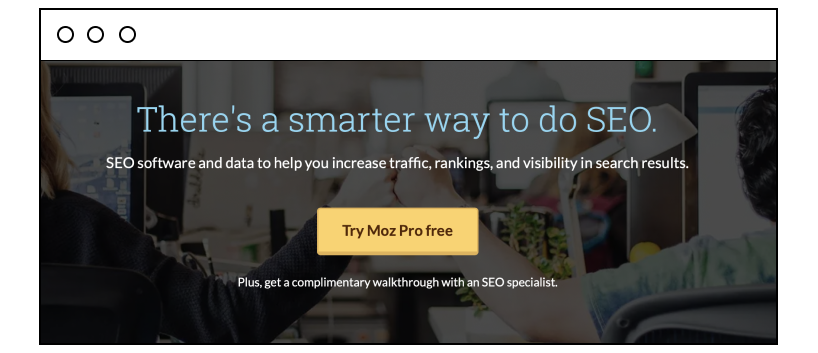 Price: $99 to $599 per month. 30-day free trial available.
Moz Pro is a powerful, all-in-one SEO analytics tool that meets even the most intricate SEO needs. With Moz Pro, you can explore and compile keyword lists, analyze and learn from your competition's SEO strategy, track how your website performs in both local and national searches, check your website for SEO errors, and monitor your backlinks. Moz Pro also enables you to assess your current page optimization using their Page Optimization Score to see what keeps you from achieving terrific website traffic and high organic search rankings.
9. Clicky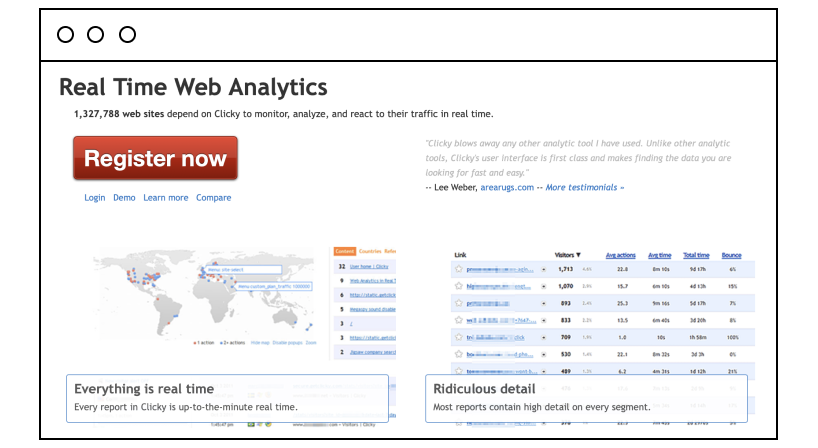 Price: Free to $19.99 per month. Custom pricing available.
Clicky is Google's first competitor in terms of both the price and functionality. However, what sets Clicky apart from Google is highly detailed, real-time reports, while Google Analytics provides reports on a day-to-day basis. Besides, Clicky has lots of great features that make it one of the best options among the free website analytics tools, for example:
heatmaps that show page areas visitors interact most with,
tracking every individual visitor/event/page view,
A/B testing,
spam blocking, and
uptime monitoring.
10. Adobe Analytics

Price: Customized pricing only. Free demo available.
Adobe Analytics is a solid real-time website analytics product with a 360-degree, cross-channel approach to data mining. It pulls and analyzes data from different channels, be it search engines or social media, to provide you with necessary insights for your marketing, all in one place. You can even create your custom metrics. Adobe Analytics uses machine learning and one of the most prominent AI of our time to make it easy for you to monitor trends, track customer journeys, and build a faultless marketing campaign.
Bottom line
Understanding your visitors' behavior is key to creating strong marketing campaigns. Website analytics tools are your eyes and ears out there, informing you about what really happens behind the scenes of your website. Finding the right combination of tools will help you take data-driven steps toward maximizing your conversions.