Summer seems to fly by faster than any other season, so we want to make it special and memorable for our users by releasing a bunch of cool features.
And this time, we've prepared something really awesome. So get ready to have your mind blown with our newest updates!
#1 Online Store
This is the most frequent user-requested function. And now – Hurray! – it's finally launched.
Meet our Store widget, an amazing tool that helps you create a professional online store and grow your ecommerce business.
It allows you to display your products in beautiful galleries, accept secured checkouts, add dropshipping products to your store, and more.
Start making money online with Boxmode!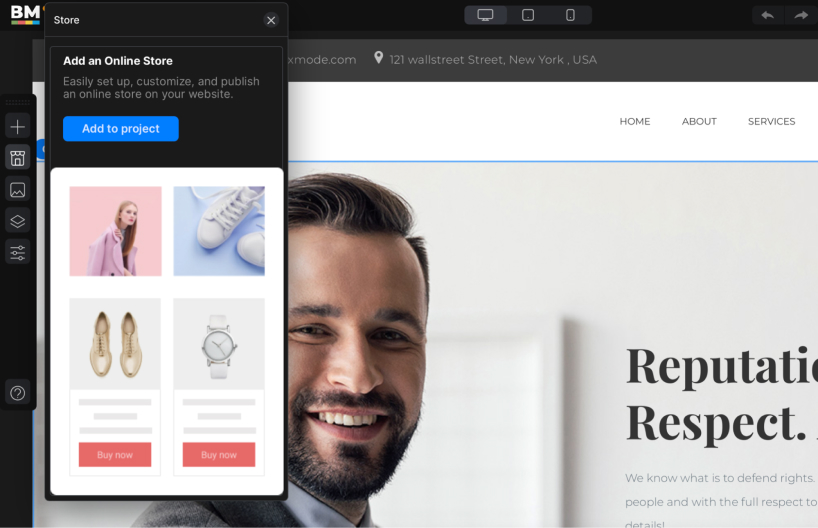 By the way, you can find more tips on how to monetize your website find in our blog post, "10 ways to monetize a website."
#2 New Pricing Plans
At Boxmode, we're committed to helping you grow and scale your business. We're continually looking for ways to offer the best service and functionality we can. This is why we launched new flexible pricing plans — Lite and Growth!
Our new plans bring much more flexibility. Now you can pay for your subscription both monthly and annually. The monthly fee starts from $4.5 (less than a couple of cups of coffee at Starbucks; pretty affordable, huh?).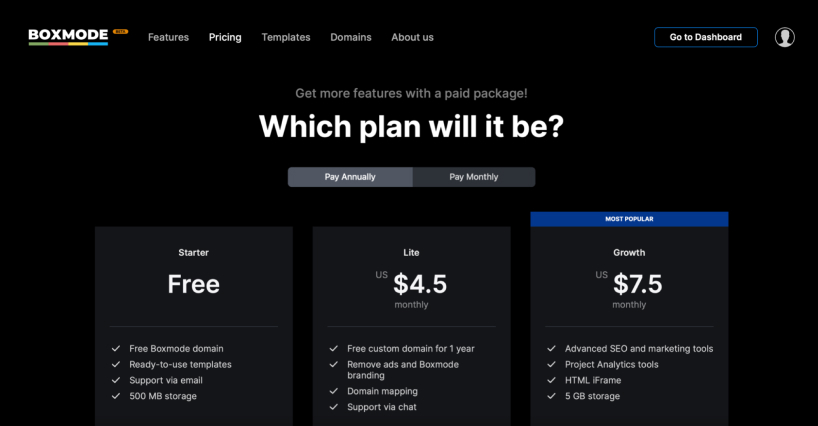 They also include more features, allowing our customers to get the most out of their Boxmode-based projects. The most significant new features are:
Extended analytics section
Allows you to integrate codes from Google Tag manager, Google Analytics, Facebook Pixel, and Hotjar.
A new basic element that will allow you to embed isolated HTML code into the project page using an iFrame (a stunning option for those who have coding skills).
Now you can add noopener, noreferrer, and nofollow parameters to links.
By the way, our Starter plan remains free no matter what and is always available for our users who are not yet ready for advanced plans.
#3 Inline Editor Improvement
In the latest release, we significantly upgraded Boxmode's inline editor's functionality. This is how you now can improve your website's texts:
Create bullets and numbered lists on your website;
Set the H1-H6 headings and paragraphs, which automatically adjust to your project's theme style (and which, of course, are taken into account in the SEO of your site);
Determine the line and letter spacing.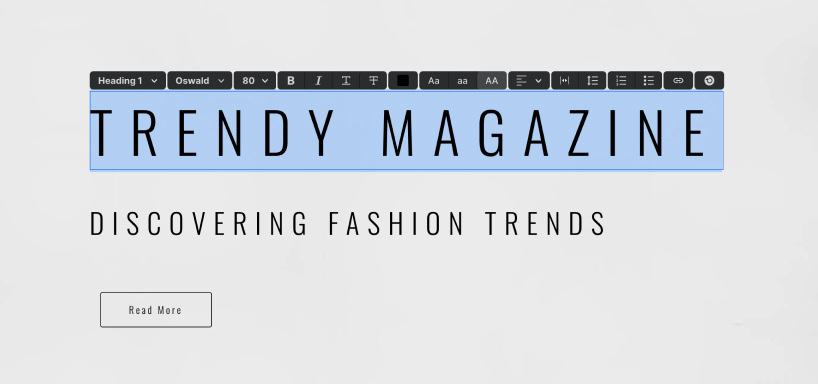 #4 Boxmode Website Redesign
Information presentation is essential for us. This is why we also decided to revamp our website's layout for your convenient perusal of Boxmode's new features.
Check the updated Features section and the new Domain section in the header. We also added more relevant links to the footer, such as links to our free webinars, so that you can study our product better.
In addition, we spiced up our main page a bit and made it more colorful.
Thanks for staying with us!
Don't forget to subscribe to our newsletter to be the first to know about our new features and updates.