When creating a website for your business, certain pages are expected and necessary. The "about us" page is one of them. An effective "about us" page will provide visitors information about your business they can't find anywhere else. In its simplest form, the "about us" page should answer the questions:
Who are you?
What do you stand for?
An "about us" page may be labeled as "our story," "our mission," or "our business," but the content should perform the same function, whatever the title is. That is to explain to customers your history, values, vision, and goals. You can list your unique selling propositions (USPs) or the individual ingredients in your business and the people who work for it. This makes this page special and worth paying attention to. 
If your prospects or customers want to learn more about the essence of your business and what drives it, the "about us" page is where they will head. It's an opportunity to sell yourself to your customers, to make them excited about your brand and what you are trying to achieve. Unfortunately, many business owners don't see it this way. Often enough, "about us" pages are hastily scrawled, generic, bland, and impersonal, and do little to inspire the customer or motivate them to act.
Effective "about us" pages should make a strong impression on your customers. They should communicate to them what your most impressive selling points are. They should tell an engaging story, capture attention, and deliver a clear and powerful message about what you can do to help them.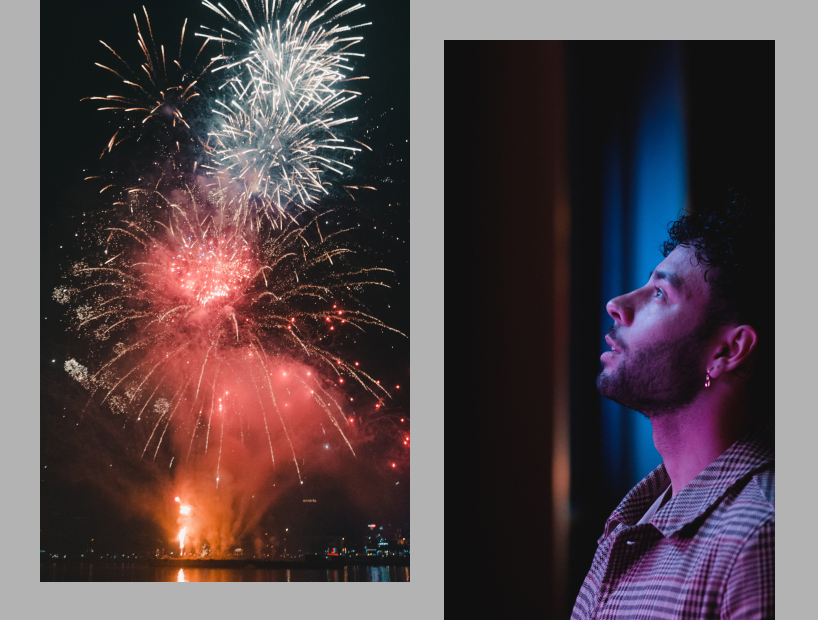 When creating an "about us" page for your business, you should begin with a template or outline and ensure that it explains the following:
The story of how your company came about
How what you are selling serves your customers, solves their problems, and enhances their lives
Your business model
You brand voice and values
Your mission and goals for the future
Your brand personality and who works in your team
Your "about us" page should be the online foundation of your business. Potential customers can get a genuine understanding of what you are all about and find answers to their most pressing questions outside of your products and services.
Creating Your About Us Page – A Template for Entrepreneurs
Getting your business website working effectively for you is vital for any entrepreneur. A good business website will make it easy for customers to buy your products, get in touch with you, and learn about why your business is important and useful and will continue to be so.

Storytelling is a great way to communicate your brand values and mission, and you can think of your "about us" page as a space to tell the story of your brand. The best stories are all about change and transformation, and this is what you should attempt to convey to browsers as they scroll through the content.
To write a compelling story that resonates with your audience, you need to establish the setting. This beginning point will usually be before you had the "eureka!" moment that catalyzed your business's creation. Essentially, it is the way things were before your product or service came to be.
From here, you should explain the problem in further detail. Whatever it was that made life harder for you, or wasting your time, or causing frustration. This problem is one that you want your audience to connect with, to resonate with. You want them to think, "I have this problem too."
The next part of your story should explain how you felt compelled to rise to the challenge and solve this problem. It will demonstrate how you set out on your path, determined to discover a solution, no matter how many challenges presented themselves along the way.
You then arrive at your glorious, inventive, and brilliant solution: the product or service you created to solve this problem. You can use this part of the story to reveal details of what you have already achieved, your continued purpose and mission, and how you plan to improve and expand in the future.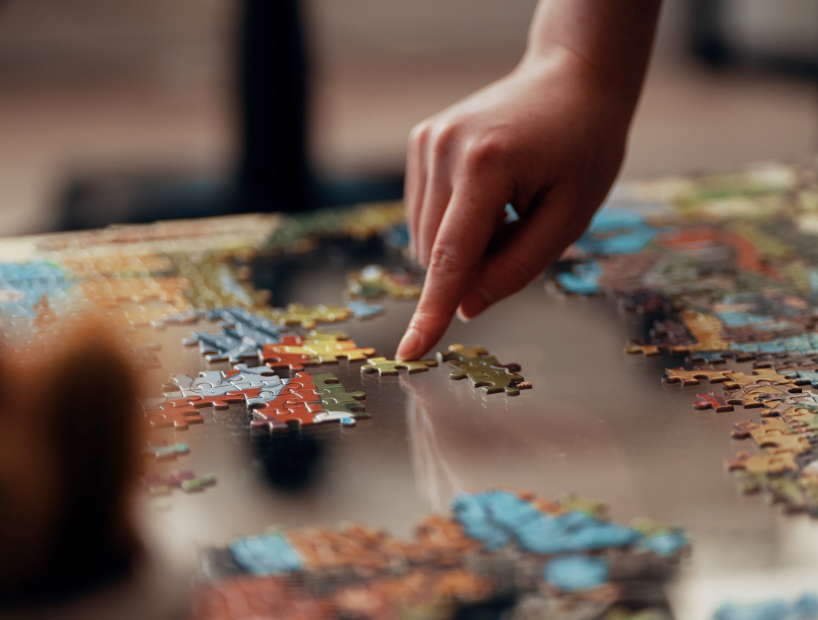 To get you started, here is a basic template for your "about us" page:
[COMPANY NAME] began this business because [PROBLEM THAT YOUR BUSINESS WAS SET UP TO SOLVE]
So we set out to [MAP OUT THE PROCESS/JOURNEY YOU TOOK TO DISCOVER THE SOLUTION]
Along the way [DESCRIBE THE OBSTACLES OVERCOME AND SUCCESS YOU'VE ENJOYED SO FAR]
Our vision [SHARE YOUR HOPES, DREAMS, AND GOALS FOR THE FUTURE]
When creating your "about us" page, it is preferable to write in the first person, as in 'I' or 'we.' This will give it more personality and help your readers feel better connected to your brand.
Of course, sharing your story is only one element of an effective "about us" page. If you really want to make yours work for you, you might also want to consider adding the following features:
Your business model – Here you have an opportunity to share with your customers how you run your business. Show them how you ensure that customers receive profits. Tell them how you save money to keep the costs of your products low. Prove that you always make sure your products are of the best quality in the marketplace or let readers know that you donate a portion of your proceeds to charitable causes.
Press and prizes –Your "about us" page can also be an excellent place for you to show off any press coverage. It is where you can build trust and loyalty by posting customer reviews and testimonials or where you can (modestly) brag about any awards or accolades. The "about us" page can be the ideal place to let your customers know how you're making an impact in your industry and the progress you've already made as a company.
Facts and figures – You could also consider using this page to build further trust and social proof. You can publish concrete numbers about how many products you've sold or how many satisfied customers you've worked with. You can let customers know how long you've been in business and any other stats or figures that can be used to demonstrate how impactful you've been so far.
Your people – Introducing your team is another fantastic way to show the face behind your company and provide an opportunity for a person to person connection. Customers are more likely to feel loyal to a brand if they feel as if they know the people who operate it. By revealing your team members' details and friendly faces on your "about us" page, you can provide that bridge that will humanize your brand.
Pictures and videos – Publishing a picture gallery with behind-the-scenes photos of your team and business in operation can also give customers added insight that will build connections. It will also show you are honest and transparent. Videos and photos can help visitors get a glimpse of your business and further insight into your story and journey as well as your products and services.
CTAs – Don't forget to include links to other parts of your website. Your social pages and CTAs will help keep users on your site and motivate them to browse your products, read your blog, or sign up for your company newsletter.
10 Great About Us Page Examples for Inspiration
1. Bentley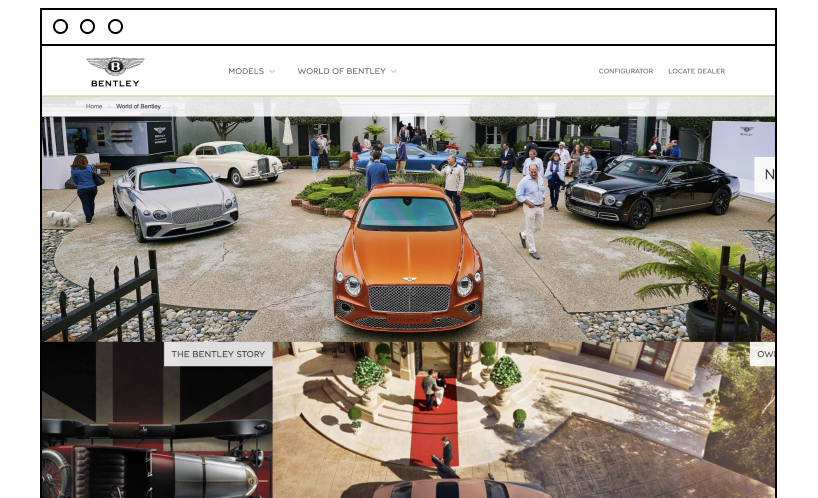 Bentley's "about us" page is stylish and sophisticated, exactly like its brand. Its USPs highlight its brand using appealing and elegant visuals that draw attention and exude luxury. The page also includes recent accolades, which further increase trust, loyalty, and appreciation of the brand.
The renowned motor company has spent time getting to know its customers and the kinds of things they're looking for in a car. Bently is all about elegance, opulence, and innovation. Its "about us" page and website reflect that.
2. Cotopaxi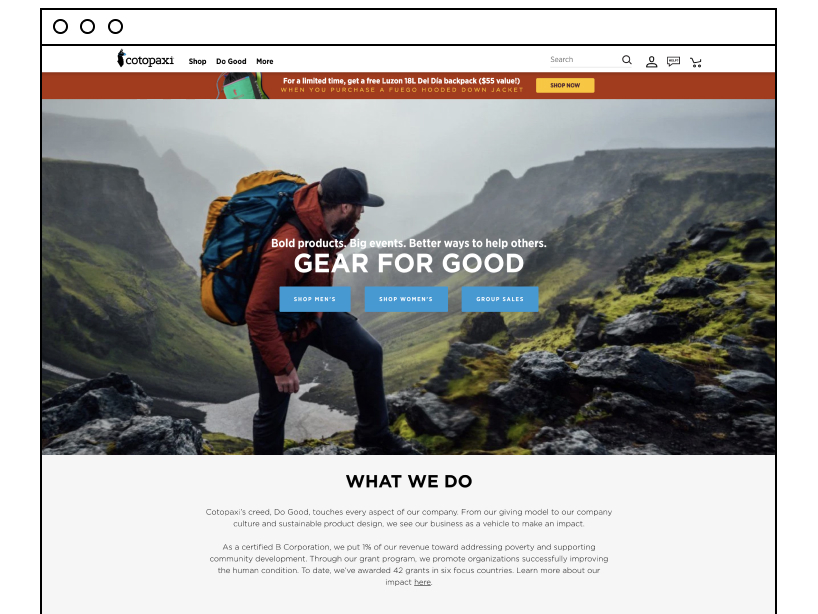 Cotopaxi is an ethical, charitable outerwear store that keeps its "about us" page visually attractive and adds a unique personality that helps the very essence of the brand shine through. This "about us" page is warm, friendly, and inviting. Here, the company takes the opportunity to explain how it came to be, the brand's story, and how the founders chose the name.
Cotopaxi uses the page to reveal the company name is personally relevant to the people who started it. The text discusses what it has achieved so far and how its work has helped others. The "about us" page also includes a promise to customers as well as where the company has been featured in the press. All this creates a connection between customer and company, increases trust, and motivates readers to explore the website further.
3. Twitter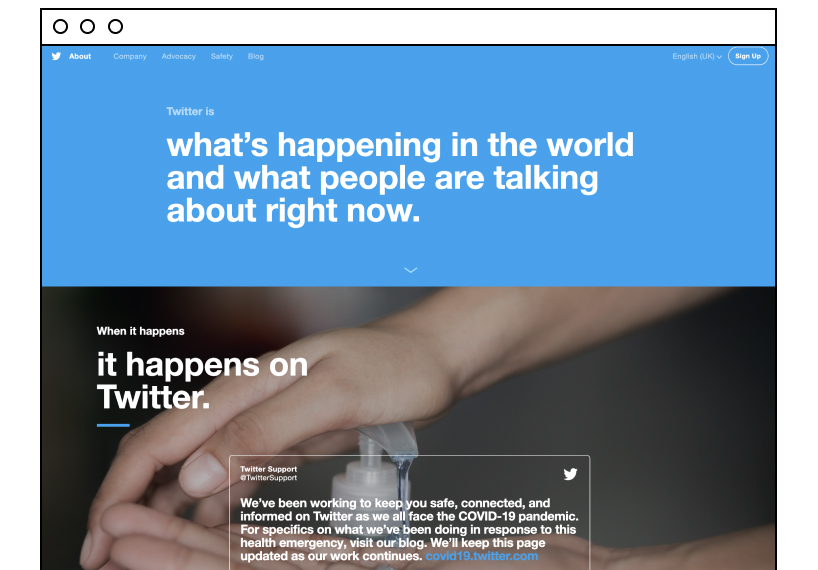 The social media platform Twitter keeps its "about us" page simple yet effective. This page is where you can find out a little more about the company, its accomplishments, and any trending events. Here readers will notice a strong CTA that motivates them to sign up for an account. It also contains powerful messaging in a straightforward, easy to read font that delivers a powerful impact and supports the brand image.
With real-life examples of Twitter conversations that have made ripples all over the world, the content speaks for itself. It demonstrates how Twitter has made an essential contribution to how we communicate in the modern digital world.
4. MVMT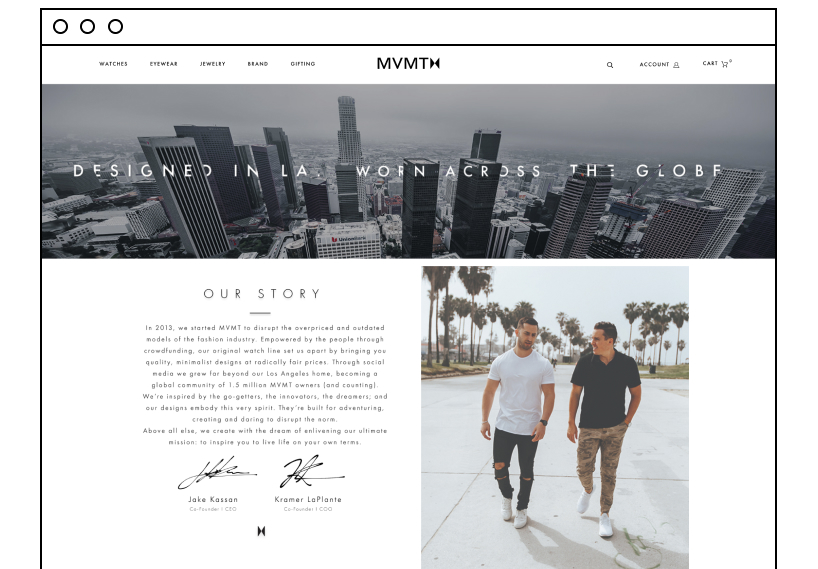 MVMT is a luxury watch, jewelry, and eyewear shop that uses its "about us" page to introduce you to its founders and to explain their motivation for setting up the company. They use the trick of putting a human face behind the company to draw customers in and to make them feel excited about the products on offer. They've split the page into different sections to break up the text and make it easy to digest. Each one showing off a different selling point helps support the company philosophy and demonstrates the quality of the products you'll find here.
5. Tumblr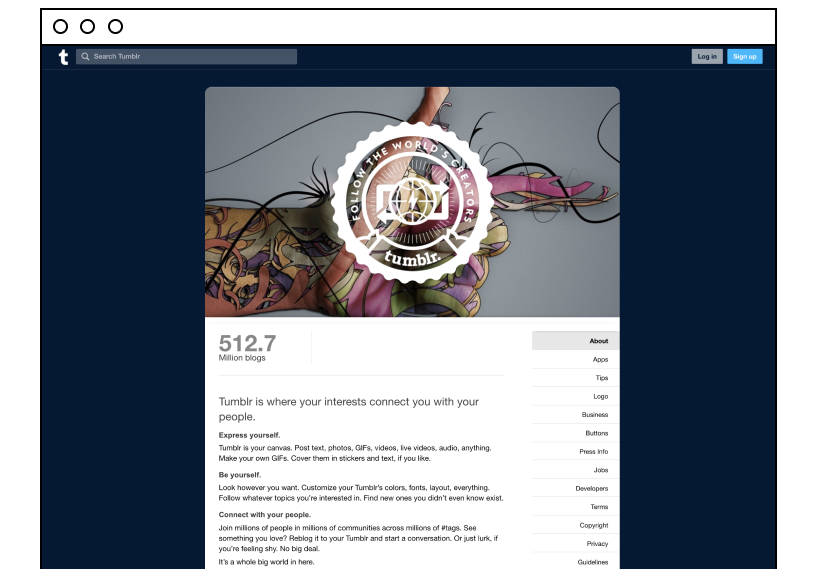 Tumblr is a microblogging and social networking site. Its "about us" page is particularly effective as it cleverly blends seamlessly into its own platform. It looks exactly like a post a user might find in the newsfeed, so it demonstrates precisely what those new to the platform can expect.
Tumblr also takes this opportunity to provide exciting visuals that grab a visitor's attention and give some simple but interesting facts about the company, including facts and stats that support its popularity.
6. Doberman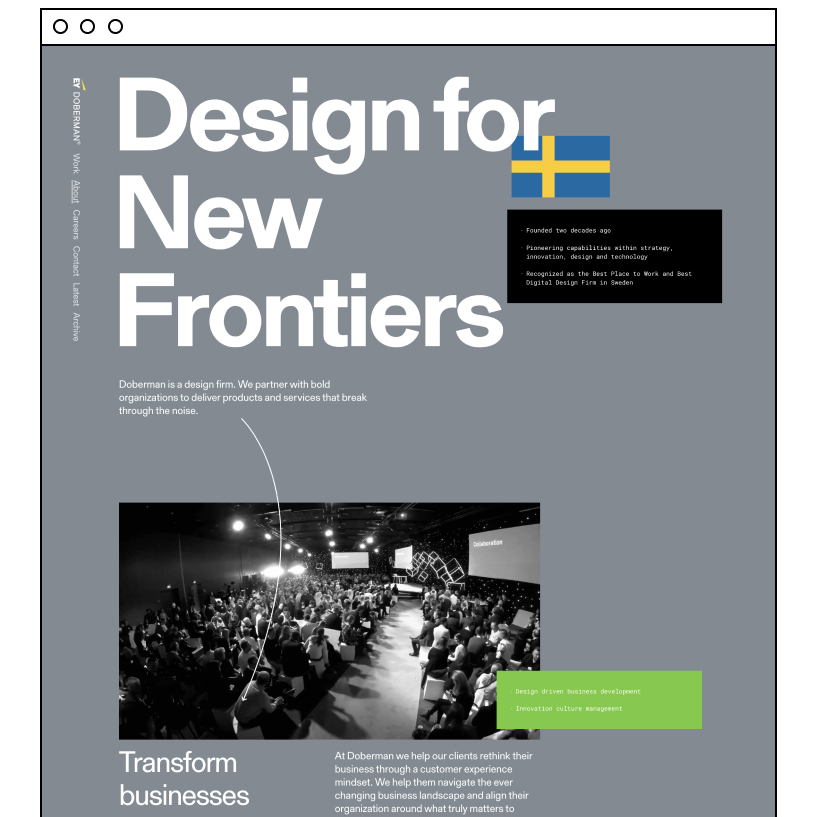 Doberman is a successful Swedish design firm. Doberman's "about us" page is unique and engaging. It does a fantastic job of connecting with readers while simultaneously revealing important and exciting information about the business.
The page includes strong imagery to emphasize its points and guides readers from section to section, helping to navigate visitors gently and keep them reading until the end.
7. Marie Forleo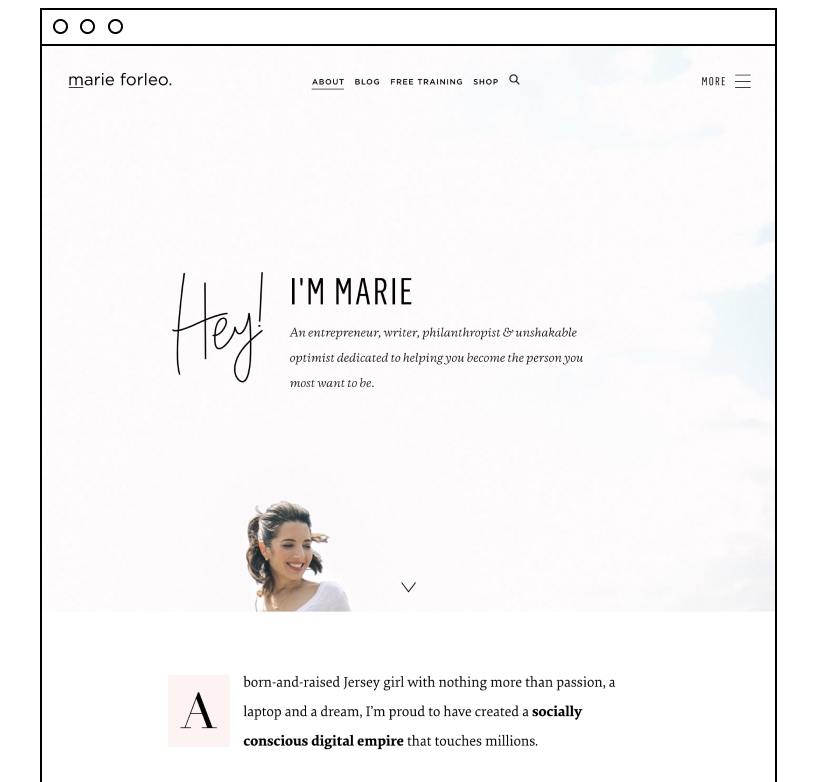 Marie Forleo is a life and business coach who engages readers by keeping things warm and personal. Her "about us" page reads like a letter to potential customers, beckoning them in and telling them a story in a conversational yet professional tone that perfectly matches her brand.
The last section, "which brings me to you," gently directs readers to take the next steps and engage with her further. At the end of reading her page, you really feel as if you get to know her, what she stands for, and how she can help you, which is the exact intention and works very well.
8. Engage Interactive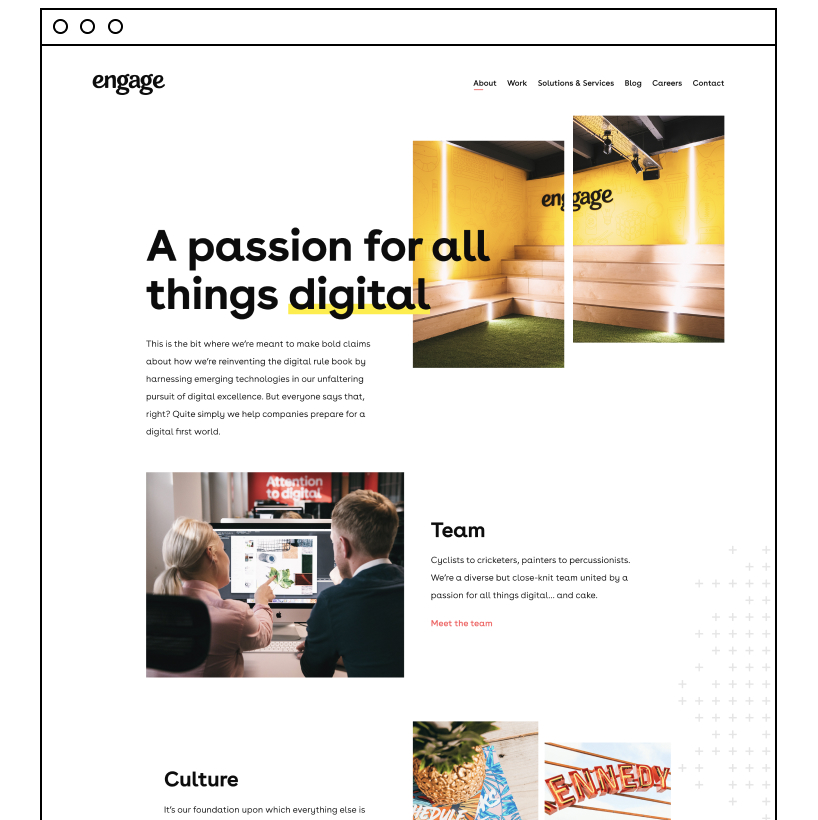 Engage Interactive is a digital marketing agency that keeps its "about us" page striking, clear, and bold. It doesn't attempt to pull clever tricks. Instead, it uses the combination of high-quality, impactful images alongside smart, witty, simple, and informative text to demonstrate to the reader what the company is about. The "about us" page is also where we see the team behind the face of the business and the impressive list of clients it's already worked with.
9. Trader Joe's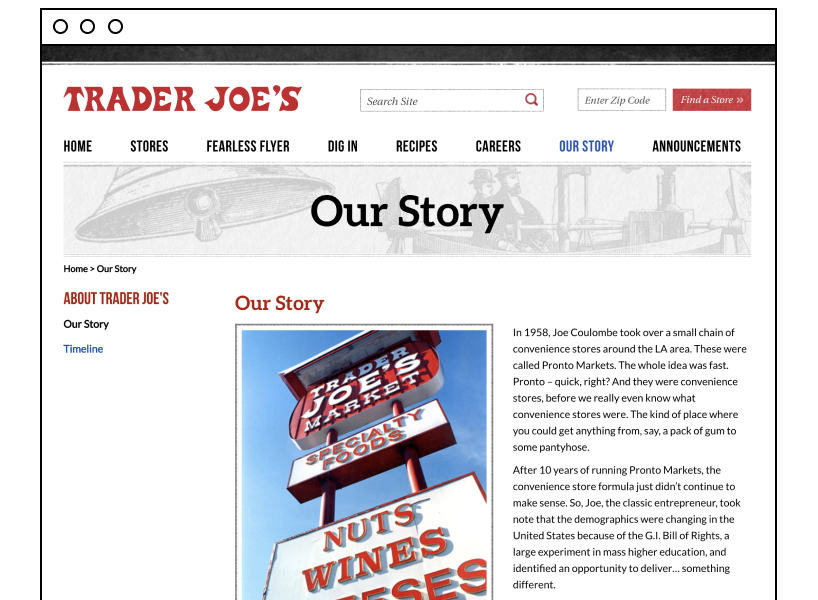 Trader Joe's is a hugely successful chain of grocery stores that can be found all over the U.S. On its "about us" page, you can find out more about the origins of the company, which started in the 1950s. However, they also take the opportunity to push their most significant selling point, which is quality goods at low prices.
Here, the company explains how it can provide such great value to shoppers, assuring them that it has the means to bring high-quality food to the marketplace but still ensure that it remains competitive and can charge less for its products than other brands. Choosing to do this is a bold and innovative move that assures visitors it will live up to its promise. It is a compelling technique to convert significant numbers of visitors into returning, loyal customers.
10. AirBnB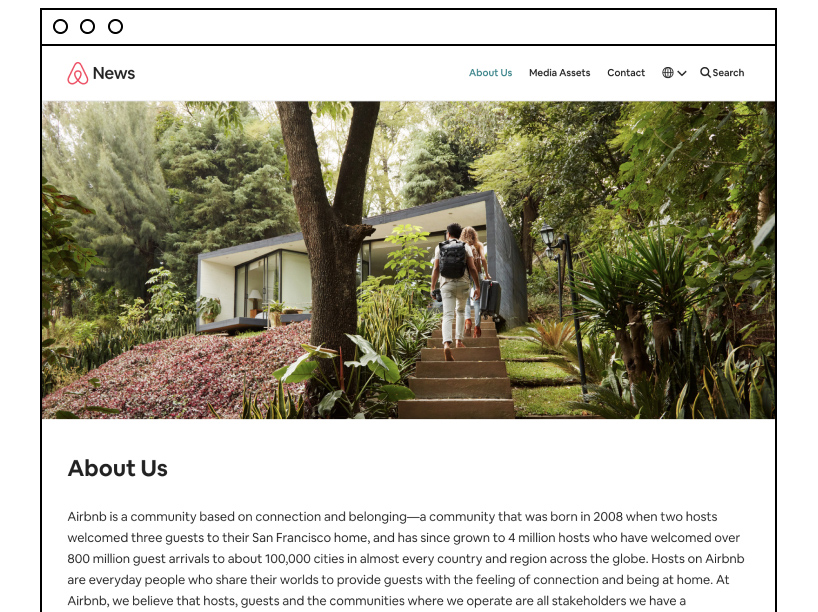 Airbnb is where you can discover places worldwide to rent while you explore different countries and cultures. Its "about us" page tells its story, impresses visitors with accolades, and supports its branding and messaging, which is perfectly on point. The Airbnb brand is all about adventure, youthfulness, curiosity, friendliness, connection, and culture. The strong images help draw the reader in and spark their imagination. We are then introduced to the company founders' welcoming faces, some fast facts that work to both impress visitors and promote trust in the business. At the end of the page, you can follow the timeline of the company's development from its humble beginnings to the present day.
About Us Pages – An Evolving Story
An effective "about us" page is one that smart businesses will revise often. Of course, your business will continue to grow, and so your "about us" page should reflect your continued journey and be a place that is updated regularly with news and your latest accomplishments. As your business continues to thrive, your goals may change, and your offering may expand. When these changes occur, remember to go back to your "about us" page and make sure you update or amend it accordingly.
We understand that new businesses might not have a great deal of content to add to their "about us" page at first. However, it's still a fantastic opportunity to introduce yourself and your business to customers and show them who you are and what you stand for. You can use this as a place to set goals and milestones and adjust your page as and when you achieve them.
As your business continues to improve, you can enhance your "about us" page accordingly, creating an important space on your website for visitors to get to know you better. Make sure you analyze this page regularly. If you aren't getting as much traffic as you'd like, or your bounce rate is high, take the time to reassess your page's content and visual appeal. You can also use the above tips to improve it to ensure it becomes a valuable online asset – one that can help boost your business, connect with visitors, and convert those who come to your website into loyal customers and supporters of your brand.