Small businesses know they need to do certain things to stay ahead of the competition.
They must build a brilliant website using an intuitive tool such as the Boxmode website builder.
They must research and connect to their customers.
They must create and implement a robust marketing strategy.
They must offer a valuable and competitive product or service.

Without doing the above, it will be incredibly challenging to ensure that your business thrives. Luckily, there are many great tools to help small businesses stay competitive in their industries, and Google My Business is a highly effective tool to drive customer engagement on Google.
So what are some of the Google My Business benefits? By setting up your business account, you can use it as a powerful marketing tool that will help improve your general and local SEO, find new cohorts of customers and showcase your USPs.
Google My Business is free of charge, so you don't need to have a big budget to take advantage of the benefits it provides. However, it's much more than simply listing your business locally. By creating your profile, you can stay in complete control of how your business will appear via Google Search and Maps. This is advantageous as you can create a listing that really speaks to your target audience and therefore puts your offers head and shoulders above your competitors.
Google My Business also allows users to gain insight into how your customers are interacting with your business through Google. It ensures that your business shows up when customers are looking for the kinds of products and services you offer through the Google maps facility.
Make an effort to keep your listing looking fresh and enticing with intriguing photos, promotions, discounts, and special offers. If you do, you will attract the attention of browsing customers and make it easy for them to choose you.
How to Create and Optimize Google My Business Page
Understanding how to sign your business up and fill out all your details is crucial. Doing this will ensure that your Google My Business listings show up as they should on Google maps and via Google search.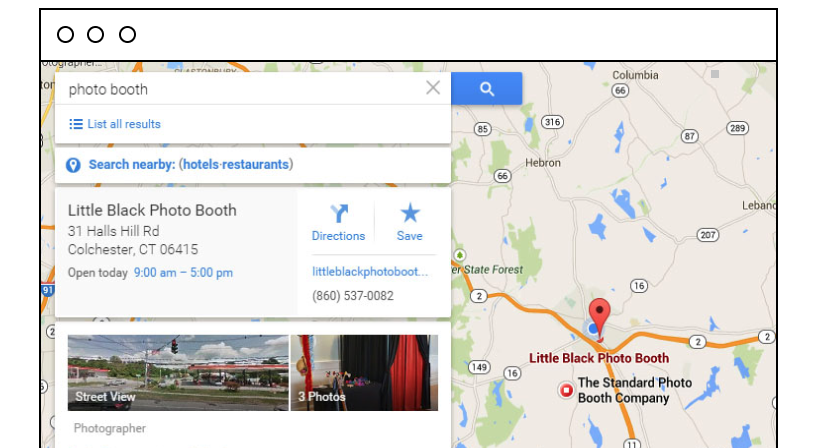 The importance of My Google Business in helping to keep your small business visible is significant. So make sure you bother to learn how to create and optimize your page correctly.
Here's what you have to do:
Step 1. Search for your company on Google
If a Business Profile doesn't come up as a result, you must create a new one. If it does come up, you can then claim it to ensure all the details and information are up-to-date and complete.
Step 2. Create your profile
To do this, you must first log in to your Google Account (or create an account if you don't have one already).
Next, head to the Google My Business website and click the "Start Now" button. Type in your business name, address, phone number, or website address when prompted.
Step 3. Choose your category
If you accept customers at your business location, it will ask you whether you would like your business premises to show up on Google maps. If you don't, you can simply select No and move on. Instead, you can choose to display the region you serve rather than the actual business address.
Step 4. Claim your profile
To claim a profile that currently exists, sign in to your Google My Business account via a desktop or the mobile app and choose to Add Your Business. You can then edit the details here, such as your business category and the region you serve.
Once you have completed the above, you need to read through the T&Cs and click Continue to move to the next stage, which is where you must verify your business.
Step 5. Verify your profile
Naturally, Google needs to ensure that you are really the owner of the business you're claiming. It requires business owners to prove it before it approves any changes and before you can connect with customers via the platform. There are two steps in the verification process. You can choose to verify by postcard; Google will send a postcard to your business address. The postcard contains a verification code that you must enter via the site. If you choose this option, your card should arrive within 14 days.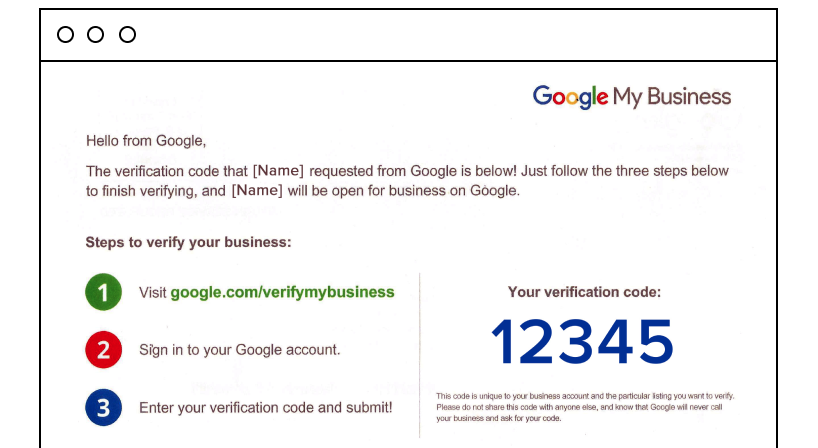 Alternatively, you can choose to verify your business via phone. If you choose this, an automated message will ring your business phone number and provide you with the verification code, which you then must enter via the platform.
Verifying by email is another option where Google will send a message with the verification code to your business email.
Using the Google Search Console, you may have the opportunity to verify instantly – this will be an option for those who registered with Google Search Console and signed into their Google My Business with the same email account. Signing up for Google Search Console has another advantage because it can help business owners monitor their site health in Google Search and gain insight into what action they must take to boost their SEO and rank higher in SERPs.
Once verified, you can share posts, pictures, promotions, and more to attract customers to your website. You can also cover things such as using location extensions, which are a feature in Google Ads that permit business location data to display with the ad and increase the chances of a customer taking action.
When posting, it is essential to attach UTM codes. This is because Google Post doesn't integrate well with Google Analytics.
You can also create a post description between 150 and 300 characters. However, be aware that only the first 100 characters show up, so front-loading exciting and important information is a smart move.
Posts will only be visible for seven days, so savvy businesses will make sure they continue to post regularly to keep up engagement with potential customers. Event-type posts are the only exception because they will remain live and visible until the event end date.
Another tip is when adding images is to keep them center-weighted. This will ensure they don't get cropped off at the sides.
6 benefits of Google My Business
Let's take a look in more depth at the Google My Business benefits:
1. Increased website visibility
A Google My Business listing of your business will boost your business's visibility on the web. When someone searches for a product or service on Google, the results show the top three listings as Google Adwords advertisements, and the following three results are the Local 3-pack. After this, it lists organic results.
The Local 3-pack is where you want your business to show up. If your business is listed here, you have your offering in front of motivated customers so they don't even have to visit your location.
2. Informing your potential customers
Through the Google My Business platform, you can add lots of useful details about your business, such as your contact information, address, and opening times. You also have the opportunity to share relevant news, promotions, announcements, discounts, sales, and more. The posts will show up via Google Search and Maps, so you can make sure your customers are informed and up-to-date with any exciting and valuable news.
3. Communicating with your customers in real-time
The easier it is for customers to reach out to you, the simpler the process, and the less time it takes, the better.
Because Google offers a messaging feature to allow your business to chat directly with potential customers that connect with you via the search results page, you have the opportunity to answer questions, alleviate concerns, and even promote particular products to customers in real-time.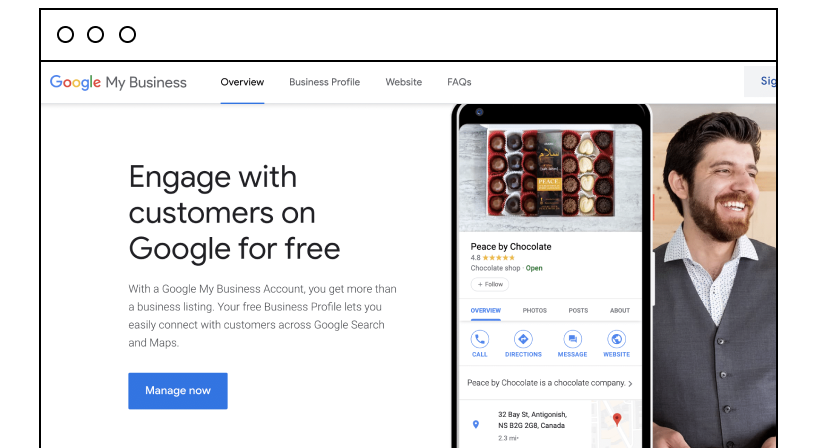 You can choose to activate or turn off the messaging feature and respond to customers via SMS or Google's messaging app.
4. Showing positive reviews
Reviews have a significant influence when it comes to buying decisions. The simple truth is that products and services with the highest reviews are almost always the ones customers choose.
Google My Business allows customers to leave reviews and feedback for your business and boost your business reputation. Gathering insight can also help you understand what you're doing right and what you need to work on. Remember, the better quality your products and service, the more positive reviews you receive, and these are also used as a ranking factor by Google. So, if your number of positive reviews increases, so should your placement in the search results pages.
5. Increasing website traffic and improving sales
Setting up a Google My Business profile will also increase the number of local visits from browsers, thus naturally boosting web traffic, resulting in more sales. Additionally, because businesses must verify themselves before they can appear in local searches, customers know to trust those who do appear, which will further increase their motivation to buy.
6. Free Google Advertising
Every business should promote its offers and try to get its website listed on the first page of Google. There are multiple ways to do this, including running a Google Ads campaign or working hard to improve your SEO. However, the former requires a big budget, and the latter is somewhat labor-intensive. On the other hand, a Google My Business listing is free and fast to create.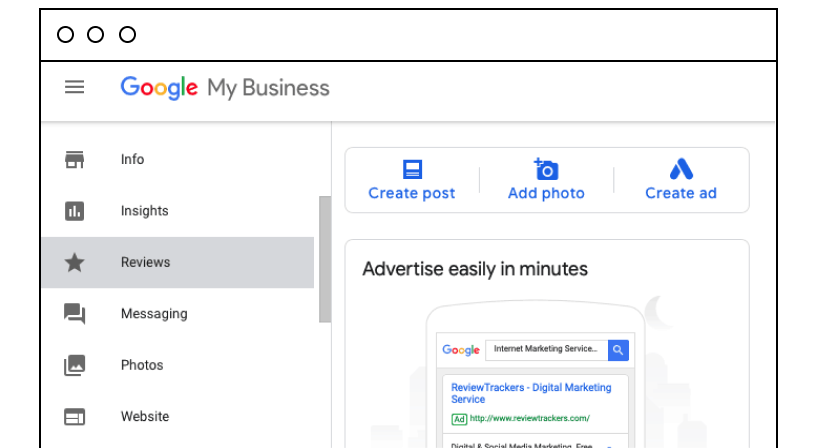 Once you're up and running, your business becomes visible to many potential customers, who then have access to your contacts, directions, website, and hours of operation. This makes Google My Business pretty invaluable and frees up time and budget to focus on other areas of marketing.
Google My Business – A No Brainer for Small Businesses
Once you have created your robust business website through Boxmode, you need to focus your efforts on promoting it. Successful marketing strategies for small, local businesses almost always center around targeting people in a precise geographical location. The features that Google My Business offers enable business owners to achieve this better.
However, those who commit to posting regularly, frequent engagement, and continued optimization of their Google My Business listings will see the best results. By staying up-to-date with helpful programs such as this and other influential social media management tools, business owners will find it easy to maintain a consistent presence on GMB. They should, therefore, rise above the competition, see a boost in website traffic, and ultimately see their sales figures soar.