There's no shortage of SEO tactics you can implement to increase search traffic. But the most important one to have is a solid link strategy. Without inbound links from other websites, you'll struggle to rank in the search results for your target keywords. Wondering how to implement an inbound link strategy that will help you get to the top of the heap? Read on to find out.
What Are Inbound Links?
Inbound links (aka backlinks) are links that lead to your site from another site. Backlinks are one of the most crucial SEO ranking factors. Think of backlinks like votes — each link tells search engines like Google that other websites found your content credible enough to link to.
Backlinks have a positive impact on your search engine rankings. For example, an analysis by Backlinko found that the number one result in Google had 3.8 times more backlinks than other results on the first page.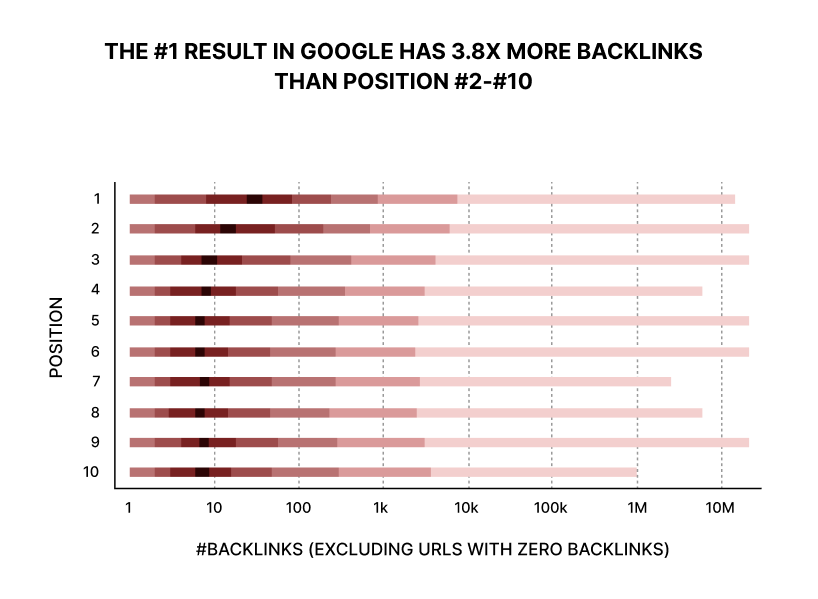 The key takeaway here is that you need backlinks to rank in Google.
Does that mean you can blast your website with backlinks and start ranking number one? Not exactly. Not all backlinks are equal because Google considers the relevance and authority of the linking site.
A backlink from an authoritative website in your industry will carry far more weight in terms of rankings than a backlink from a low-quality website. These types of backlinks are harder to get, but they'll help you bring in more organic search traffic.
Outbound links are links from your website to another website. You can add these types of links when you reference a statistic or fact. Page visitors can click on them to learn more about a particular topic.
Internal links go from one page to another page on your website. For an example of this, look at this blog post about pricing analysis strategies from Breadcrumbs.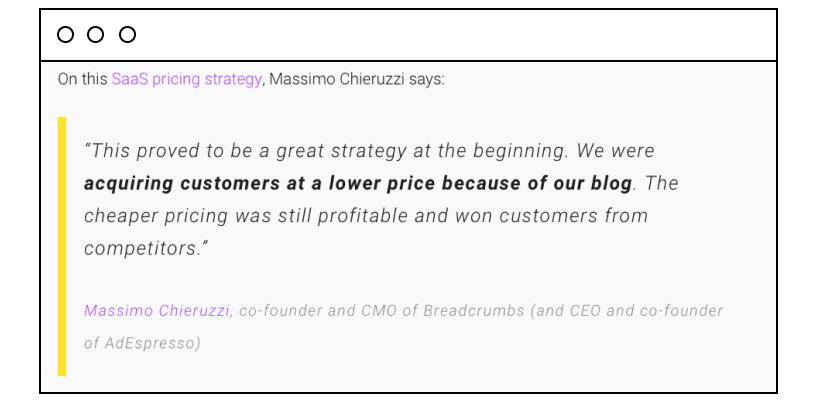 When hovering over the "SaaS pricing strategy" link, we can see that Breadcrumbs links to an internal page where visitors can learn more.
Those are the basics of backlinks. Now let's look at some tactics you can get started with today to build inbound links to your site.
5 Ways to Build Quality Inbound Links to Your Site
Adding outbound and internal links is a strong move, because they provide value to your visitors and help search engines discover your other pages. But inbound links have more impact on your rankings than the other two.
Now, let's look at how you can implement an inbound link strategy along with some best practices.
1. Create high-quality content
If you want to attract inbound links from other websites, you need to create something worth linking to. That means simply rehashing content and delivering little value just won't cut it.
Creating quality content is a tried-and-true method of generating inbound links. If visitors find your content valuable, they may link to it on their websites or share it with followers on social media.
To come up with ideas you can write about, think about your audience. What questions are they asking? What topics are they engaging with on platforms like Facebook and Twitter?
As an example, take this page with resources to learn English.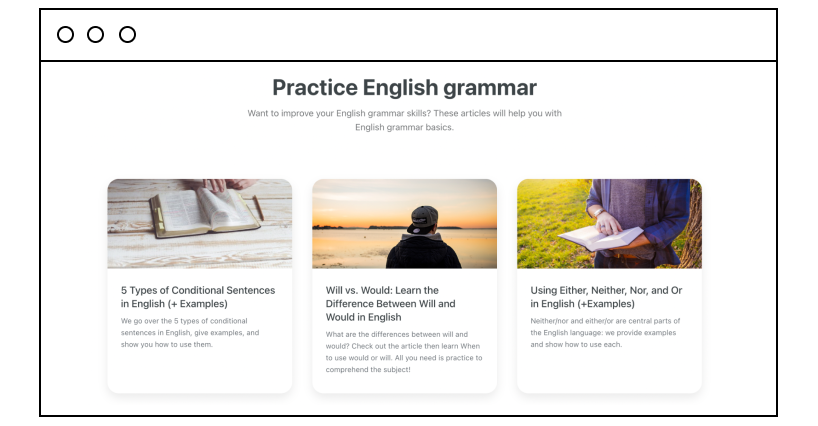 These articles are helpful to someone learning English. Similarly, find topics that are relevant to your audience and create content that delivers value. And providing value is one of the ways to establish your brand as authoritative and attract more inbound links.
2. Publish in-depth guides
Another way to attract inbound links is to publish in-depth guides. These resources provide an exhaustive overview of a topic and are extremely valuable in getting more backlinks. The goal here is to give visitors everything they need to know in one place.
Earlybird, an app that's changed the future of gift-giving for children, created a comprehensive guide around gifts for godchildren.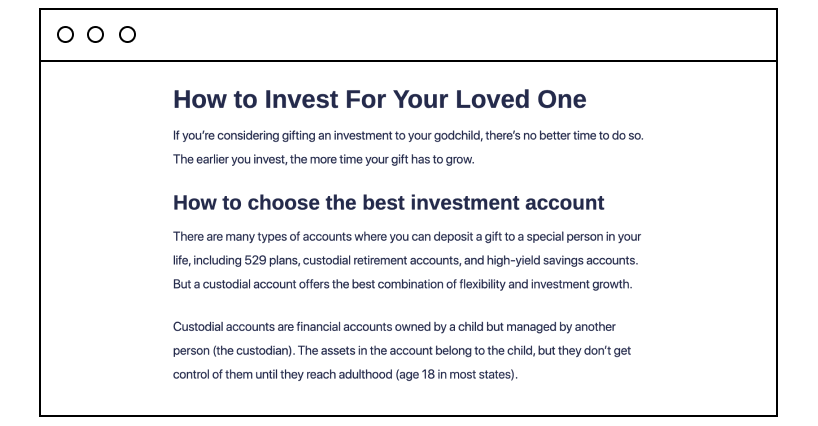 In addition to covering why giving an investment is the best gift, Earlybird explains how to choose an investment account in more detail and covers tax info.
Publishing in-depth guides is often a long process, but it's also worth investing time and resources.
3. Create and optimize FAQ pages
You can always count on people asking questions regarding the products and services they're interested in.
FAQ pages are great for inbound marketing since you can optimize them for question-related queries. Some examples include:
"What is [product name]?"
"What are the benefits of [product or service]?"
"How do I [use your product to solve problems]?"
This page from Nlyte about building automation systems is a perfect example of an FAQ page that will lead to conversions.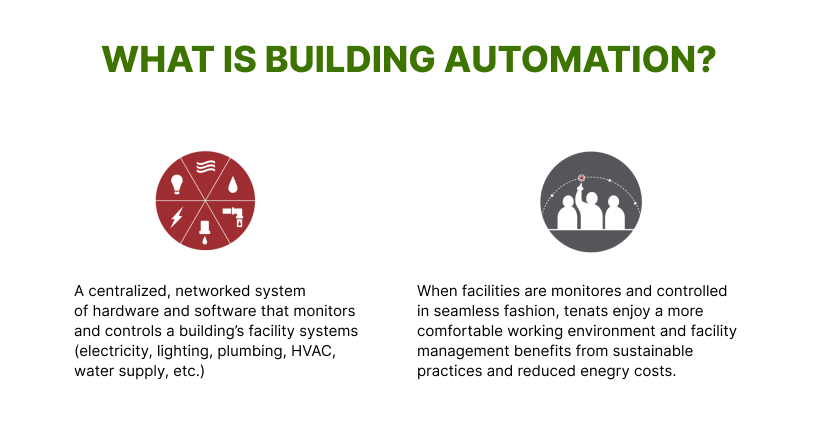 The page answers questions that visitors ask about building automation systems. These Qs and As can be brief, so you don't need to invest much time and money into them.
4. Write guest posts
Guest posting is another effective way to get backlinks. It involves reaching out to other blogs in your industry and offering them a great piece of content. Publishing content on other websites helps you attract quality links and drive referral traffic to your pages.
Search for the following on Google to find guest post opportunities:
[Topic] + "guest post"
[Topic] + "write for us"
[Topic] + "contribute to our site"
[Topic] + "guest article"
Here's an example: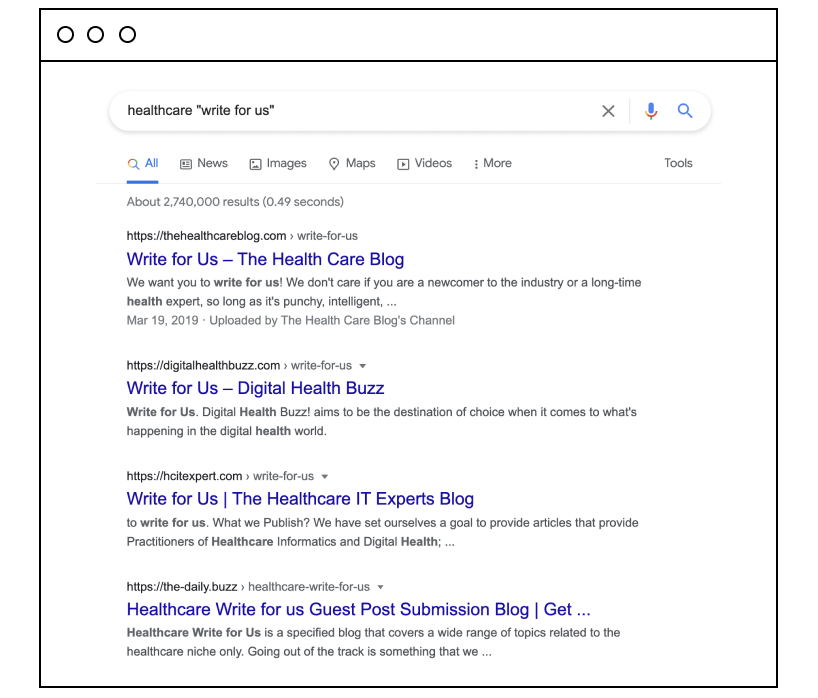 Then reach out with a pitch to a website you want to submit content to. Some websites have strict guidelines on what they accept, so read these through carefully before writing.
5. Spy on your competitors
No matter what industry you're in, you can bet that your competitors are building links to their sites to improve rankings. You can take advantage of this activity, too. If a website has links to a competing site, they may also link to yours.
Start by searching for a keyword you're trying to rank for. Then, enter the first few results into a backlink checker to get a list of sites linking to your competitors.
Here's an example of a site's backlink profile: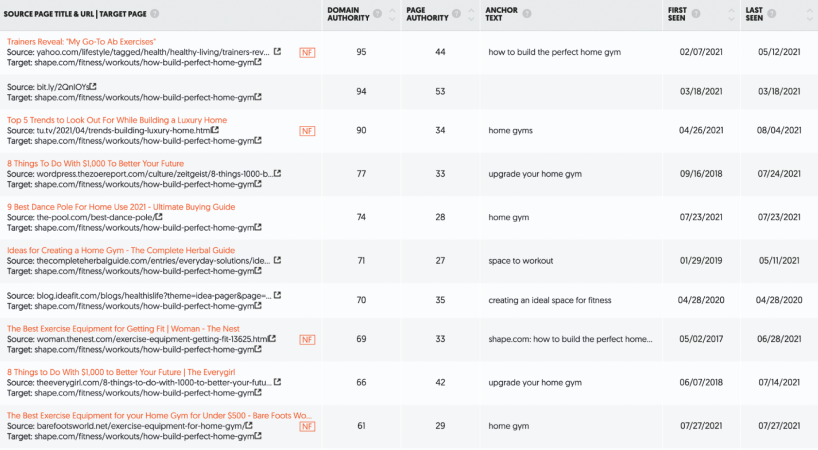 Go through the list and look for any links you can replicate. You won't get every site to link to yours, but getting even a few can be enough to improve your rankings.
Link Building Best Practices
Implementing a link-building strategy is simply a must, especially for competitive keywords. Here are some best practices to follow as you start building links to your site.
Get a mix of links. Make sure your content includes a healthy mix of outbound and internal links. For example, this article on How to Make Money Podcasting contains 11 external links and seven internal links.
Don't spam your site with links. There are plenty of tools you can use to build hundreds of backlinks to your site in a matter of hours. But spamming your site with low-quality links isn't a good idea since it could lead to a ranking penalty.
Use keyword anchor text. Anchor text is the clickable text of a hyperlink. In general, you want to get backlinks with keyword anchor text. For example, the Track-POD route planning software uses keyword anchor text on its blogs to provide search engines and users with more context regarding the link's destination.

Focus on quality, not quantity. While you want to build as many links as you can to your site, it's essential to focus on quality over quantity. Links from relevant sites are harder to get, but they'll have more of an impact on your rankings than links from low-quality sites.
Conclusion
Backlinks continue to be one of the most important search engine ranking factors. To increase your site's visibility on Google and attract organic traffic, you need to build backlinks.
Follow the tips laid out here to implement an effective inbound link strategy.